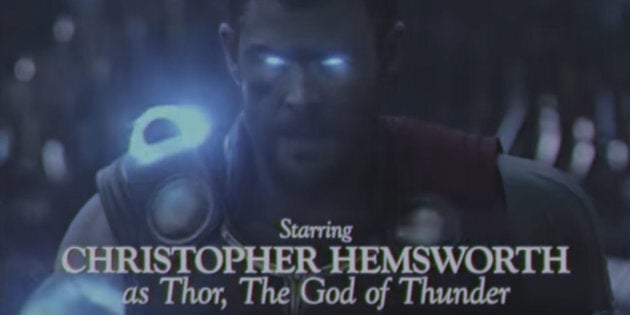 In case the marketing for the third film following the god of thunder, 'Thor: Ragnarok' wasn't epic enough for you, the good folks over at 'Nerdist' have you covered.
Giving the already incredible trailer a full VHS-style 1980s overhaul, the new and improved version takes everything great about modern movies and makes it just that little bit more dodgy.
'Thor: Ragnarok' sees Chris Hemsworth return in the titular role as he faces Hela, God of Death played by Cate Blanchett, who wants to destroy his home of Asgard. Marooned on the other side of the universe without his trusty hammer, Thor is reunited with old friends and they're forced to work together to defeat Hela, and get things back on track.
It also stars Mark Ruffalo, Tessa Thompson, Idris Elba, Jeff Goldblum, Tom Hiddleston and Anthony Hopkins, and it promises quite a few surprises as well as a huge move away from the more serious Thor we've seen in the other movies.
There are some hilarious winks throughout the 80s trailer revamp, with Mark Ruffalo's Hulk being replaced by the iconic version played by Lou Ferrigno in the TV series 'The Incredible Hulk'.
The epic Thor vs Hulk battle in 'Ragnarok' has been replaced with the fight scene from the made-for-TV movie, 'The Incredible Hulk Returns' which featured Ferrigno's Hulk battling a low-rent Thor.
Jeff Goldblum, who plays The Grandmaster in 'Ragnarok' was also replaced with his 1986 self from 'The Fly'.
The trailer makeover caught the eye of the film's director, Taika Waititi who appeared a bit excited by the retro remake.
Waititi's highly anticipated 'Thor: Ragnarok' is scheduled to open in cinemas from November 3.