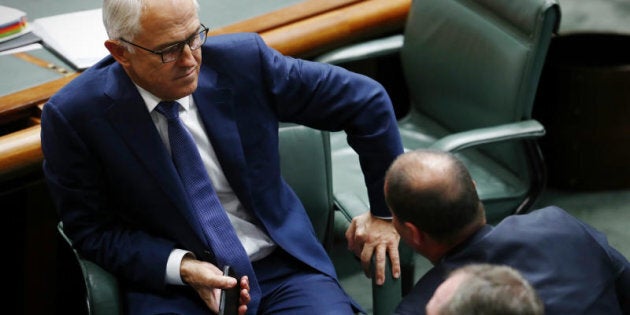 CANBERRA – A weekend of scorching record temperatures, horrendous fire conditions and rolling power blackouts across Australia's south-east has focused minds -- and sweaty bodies -- on energy security.
It's a subject the Turnbull Government wants to talk about in 2017 as it pushes back an increasingly confident Labor Opposition and the Greens on their "mindless" renewable energy policies.
But now the Prime Minister and senior ministers have been accused of over-egging it ever since the unprecedented and catastrophic state-wide blackout across South Australia last September.
"There has been unprecedented damage to the network (ie bigger than any other event in Australia), with 20+ steel transmission towers down in the north of the State due to wind damage (between Adelaide and Port Augusta). The electricity network was unable to cope with such a sudden and large loss of generation at once. AEMOs advice is that the generation mix (ie renewable or fossil fuel) was not to blame for yesterday's events – it was the loss of 1000 MW of power in such a short space of time as transmission lines fell over."

Australian Energy MarketOperator
To sum up, public service experts advised the Government within 24 hours that the blackout was caused by transmission lines being knocked out by once in 50-year storms.
"The generation mix (ie renewable or fossil fuel) was not to blame," AEMO advised.
"With the strong reliance on wind power, there is an exceptional draw that's then put on the network from other sources when that wind power is unable to be generated," Joyce told ABC Radio.
"There is simply no room for partisan politics when the reliability, affordability and sustainability of Australia's energy system is at stake," the joint letter reads.
But the Turnbull Government is standing firm.
The story containing the advice, released via FOI, is a "beat up" according to the Education Minister Simon Birmingham and a "sensationalist, false story," according to backbencher Tim Wilson.
And the minister responsible for energy security, Josh Frydenberg, is not changing tack.
"What made South Australia so vulnerable was it's heavy reliance on intermittent sources of power, particularly wind, but also solar," Frydenberg told Sky News.
The Minister is not disputing the advice from AEMO, reading it as "totally consistent" with government arguments that the blackout was precipitated by a weather event, but the state had to deal with "unreliable" sources of power.
"Without the heavy reliance on renewables, the South Australian system would not have been as vulnerable as it was."
The Prime Minister dialled back the renewables attack on Monday, but referred to windmills rather than wind turbines.
He claims he's been misrepresented.
"Let me be very clear, of course windmills did not cause a blackout," Turnbull told reporters in Canberra. "The blackout, as I have said many times, was caused by a storm breaching transmission lines.
"That is perfectly obvious. That is the only point that was made."
"However, the introduction of a massive amount of wind energy, so variable renewable energy, made the South Australian grid very vulnerable. Very, very vulnerable, indeed, to breaches in transmission lines and the overloading or pressure on the interconnector with Victoria."
"I regret to say that a number of the state Labor governments have over the years set priorities and renewable targets that are extremely aggressive, extremely unrealistic, and have paid little or no attention to energy security," Turnbull told reporters in Launceston.
Labor has accused Turnbull of "alternative facts".
"It is clear from today's revelations that the Prime Minister made a deliberate decision to ignore that advice and lie to the Australian people about the cause of this very serious event," Labor's Mark Butler told reporters in Canberra.
"Not only did he lie to the nation, he lied to the nation during an emergency."
"Malcolm Turnbull needs to come clean. He needs to admit to the Australian people that he has been playing politics with a very serious energy crisis that is enveloping the country."
ALSO ON HUFFPOST AUSTRALIA