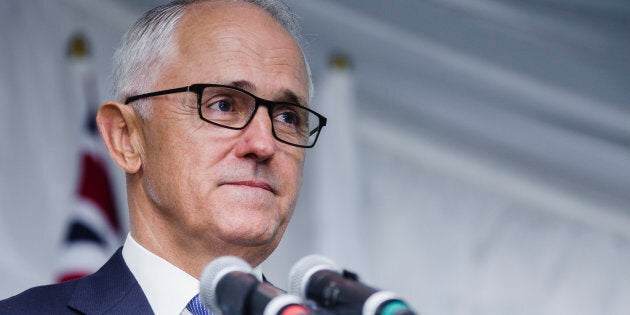 Inside a pressure cooker it's not the water that's the hottest. It's the steam.
The steam can build to temperatures of up to 250 degrees, cooking the meat faster, and creating that weird whistling sound that lets you know when whatever is inside is done. Cooked.
Indeed, while Parliament is on a scheduled break the Federal Government bubbles away after another week of truly unique own goals, court-mandated and otherwise.
Former Deputy Prime Minister Barnaby Joyce is running for a by-election after the High Court ruled him ineligible to sit in Parliament, the career of employment minister Michaelia Cash is dangling by a short thread following a bungled police raid on a union and Australia's controversial offshore immigration program is once again a powder keg.
The Government's numbers have fallen off a thin line and onto to an even thinner one, dropping from 76 to 75 MPs in the lower house. The promise of a returned majority lies in Joyce's likely win at a December 2 by-election in his New England seat.
With numbers so fine, the Government is now just one more disaster away from, well, disaster.
Joyce -- who now unshackled from Parliament declared "I am Barnaby" as he hit the campaign trail -- may have already inflamed simmering internal tensions.
He reportedly said the National Party were responsible for last year's election victory, arguing they held all their seats and won an extra one while the Liberals went backwards.
This, as well as some back and forth from inside the Liberal Party, left foreign minister and acting prime minister Julie Bishop defending her subbing in the top job while Prime Minister Malcolm Turnbull attends an ANZAC anniversary in Israel.
"It's a question of precedence and in terms of seniority," she said, explaining why a Nationals MP wasn't occupying the role.
"I'm the most senior member of the cabinet after the Prime Minister and Barnaby Joyce," she said, also noting she was not surprised by a new Newspoll showing Labor remaining ahead 54 to 46 percent in a two party-preferred poll.
And speaking of Labor, they are threatening to add their own spice to the mix by foreshadowing some hard-ball tactics at upcoming parliamentary sittings.
One of these tactics includes a banking Royal Commission, popular with the public and the opposition, but not with the Government.
Well, not all of the Government.
Sometimes-maverick National MP George Christensen is reportedly open to working with crossbenchers to draft a bill for a banking inquiry.
"If George Christensen crossed the floor on banks, then the majority of the house is in favour," Independent MP Bob Katter told The Australian.
"George won't vote for a Labor resolution, but Labor will vote with George and myself."
Is it any wonder opposition leader Bill Shorten's most prominent play at the moment seems to just be him dabbing while reminding us of the chaos?
All of these are just Government's public-facing problemsof the moment. Tony Abbott is so-far staying quiet, but then it's only Monday.
But there are also other looming problems outside of Parliament.
A mounting deadline to close down the Australian run detention centre on Manus Island has increased tensions in the Papua New Guinea province, where the country's feared paramilitary-style "mobile squad" is preparing to help remove the roughly 600 asylum seekers from detention to other quarters.
The mobile squad -- who were once accused of beating a man to death in the middle of a Manus market -- will reportedly be joined by 42 former police officers, soldiers and corrections officers, reportedly hired by contractor Paladin out of Fiji to work on Manus.
The cracking point on Manus will likely come after Tuesday, when power and water are due be cut off from the detention centre.
Back home, the government's own internal cracks could yet worsen as it grinds towards Joyce's by-election.