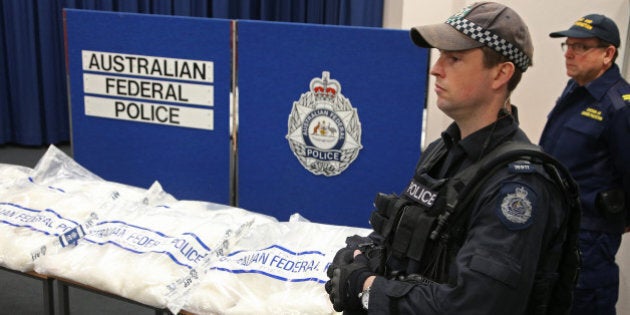 On one day earlier this year the media reported two major news stories related to the seizure of illicit drugs. However, the contradiction in these official announcements was unfortunately left unchallenged.
One announcement concerned the seizure of a very large quantity of ice and other drugs which was heralded with the usual self-congratulatory fanfare and self-justification by law enforcement authorities and their ministers. Another nail in the coffin of the drug trade, to be sure.
The Australian Federal Police (AFP) investigation, code-named Operation Serpia, with the assistance of the Australian Border Force (ABF) and the ongoing cooperation of the Chinese National Narcotics Control Commission (NNCC) had seized approximately 159 kilograms of methamphetamine, with a potential street value of up to $106.5 million, among other drugs. In subsequent interviews the operation was credited with putting a huge dent in the illicit drug market and hurting organised crime.
On the same day the NSW Crime Commission Annual Report told the real story of the impact of these drug seizures. The Commission stated that the illegal drug trade remains the main source of income for organised crime in Australia and, at present, illicit substances are in "plentiful supply". This is despite more than 7.3 tonnes of illicit drugs and precursors being seized last year. The report highlighted how Australia's second largest ever drug bust of almost 3 tonnes of ice and MDMA in 2014 did little to put a dent in the local drug market, with prices of the drugs dropping and supply still plentiful.
The reality is that the 'street value' of drugs is markedly different from the actual cost to organised crime syndicates. The wholesale price of these drugs is often 8-10 times less than the street value and the cost much lower again for those syndicates purchasing the drugs directly from source countries. The oft-described 'massive hit' to these syndicates is, in reality, a much lower and expected business expense. No matter how much we seem to seize, it is clearly far less than the amounts actually entering the country.
Basically, money talks, and whilst there are enormous profits to be made, there will be some ready to take the risk. Even the much-vaunted approach of "decapitating" syndicate heads (such as happens in Mexico) is impotent, as the huge amounts of money available lead to a quick replacement, often by many rather than a few.
This is not to say that we should give up trying. Organised crime will always need to be chased and challenged, but the war against drugs has become an embarrassment of Orwellian proportions.
Australia needs a new approach. We need to learn the lessons of history and to understand the evidence of what is happening in the world around us. Death penalties, harsh sentences and increased policing have done little in our region to curb drug use and the many harms it creates. In fact, it has at times led to a lot more harms and problems associated with corruption and extra-judicial killings in many countries. And anyone who thinks Australia is immune to corruption on this scale, as we sometimes like to believe, need only recall the NSW Crime Commission's Mark Standen conviction.
The current situation has become so problematic for some police services in the USA that it has been met with the adoption of a completely new approach by some. In one example, a police chief in Massachusetts publicly acknowledges their failures and encourages people with drug problems to seek treatment. At the same time, they've called for much greater investment in health-focussed responses to drug use; particularly treatment and harm reduction.
Even more police chiefs talk of the need to help save lives rather than arrest and imprison people. The fact that the face of drug users in the USA has become very middle class and white is at times an unsettling background to this changed approach.
Nonetheless, various responses across Europe are also readily available for Australian adoption. These include pill testing at events, heroin prescription programs and a decriminalisation of personal drug use. Many of these approaches already demonstrate a strong positive evidentiary basis well beyond our current strategies.
Our best response is to take this sugar off the table by taking control of the market with regulation where possible and to focus our attention solely on the criminal syndicates. At the same time we have to cease our ludicrous harm and waste by criminalising personal drug use and instead focus our efforts and resources on education, treatment and harm-reduction services
That's if we can agree to live in the real world where drug use has, and always will, continue to exist.
Popular in the Community