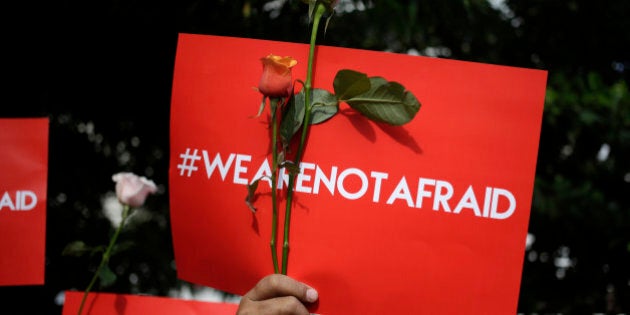 For almost 10 years, the Indonesian government, with a little help from their friends in Australia, has been winning the war on terrorism in their country. But this looks set to change with the possibility of further ISIS inspired terror attacks. The 14th of January 2016 Jakarta attack may be another historical watershed moment for terrorism in Indonesia -- with stark implications for the Asian region.
I am not trying to be melodramatic. Put simply, this attack demonstrates that Indonesian terrorist groups are getting more resilient, Indonesian counter-terrorism effectiveness is declining and there has been a change in terror tactics which creates new challenges.
From December 2000 until December 2005, the Indonesian terrorist group Jemaah Islamiyah (JI) was demonstrably winning the war on terror in Indonesia, with a number of successful large scale attacks, including two bombing operations in Bali and one on the Australian Embassy in Jakarta.
By 2006, Australian and Indonesian counter-terrorism efforts were a resounding success. In fact, the level of cooperation was globally unique, given both its success and low-key nature. With improvements in Indonesian investigation, forensics, surveillance and intelligence capabilities, things changed. Indonesian government agencies went on the counter-terrorism offensive, and eventually there were few safe havens for JI. Before long, hundreds of JI members were in jail and Indonesia was winning the war on terror.
In December last year, with intelligence from Australia and America, nine suspects from two separate terror cells were arrested. During the raids, a range of bomb components were found, along with maps of Jakarta. And once again it looked like the threat had been disrupted.
The raids were successful, but the terror-threat level in Indonesia remained high over the Christmas and New Year period. Intelligence was indicating that there were still plans afoot for local terrorists to hold a 'concert' of their own -- referring to the Paris attacks. But the December 2016 raids and arrests didn't prevent an attack on Jakarta. The failure may be symptomatic of new-found resilience to disruption in Indonesian terrorist cells.
Last week's attack serves as an indicator that the effectiveness of the Indonesian counter-terrorism intelligence, surveillance and reconnaissance framework may be degraded in the face of the current terrorism trends. After all, Indonesian and Australian authorities were aware of an increased terror threat, yet were unable to disrupt the attack. But this is not surprising. Terror tactics are constantly evolving in response to law enforcement and intelligence activities, which makes them harder to detect, investigate and disrupt.
The attack itself was an abject failure for the planners. They paid a high price in treasure and blood for precious few victims. A lot of that had to do with the clumsy and incompetent nature of the attack.
Unfortunately, we can't take heart in the low number of casualties, because the attack was a strategic success for ISIS. It managed to get the world's attention, and showed all of us that ISIS is in Asia and it's active.
For many of the hundreds of convicted JI terrorists who will be released from Indonesian jails soon, the success of this attack will serve as a call to arms. A number of the more senior JI members have used their time in Indonesian prisons to strengthen relationships with other terrorists and recruit new members.
All of this does not bode well for Indonesia or Australia. Indonesia's 10-year counter-terrorism winning streak is coming to an end. As old JI players are released from jail and Indonesian ISIS fighters return home, they are more motivated and better trained. It looks like the terrorism threat in Indonesia is going to get worse and is going to stay that way for some time to come.