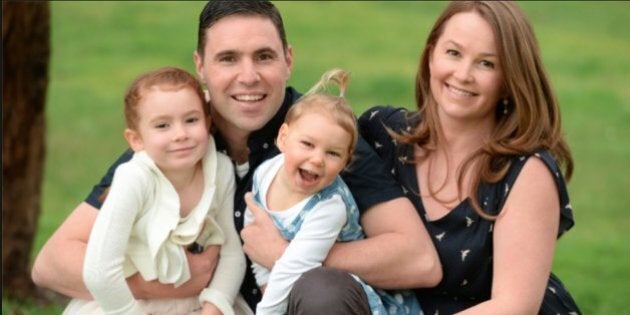 My husband is quite a private man, unlike his wife who shares her heart and soul through her blog. He's not so fussed with social media and barely checks his emails. He can go weeks without turning on his mobile phone. You will never find him with his head buried in a smart phone at the local park while his girls are playing. Nope, not this guy, he is honestly one of the last Mohicans who is not distracted by the cyber world. If the World Wide Web were to crash tomorrow, he wouldn't feel it's loss.
The other day he coined the phase: 'You're the Yin to my Yang', and that is certainly the case with how we both approach this new special-needs parenting gig.
We were on the way to hospital visit #177. We were running on pretty much no sleep and the drive to the hospital was a challenging one, dealing with Chiara's cries and discomfort from her cerebral palsy, Grace's throw-down because she really wanted to go to the zoo, and me sitting in the backseat trying to settle Chiara whilst feeling car sick.
But we made it into The Royal Children's Hospital and managed to get a great car park. Things can only go up from here, right?
The wind blew us into the front revolving door, my hair looking as wild as ever. We checked ourselves in for the first appointment, which got mixed up, so we had to wait another few hours. By this stage we were running late for the next appointment, in another department, at the other end of the hospital. Then Chiara decided to choose this exact moment to explode her nappy all over me. Yep, you guessed it -- Number Twos.
Trying to change a pooey nappy that has exploded, well, more like imploded up behind her back and throughout every item of clothing she was wearing (then somehow over random parts of my dress) is enough of a challenge. Add to the mix a child who is unable to maintain their balance and who, at any moment, could flip backwards out of your arms. Cerebral Palsy can be a physical rubix cube at times, and one that requires you need to be alert at all times.
Chiara now has her legs intertwined in a tight lock due to her strong tone. It's a mental and physical challenge, and one that on the back of no sleep, no breakfast, feeling a tad seedy from the car ride, I do not want to partake in.
Then, a random kind lady offers me her wipes, Mauro and I attend the bathroom together, rallying for Grace to come too.
Grace is now horrified that not only did we drag her to the hospital and not the zoo, now we were asking her to come to the bathroom, where we would all be confined in a very small space, just like in the car.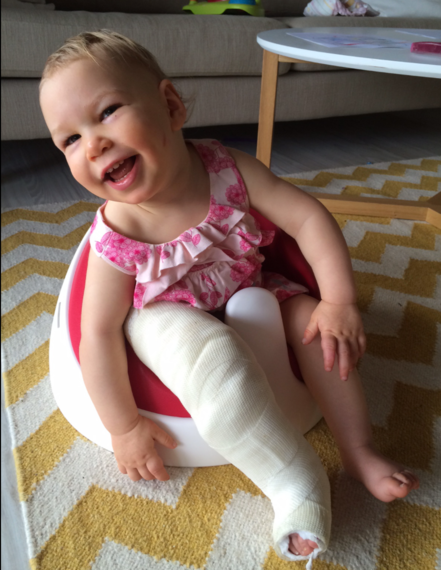 So, as a team, we managed to change Chiara's nappy. We managed to unlock her legs so we could clean away the necessary areas, but given the urgency of the situation, and needing to get things clean quickly, instead of pulling out one or two wipes, the whole pack came out in one big clump.
Then I had to wrap Chiara in Grace's cardigan. Did I mention that I forgot to pack a spare set of clothes? Well, I did pack them. But a little redhead had unpacked them the night before.
Okay, so we manage to get through three appointments. One about her relapsed clubfoot, the other about medication and operations to treat her quadriplegic cerebral palsy, and the final one at the genetic department who gave us an approximate life expectancy.
So, you get the gist, not one of the most uplifting days at the hospital, but it's our new normal, so we learn to adjust our sails.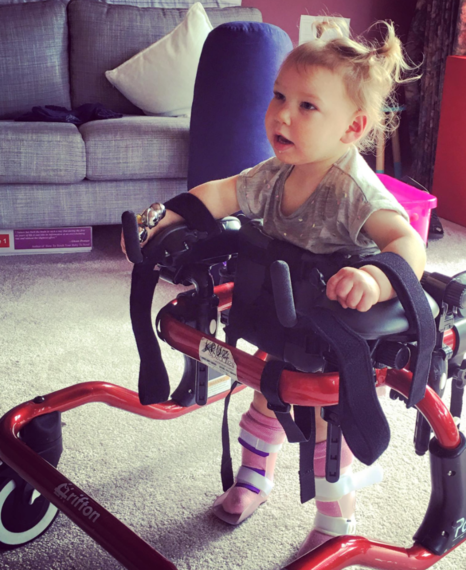 We get home after a crazily intense car trip. It's raining like mad, we all get drenched making our way up the front steps. I make a few trips back and forth from the car to unload, then arrive in the house, looking like I've just had a dip in our pond!
It's about 7 pm now -- we're cold, tired and hungry. I draw a bath and the hot water runs out. I open the fridge to make dinner and there's a limp bunch of kale looking back at me.
I then stub my toe on Chiara's walking frame, or was it the standing frame? Or was it the wheel-chair frame? I'm not sure, but I was just about to lose it by this stage.
Then, I burst into tears.
I said to my husband Mauro: "Gosh I wish I had your patience. I really wish I had your patience."
To which he quickly replied: "Well, I wish I had your drive, Natalie, I really wish I had your drive and determination."
And there it is -- our Yin and Yang. Our complimentary opposite.
That is how we navigate our way through the wild and uncharted seas of the special-needs parenting world. Mauro brings a consistent energy of patience to the table, and I bring a consistent energy of drive and determination.
Together, we get through our days, poo and all.
And yes, Grace, we promise to go to the zoo.