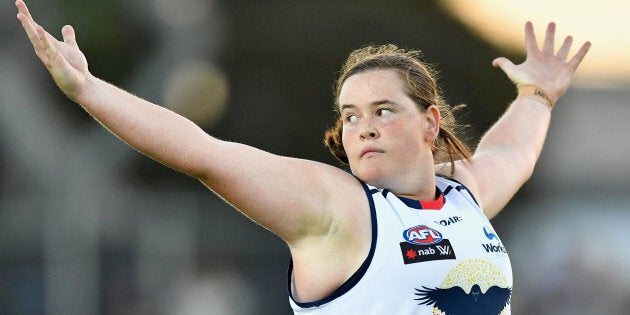 If you haven't been impressed by the Inaugural Women's AFL season, stand by -- Adelaide Crows Full Forward Sarah Perkins has got all the excitement, strength and inspiration you need.
If that name doesn't ring a bell just yet, let us fill you in.
Why? For players as exciting and impressionable as Perkins.
She's quick on her feet, as strong as any full forward gets, hard to tackle and boots goals with a kick so forceful it gets the fans talking.
Coming off the back of an impressive opening win last Saturday against the Greater Western Sydney Giants, Perkins absolutely flew into Friday night's match against the Western Bulldogs with ease.
The strengths in her performance have already gained her the club nickname of 'Tex' after club forward Taylor 'Tex' Walker, and that's exactly the type of game she brought to Friday night's match.
At the sound of the final whistle, the Crows had thumped the Bulldogs 7.6.48 to 2.11.23 and Perkins had scored two goals, taken three marks and given Bulldogs players all over the pitch the grief we're willing to bet they would rather not have had.
It's fast and furious footy that any die-hard fan loves to see and if there's a player to remember, Perkins is the one. We're talking everything from hard knock tackles down to goals kicked from close to 20 metres out.
And if that's not enough to get you watching her, the story behind her surge to this year's season definitely will.
Formerly a netball and soccer player, the 23-year-old Victorian was overlooked at the inaugural AFLW draft despite kicking 52 goals in the 2016 Victorian Women's Football League season.
Then she got down to work. She lost an impressive 40kgs before the Adelaide Crows signed her as a free agent for 2017.
"I've had some pretty inspirational ladies drive me to keep going to get a chance to play in the AFLW and to be a part of the Crows' first team, a winning one, is a bit like a dream for me and a massive pinch-yourself moment," she told the Advertiser.
"I changed the way I ate and the way I saw life to get to this point."
For any other player, initially being overlooked for a shot at your sporting dreams could potentially be crushing. Not for Perkins -- she worked hard, she plays harder and she's showing why she deserves a spot in the team.
"Luckily the Crows gave me a chance and now I'm determined to make the most of it," she said.
"[Adelaide Coach Bec Goddard] told me to believe in myself, that fate had brought us together and that I deserve to be here,."
It's now safe to say the Crows are flag favourites in this inaugural season and you can bet your bottom dollar that Perkins will be at the front of the charge kicking goals until the final minute, all with her trademark grin plastered on her face.