British Prime Minister Theresa May on Monday secured a deal with Northern Ireland's Democratic Unionist Party, giving May's Conservative Party minority government the parliamentary support it needs to govern.
The deal ends weeks of negotiations that followed the Conservative Party losing its parliamentary majority in the outcome of the U.K.'s June 8 general election. Under the agreement with the DUP ― a socially conservative, majority-Protestant party ― May will give Northern Ireland over $1.3 billion in additional funding over a two-year period.
May's pact with the DUP is already coming under fire from political opponents, who accuse her of acting in self-interest to prop up her weakened government while potentially exacerbating tensions in Northern Ireland. Monday's deal also comes a week after Britain's exit talks with the European Union began in Brussels ― negotiations that hastened May's need to have the parliamentary backing to pass legislation.
The Conservatives' snap vote left them in a weakened negotiating position for Brexit and scrambling to reach a deal with the DUP, but the Northern Irish party's right-wing ideology and May's political concessions have fueled controversy that is now likely to grow in the wake of the deal.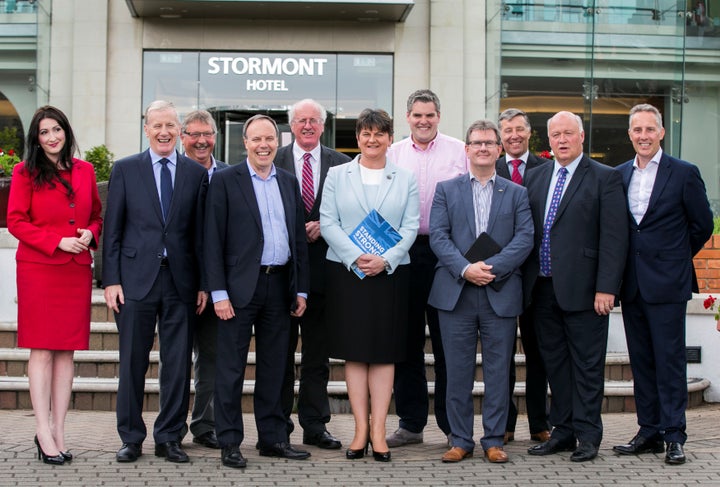 Who are the DUP?
The DUP is a unionist political party, and the largest in Northern Ireland with 10 members of parliament. It gained two seats in Westminster in the vote earlier this month, which party leader Arlene Foster described as "truly historic."
The DUP has close ties to Protestant churches and has been described as a right-wing populist party.
According to the party's website, its vision is to "enhance Northern Ireland's constitutional position within the United Kingdom, achieving long-term political stability to deliver a peaceful and prosperous future for our people."
Foster confirmed after the vote that she and May had agreed to discuss "how it may be possible to bring stability to our nation at this time of great challenge." Her party is staunchly opposed to the prospect of a Labour government led by Jeremy Corbyn, who was May's biggest rival in the election.
Why are they controversial?
Unionism is core to the DUP's platform, but its political stances clash with those of the British government in several areas.
The U.K. legalized same-sex marriage in 2014 in all regions except Northern Ireland. The DUP has wielded its veto power to repeatedly block legalization efforts there, triggering condemnation from former British Prime Minister David Cameron.
Anti-gay sentiment has plagued the group's 45-year history. Former Health Minister Jim Wells has made a number of controversial comments, and was forced to resign shortly after suggesting that homosexual parents are more likely to abuse or neglect their children.
Party founder Ian Paisley spearheaded the "Save Ulster from Sodomy" campaign to hinder efforts to decriminalize homosexuality in the 1970s, and his son called gay relationships "immoral, offensive and obnoxious."
The DUP has also vetoed laws decriminalizing abortion in Northern Ireland, which is legal elsewhere in the U.K. Wells suggested to the Guardian that rape victims should also be prohibited from seeking abortions.
The party fielded criticism after appointing climate change skeptic Sammy Wilson as environment minister. Wilson has slammed the historic Paris Accord to combat climate change as a "totally flawed and pointless" agreement, and contested the scientific consensus that global warming is a man-made phenomenon. Britain is among the 195 nations that agreed to the deal.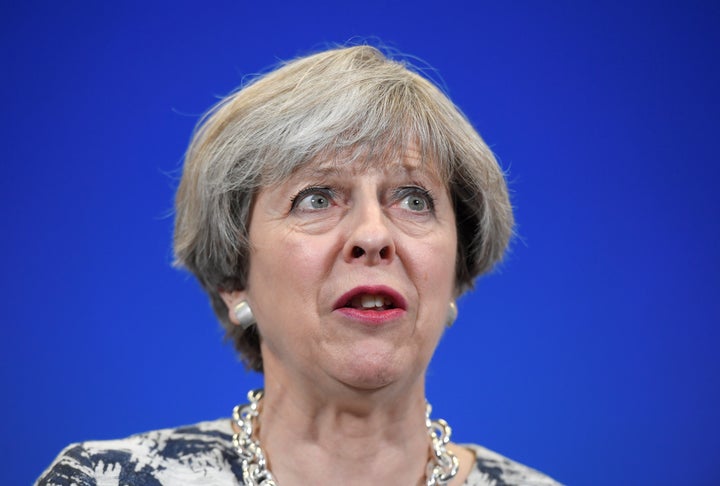 What could a DUP alliance mean for the Tories?
"What the country needs more than ever is certainty," May said following the election. "It is clear that only the Conservative and Unionist Party has the legitimacy and the ability to provide that certainty, by commanding a majority in the House of Commons."
But forming a last-resort alliance with the DUP could weaken her position in parliament. The Tories would rely on full support from the DUP to help them pass future legislation, even though the two parties differ on several key issues.
And after losing 13 seats in the election, the DUP-backed Tories would only have a very slight majority with 328 Conservative seats, barely above the required 326.
May's damaged authority is now likely poised to involve a complicated juggling act of demands and compromises with Brexit dealings. She could be pushed out of office by her own party unless she's flexible, pro-European think tank Centre for European Reform explained to HuffPost U.K. Read more on that analysis here.
What could it mean for Brexit?
The DUP backed Brexit and pushed for a better stance for Northern Ireland in Europe. But Northern Ireland, which is part of the United Kingdom, voted to remain in the EU.
Leaving the bloc through the so-called hard Brexit May campaigned for threatens to damage Northern Ireland's land border with the Republic of Ireland as well as cross-border trading.
"No one wants to see a hard Brexit, what we want to see is a workable plan to leave the European Union," said Foster, who wants to avoid a hard U.K. border with Ireland. "However, we need to do it in a way that respects the specific circumstances of Northern Ireland, and, of course, our shared history and geography with the Republic of Ireland."
The DUP is expected to demand a soft Brexit, which would keep the U.K. in the Single Market ― a European market that works to ensure the free movement of goods, services and labor within the EU.
DUP deputy leader Nigel Dodds said his party is ready to take on the "challenges of a Brexit" and will play a full role in Parliament.
"We will make our influence felt on behalf of the people of Northern Ireland," he said.
This post has been updated following May reaching an agreement with the DUP.
Nick Robins-Early contributed reporting to this article.
To learn more about the DUP, read HuffPost U.K.'s coverage here.