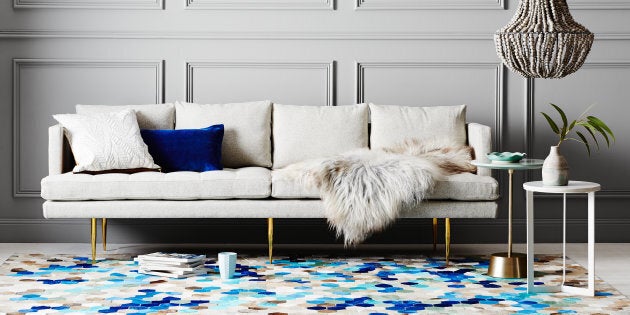 Anyone into interior design will know that cow hide rugs came back into fashion about five years ago.
Starting as a high-end trend, as all trends do, they then trickled down into mass retailer, until could buy large cowhide rugs from the likes of IKEA.
Yet it looks like they are here to stay. And understandably so, seeing as they lend themselves to almost any interior aesthetic from country to Scandinavian.
While your basic cowhide rugs all look fairly similar -- organically shaped with white and either black or brown markings -- Australian sisters Kura Perkins and Bree Hay-Hendry set out seven years ago to use the raw material in a totally new way.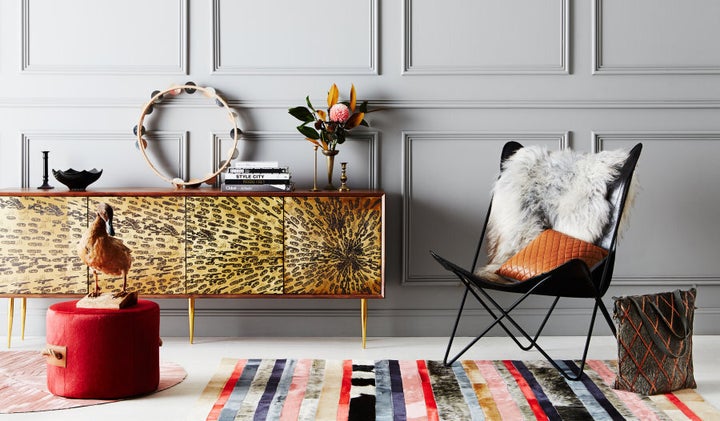 "My sister and I created Art Hide in 2009. My travels in South America introduced me to some third generation makers and I was impressed with the quality, natural characteristics, durability and potential of cowhide as a material for interior applications," Co-founder Kura Perkins told The Huffington Post Australia.
"My sister, Bree, has skills as a specialist textile and fashion designer, and so she brought our concept to life."
The cowhide used in their range is from Brazil and Argentina, and is a by-product from the country's meat consumption. That's not always the case with leather products.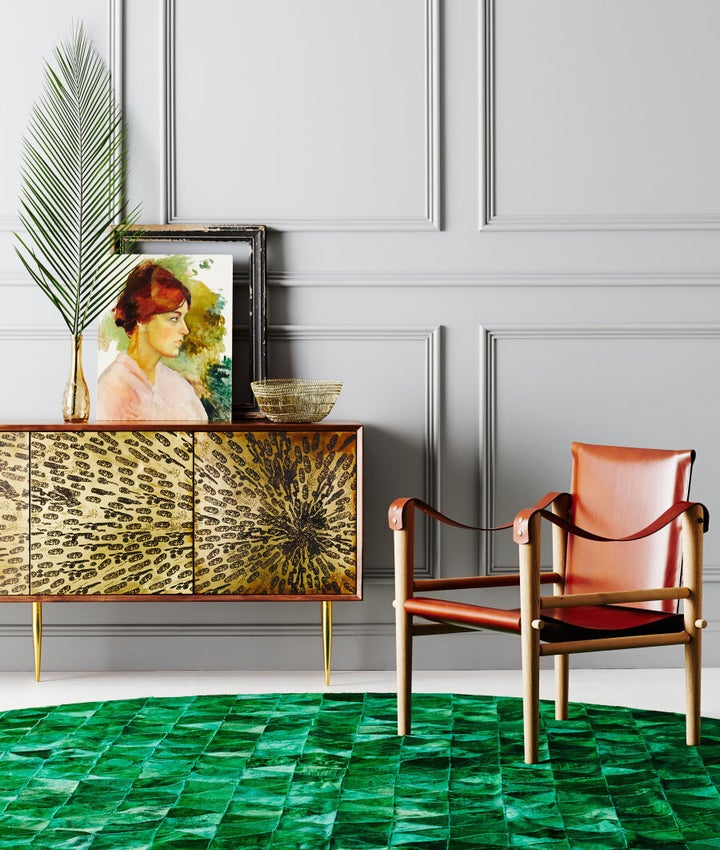 "We make our products from 'A Grade' cowhide leather only, which ensures a beautiful lustre, using Argentinean and Brazilian hide, as well as some from Italy. We have three different teams manufacturing our products, according to their specialisms," Perkins said.
"The cowhide we use is sourced as a by-product of the meat industry from regulated tanneries, where methods involved in tanning and dyeing are always safe for workers and are non pollutant."
"We're proud to work with the most talented leather craftspeople and the most reputable suppliers. Workers are paid well, and everything we do is vetted for quality, safety and sustainability," Perkins said.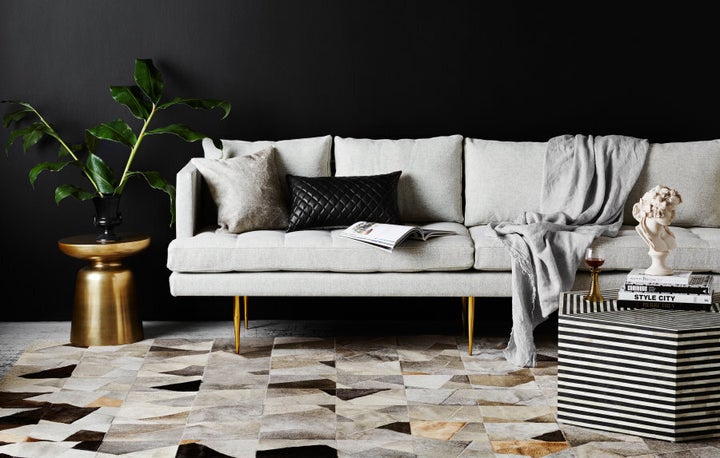 When it comes to working with leather, not all materials and processes are created equal, and that affects the quality of the end product.
"Inferior hide rugs usually use cheap cotton thread which unravels and snaps, causing the rug to come apart. Often the hide has a dull quality and may smell because of substandard tanning practices, and they can thin very quickly. Many are produced from factory scraps in India or Bangladesh, where unregulated tannery conditions are polluted and dangerous for workers," Perkins said.
As for the use of cow skin as rugs, it's sometimes a mental barrier people need to get through, not marrying the same material to shoes, or bags that they wear.
"It's interesting to note that not removing the hair from hide is far less polluting than the process that does remove it [to create smooth leather]. It's also interesting to gauge the public interest, versus, say people buying leather shoes, bags, cushions or couches -- many forget it's the same textile!," Perkins said.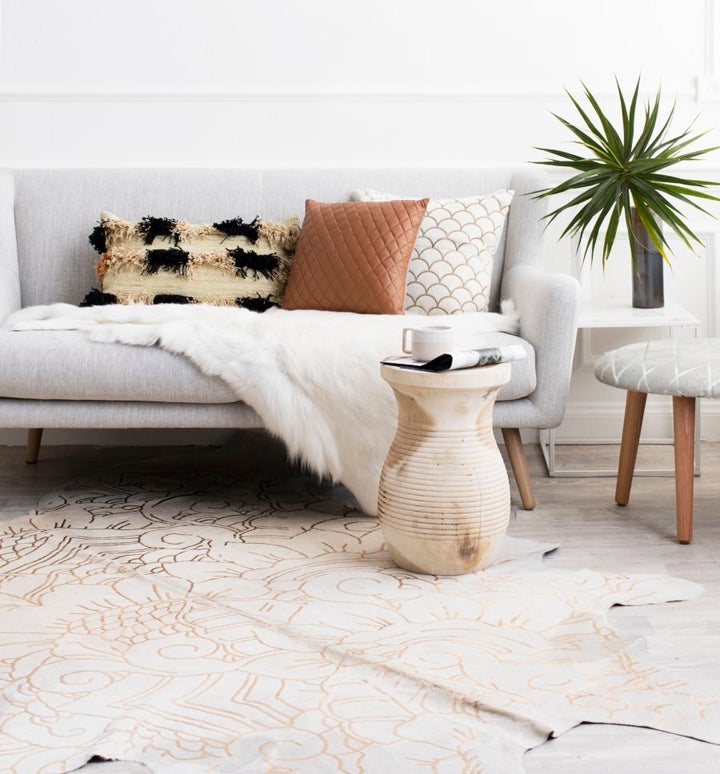 After the hides are sourced the next step is to create unique designs using colour, laser-cutting and metallic motifs.
"We introduce contemporary design and colour and a range of innovative hide finishing techniques, such as laser burning and fine metallic motif work, while still respecting and playing to the strengths of cowhide's natural beauty."
"Colour is hugely important to us and we're always developing new tones that may involve anything up to a dozen lab dips to get the exact right shade," Perkins said.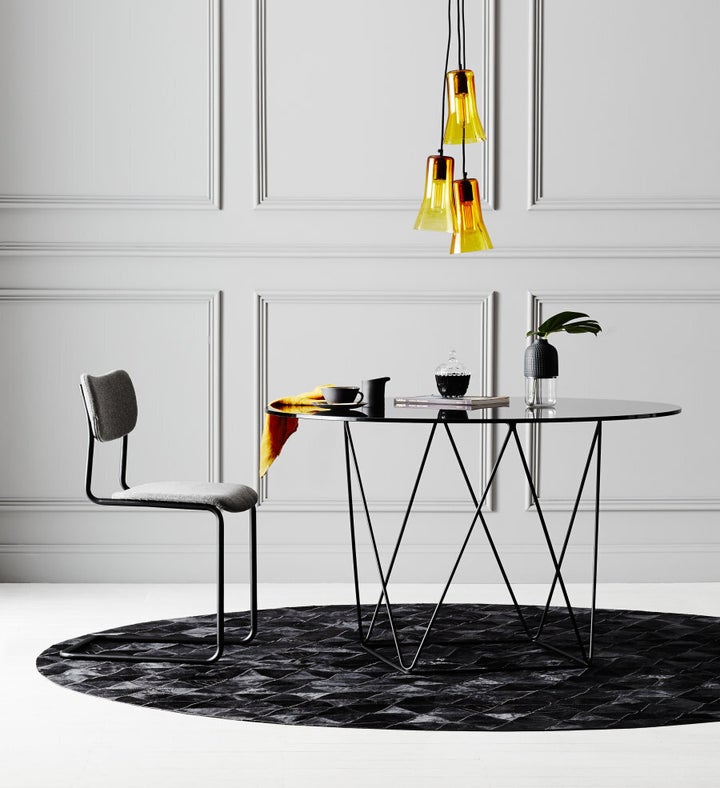 Cow hide is a great option for people with allergies as its hypoallergenic.
"Unlike wool, cowhide is hypoallergenic, making it fabulous for the whole family, kids included! Dirt, dust and even liquids are repelled, which is all down to the fabulous natural oils within the hide. To clean cowhide all it needs is a light vacuum, or take it outside and shake any dust off."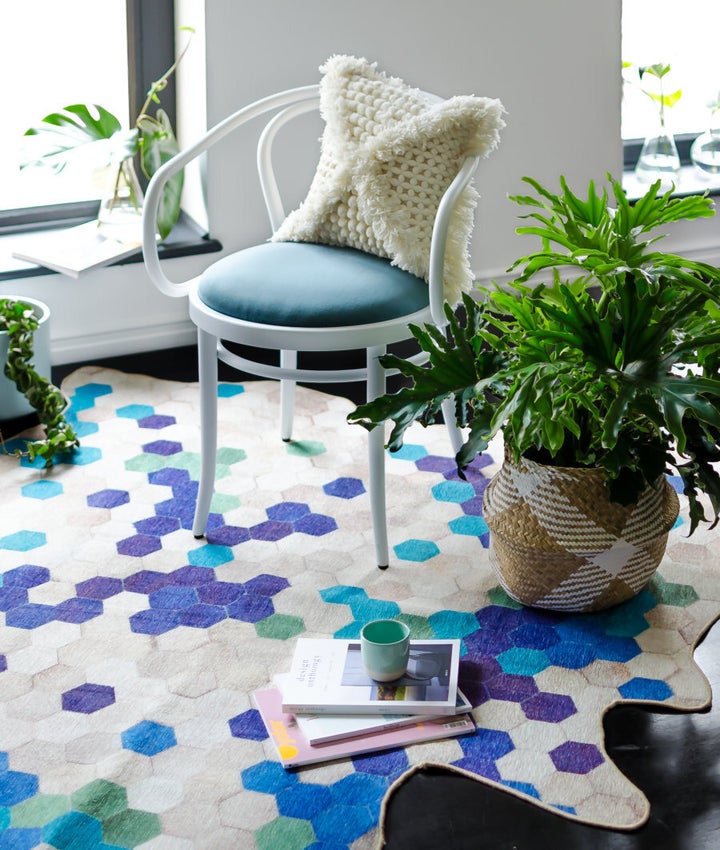 Click below to follow HuffPost Australia on Snapchat!