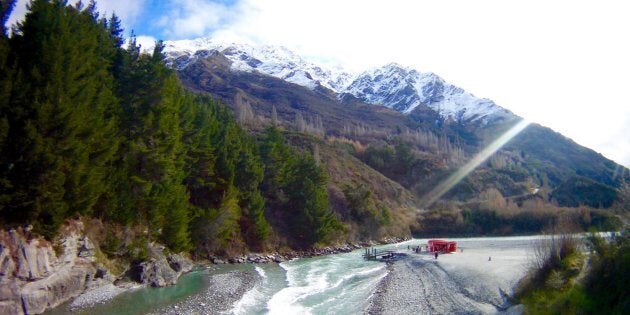 Queenstown. Q-Town as it is known affectionately. A stunning destination on the South Island of New Zealand that has fast become the 'closer option over Canada' for a ski season. It's true, being only a 3 hour direct flight from Sydney and not much longer from anywhere else on the East Coast of Australia for a week's escape in the mountains. (Real ones, not like those hills we call mountains in NSW and VIC) Sorry not sorry.
I must admit, as an avid traveller, humble NZ never really held much interest for me partially due to the fact that it was so close, that I figured anything worth seeing there I could check out once I was closer to retirement age and booking a Britz camper van. However, after hearing reports about how 'fully sick' Queenstown was, I decided to dust off my snowboard and fly the 3 hours to see what all the fuss was about.
Flying in, I immediately took my previous opinion back. Anything but humble, Queenstown is incredible. The flight in alone, as anyone will tell you, is simply amazing, descending through rugged snowy mountains and icy blue glacier lakes, the greenery of Queenstown reveals itself through the clouds as a glistening little village tucked between Lake Wakatipu and the surrounding mountains of Coronet Peak and the Remarkables.
You can stay practically anywhere in the village as everything is within walking distance -- but I must make a special mention of the award winning Nomads Hostel recognised as one of the best backpackers in the world, the private rooms there are better than a lot of budget hotels I have stayed in and the location is superb.
There is something very special about the village, exceptionally quaint, quintessentially Kiwi, but at the same time reminded me of Whistler. The nationalities visiting Queenstown and working there are from all over the world. I half expected the place to be overrun with Aussies (like Bali) but I was pleasantly surprised to find a good balance of both Aussie tourists and foreigners.
Now, for most visiting Queenstown for a week during winter, normally some sort of winter activity on the mountains is on the agenda. And indeed I highly recommend the Remarkabkes (Remarks) as one of the closest mountains to visit. They cater well for all levels of ability on the slopes, whether you ski or board. Stunning views from the cradle of the mountain as well, if all you want to do is go up for some lunch and take a few snaps! Just be careful to check the snow report the day before as white-out days are no fun (read-when snow is dumping) as not being able to see anything is not great for visibility riding down runs, but will also not do your panoramic pics justice!
Even for those not wanting to make the trek up the surrounding mountains, you can still enjoy a mountain vibe from the famous Gondola which will take you to the scenic viewpoint that you see on all Queenstown postcards. Here you can reserve for a fancy dinner or also try out the Luge, which is basically a billy cart racing track located on the top of the mountain -- great fun for the kids and also adults like myself who thought it would be cool to strap a GoPro to my helmet and film the fun!
In terms of heading out for eats and drinks in the village? Well, there are a few you absolutely cannot go past without trying;
World famous Fergburger -- Just Google it. Massive Burgers. Massive lineup to get one.
Winnie's Gourmet Pizza Bar -- A relaxed pizza bar that turns into a pumping dance floor later in the night. Amazing pizza's and a rooftop that opens up to the sky. A popular favourite.
World Bar -- Recently just moved to a new location this hipster joint is all the rage a the moment for finger style food for dinner (think wings and jalapeño poppers) and of course their famous Teapots which is a cocktail in a teapot. Just do it.
The Cow -- Let me take a moment to talk about the homemade BREAD here. Worth a visit alone for the bread. Hidden down a laneway you will feel like you have stepped into countryside England with this candle lit, barn style little gem of a place. Well known for it's hearty spaghetti. Get here early.
Rhino's Ski Shack -- Feel like one of the cool kids here in this little ski village bar where its acceptable to hang out in your boarding pants and beanie straight off the slopes. Enjoy the snowboarding videos, a game of Jenga and hot buttered rum.
Bardeaux -- An adult only style wine bar with the most impressive wine list and an even more impressive fire in a completely dark luxurious space. You will walk past this place without noticing it, so you have to look. Definitely recommend a Pinot Noir here.
Prime -- Enjoy an early dinner to save a few pennies at Prime on the lakefront. Needless to say they also have prime Q-Town sunset views.
When it comes to other activities, they don't call Queenstown the adventure capital for nothing, with bungy jumps, canyon swings, white water rafting and more -- you are spoilt for choice, bro.
My personal favourite? The Shotover Jet at Shotover Canyon. Really good value for money and it does last long enough. Very knowledgeable jet boat drivers who will also talk you through the river rapid systems and some of the tricks they have learned whilst belting down Shotover Canyon at 90kms per hour! Beautiful scenery with an adrenaline rush.
After something a bit quieter? Get onto the Onsen Hot Pools. Having been there twice now, there is no better way to get 'out of Queenstown' and into nature by visiting these man made hot springs. I recommend the romance package whether you are in a couple or not. Even with a friend, you can sit there with your 2 glasses of champagne delivered, ice cream, a scented candle and hand operated opening and closing roof on the clifftop of your own private jacuzzi. Enough said.
Whatever your taste there is something for everyone in Queenstown and you really do feel like you have been away "overseas" for a week in this magical place. I know for some Aussie travellers NZ is like our cousin, so it seems super close, and not so exotic. But trust me, I will never make that assumption again, having already been back this year and currently considering doing a season!