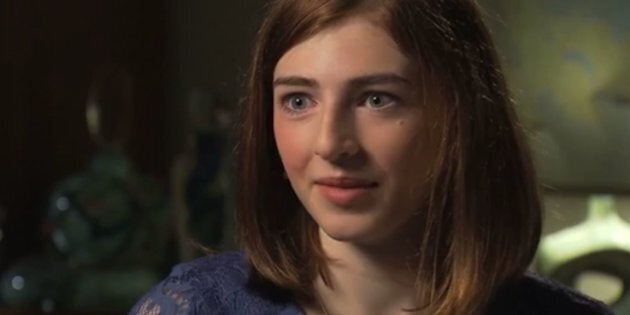 Georgie Stone, 16, became the youngest person to be granted use of puberty blockers by the Family Court of Australia when she started to go through male puberty at the age of 10.
The transgender teen is now lobbying politicians to change legislation forcing young transgender people to obtain the Family Court's approval for transitioning medication.
Speaking to ABC's Australian Story on Monday night, Stone spoke out about her experience transitioning from George to Georgie. The teen was diagnosed as transgender at age seven.
If she wasn't allowed to halt her increasing testosterone levels she would have wanted to kill herself, she told the program. She says her peers are moving to the black market for medication.
After her family went through the court system to gain permission for puberty blockers, they appealed the Family Court of Australia's jurisdiction to authorise treatment of young transgender Australians.
In 2013, the Stones had a "partial victory" with all young transgender people granted access to pubertal suppression treatment without the approval of the Family Court.
"Transgender children still had to go to court to access treatment for stage two, which is the cross sex hormones, so we had another battle ahead of us," Stone's mother, Bec, told the ABC.
"Australia is the only jurisdiction in the world where young transgender children have to go to court to seek treatment that they are entitled to."
In May 2015, Stone found her testosterone levels had spiked after a regular blood test, which added to the pressure of gaining access from the Family Court for stage two of her transition - gender affirming hormones (oestrogen in Stone's case).
"I was looking in the mirror, looking at every detail. If my voice started to break that would completely change my life. I wouldn't be the female that I always wanted to be," Stone said.
"I wouldn't be taken at face value anymore. I would have wanted to kill myself."
Eventually, Stone was granted access and has since become a voice for the LGBTIQ community, promoting Safe Schools within her school, Elwood College, and politically.
Stone is lobbying federal politicians to change the law forcing young transgender people to get the Family Court of Australia's approval for gender affirming hormones.
"It is a waste of time, money and stress. Having changed the law for stage one treatment, it's given us a feeling that we can actually make a difference, because we have, and we have something to fight for," Stone said.
Stone told the ABC young transgender people are turning to the black market to access appropriate medication if the court process is taking to long, or they're unable to access it.
"Kids who I have talked to who want to buy the medication on the black market, they can't go to court," Stone said.
"It's either going to take too long, or they can't afford it, and they have decided that this is their best chance."
Unfortunately not everyone's family is as supportive as Stone's. While her father, Greg, and brother, Harry, struggled at times, they became her biggest supporters.
"I took Georgie down to the shops and I bought her a dress, we bought a dress together," Greg told the program, recalling the moment he truly accepted her desire to transition.
"Once Georgie was diagnosed, I was relieved in a way, I think we were all relieved because finally we knew this was it, so we just embraced it. All you want as a parent is to have a happy child, for that child to be themselves."
If you need help in a crisis, call Lifeline on 13 11 14. For further information about depression contact beyondBlue on 1300224636 or talk to your GP, local health professional or someone you trust.