If you've got a lovely bunch of spotty bananas -- or uneaten ones sitting in the fruit bowl at work -- turn on the oven (to 170°C, to be precise) and start baking this banana coconut bread.
Sweet, caramel-y, moist yet fluffy banana bread is the ultimate comfort treat, especially when thickly cut, lightly toasted and eaten when it's softly raining outside. But, you know, eaten plain is pretty good, too.
This banana bread, with the delicious addition of coconut-ty goodness, is easy to make and ticks all the boxes.
There's also a gluten-free option for those whose worst enemy is wheat flour, as well as a vegan option, because everyone deserves to eat banana bread.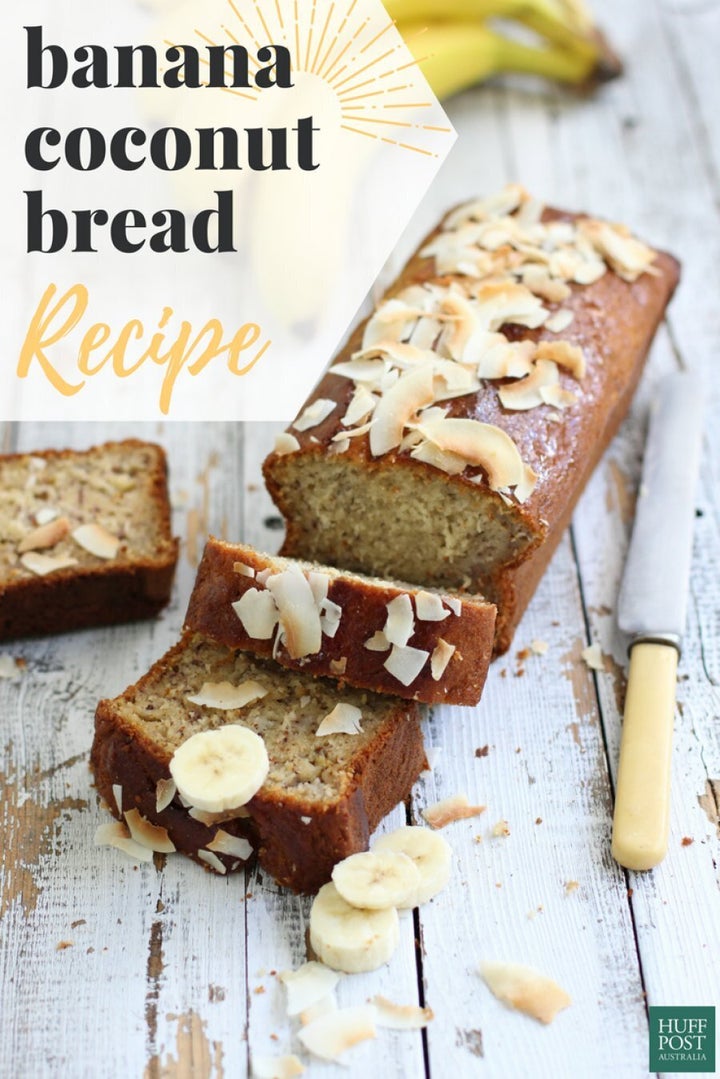 Banana coconut bread
INGREDIENTS
3 large bananas, mashed
150g (¾ cup) caster sugar
2 eggs
125ml (½ cup) oil
200ml (¾ cup) coconut milk
1 teaspoon vanilla essence
240g (1½ cups) plain flour
80g (1 cup) desiccated coconut
2 teaspoons baking powder
½ teaspoon salt
½ cup flaked coconut, to decorate
METHOD
Preheat the oven to 170°C.
Grease and line a large loaf tin (approximately 24 cm x 10 cm).
Mix the bananas, sugar, eggs, oil, coconut milk and vanilla essence in a bowl.
In a separate bowl, mix the flour, desiccated coconut, baking powder and salt.
Combine the two mixtures together and pour into the loaf tin.
Bake for 45-50 minutes, or until a knife inserted in the centre comes out clean.
Notes:
To make gluten-free banana coconut bread: replace the plain flour with 1½ cups (160g) of gluten-free flour and one cup of almond meal.
To make vegan banana coconut bread: replace the two eggs with one extra mashed banana.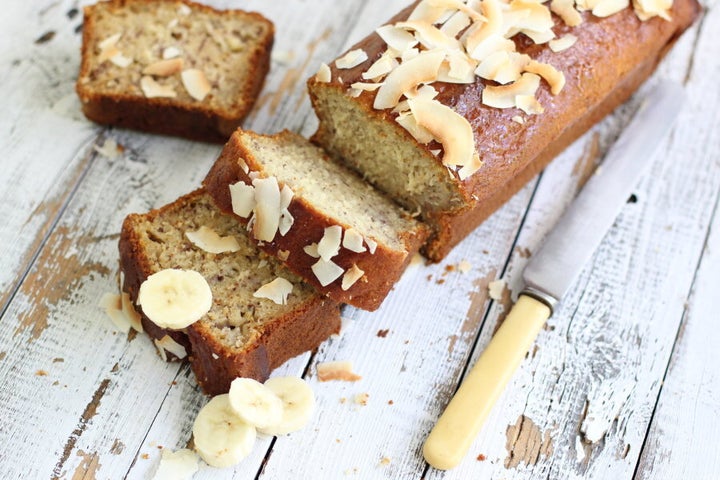 ALSO ON HUFFPOST AUSTRALIA