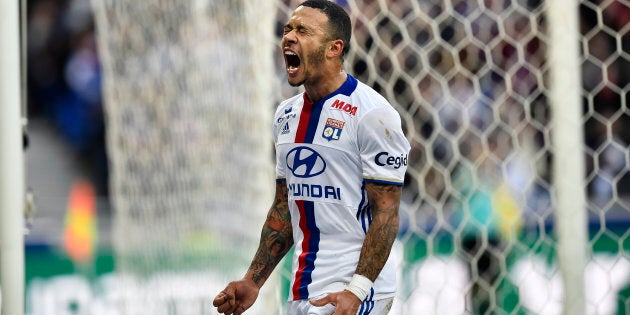 It's not every day footballers manage to score a goal from the halfway line and make it look easy. Long-range efforts that wow crowds are a thing of precision capable only by the big names of the game -- think Beckham, Rooney and Alonso.
And now Olympique Lyonnais forward Memphis Depay has joined those names.
When Depay received the ball in the centre-circle of the pitch in the 82nd minute of Lyon's French Ligue 1 match against Toulouse FC on Monday, it only took a fake-move to the right and a spin to the left for him to escape an opposition defender before a well-aimed kick sent it gliding straight into the back of the net.
Sounds easy right? See for yourself.
Depay, who recently left English giant Manchester United after only scoring two goals in 33 appearances between 2015 and January 2017, has enjoyed a recent run-of-form with Lyon after scoring 4 goals in his last 3 games for the club. And after this halfway-line jewel, United Fans can't believe his turnaround in performance.
The Dutch forward was also quick to play down comparisons from team-mates between himself and other football superstars, such as former Manchester United star David Beckham, who have scored from a similar distance, according to ESPN FC.
"I think it's amazing for me to have scored a goal like that. I had tried it a couple of years ago. I hit the crossbar then, and now I'm lucky it went in," he said. "I'm not David Beckham. I don't compare myself to such a legend."
Even current United frontman Wayne Rooney, who has also scored a goal from the middle of a pitch, praised Depay on Twitter for the goal.
As for the parallels between his goal and Depay's, we'll let you watch some of the memorable efforts below and let you make your own mind up.
ALSO ON HUFFPOST AUSTRALIA