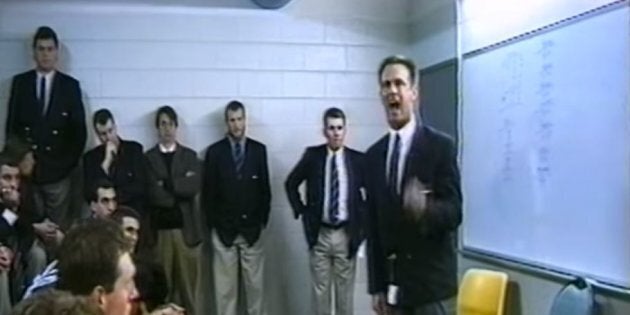 Grrrrrrrrrrrrrrrrr! This story is about the sound of a Bulldog snarling.
Specifically, it's about the the all-time coaching spray delivered by Terry Wallace, coach of the Western Bulldogs in the ill-fated 1996 season when the team came second last. We'll tell you more about the context of the spray in a tick. But first, enjoy the video. See you in four minutes and 26 seconds.
"I'm going to get right up 'em," a stony-faced Wallace warns as he marches onto the field after the final siren. And he does. Boy, does he get up 'em.
Here's the full text of his spray. It's rather, er, colourful.
I don't know about you blokes but I can't f--king bear losing a game like that! Look, fantastic effort but what does a f--king fantastic effort mean? It doesn't get us anything! We don't get diddly squat! We don't get a point. They don't just give us something just f--king for getting close! It means nothing. If you think that I'm going to be happy walking into this room when we get beaten still, we can't be! We just can't accept it! I don't know about you guys, but if I see one bloke walk out of here, getting a pat on the back from people out there for a good effort, I'll spew up! Because it's just not acceptable! We were a rabble in that first quarter, absolutely bloody disgraceful. Absolutely disgraceful. Yeah, for three quarters we were worked our asses off, we worked our backsides off to get back into the game, but the game is about 120 minutes of footy, and that was the most winnable one that we get for a long time, and we just pissed it down the drain. We absolutely pissed that game down the drain. Don't any one of you forget about it. Take away one thing from this game. You have the ability to play in this competition and to play it very, very, very well. We cannot got from that, right, which we've displayed right in the three quarters, back to what we displayed in the first quarter ever again. Ever again.

Go and have your showers, we'll see you back at the social club.
And then, as the players ponder their fates, the camera cuts to an injured player forlornly hobbling off towards the showers, butt naked. It's such a beautiful piece of film making.
The clip is from the AFI award-winning film Year of the Dogs, which is one of the greatest Australian sports docos ever made. Best docos full stop, actually. It's brilliant. The Dogs are a downtrodden pack in 1996. The movie captures that brilliantly, through the eyes of players, staff and long-suffering fans.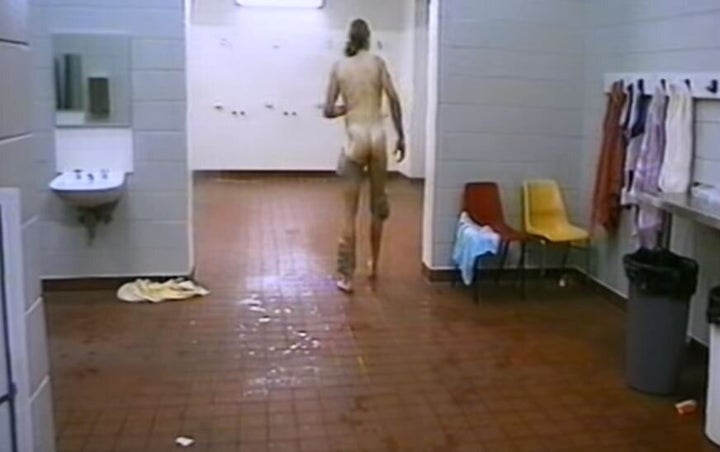 The match shown in the video above was a clash between the Doggies and Collingwood at the MCG in round 17. After a shocking first quarter, the dogs clawed back to fall just a goal short. The final score was 117.12 (114) to 16.12 (108). Just missed. But the coach didn't.
For the record, Wallace's words must have had the desired effect, because the Dogs won the following week, albeit against eventual an even weaker opponent in wooden-spooners Fitzroy. Footscray, as the Bulldogs were then known, had a much better year in 1997. They got within two points of a grand final, losing a heartbreaking preliminary final to Adelaide.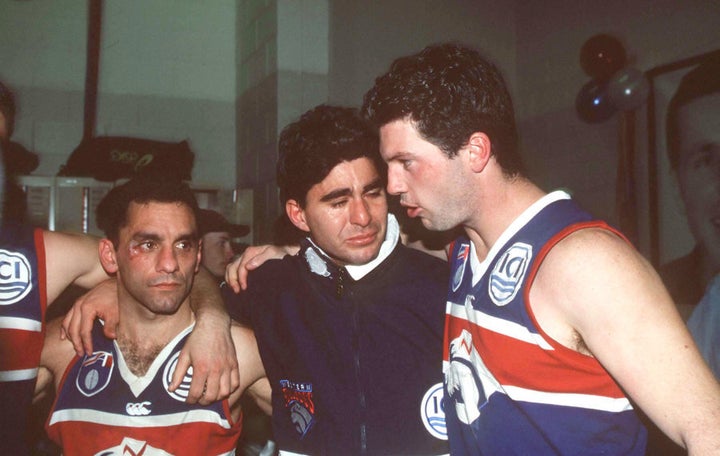 Cut forward 20 years and Bulldogs legend Tony Liberatore's son Tom is a fixture in the current team. He's a symbol of the youthful new era of Bulldogs players which has fought its way through three gruelling finals on the road to make the 2016 grand final against the Sydney Swans. It's the Bulldogs' first appearance in a grand final since 1961. That's 55 years.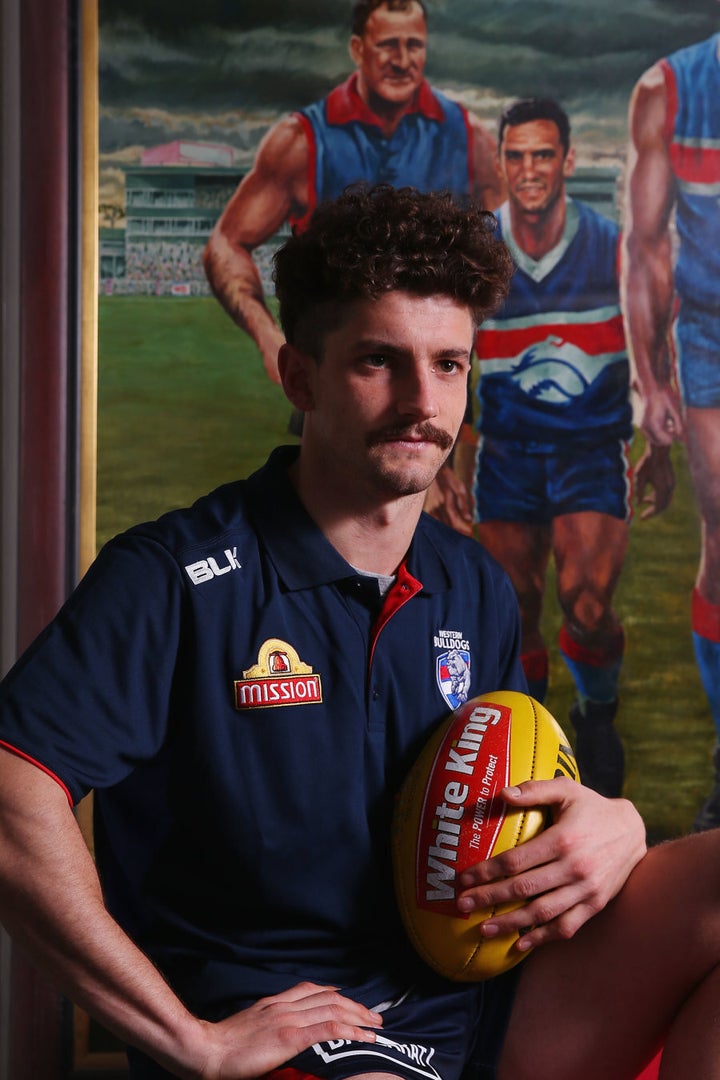 There's some interesting symmetry in all that, given that 1996 -- the year the above doco was filmed -- was the year the Swans made their first grand final in 50-something years too.
Football has changed since the 1990s. Coaches rarely unload on players in front of the cameras anymore -- if they do it at all. The football world, and the world at large, has moved on. Terry Wallace cuts quite a measured figure in his frequent media appearances these days. He's moved on too.
Yet some things don't change. Motivation is still motivation. And if the Bulldogs players need any extra motivation in their quest to lift the premiership cup on Saturday afternoon, they could do worse than watch Wallace's spray. If nothing else, it will remind them of a dark time this club has put well behind them.