This video will give you goose bumps. This will make you go, phew, thank god the world really is changing. We think you'll especially love the scene with the trophies.
The video (trailer above -- full 14 minute version here) is about Sabrina Frederick-Traub, a marquee player for the undefeated Brisbane Lions, who go into Saturday's grand final against the Adelaide Crows as strong favourites to win the inaugural AFL Women's flag.
Strong, powerful and inspirational, Frederick-Traub has been a revelation this season. Unlike some AFL Women's players who got a lot more pre-season publicity, Frederick-Traub has really delivered this season. Just look at her go.
It's hard to imagine Frederick-Traub as anything other than an AFL player now. But as a kid, a professional footy career was never in her plans. Not because she didn't want one, but because it seemed an impossibility before the advent of the AFL Women's competition.
"The 2017 NAB AFL Women's competition means everything to me. When I was playing alongside the boys knowing they had a future in front of them if they wanted it but I didn't, that was really hard.

The fact that being a girl prevented me from accomplishing something important was heartbreaking. But now it's all changed. Now you can hand a girl a footy and some boots and she can grow up believing she can be the first female Chris Judd or whoever they want to be."
A girl can also expect appropriate silverware. As mentioned, there's a great scene in the video where Sabrina shows her favourite trophy. It's one of many in her cabinet, but it was the first one she ever receive with a female figure on it.
Seriously, imagine being a girl and getting trophies moulded in the shape of little boys. Sabrina Frederick-Traub has loads of them. But you suspect today's girls will no longer have to put up with that sort of thing.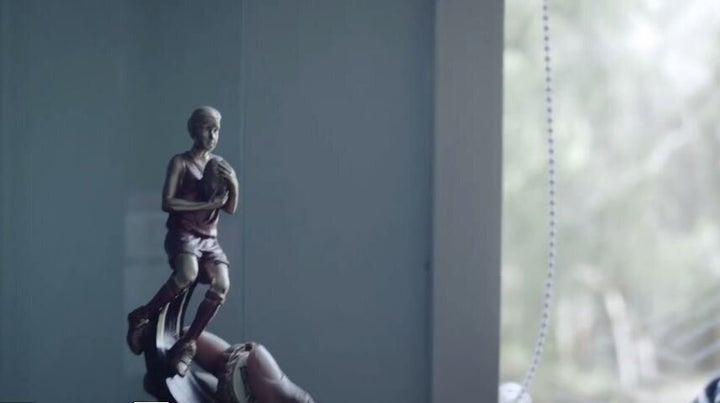 You'd also hope that boys -- having watched the first AFLW season -- will now respect female players more at age levels (usually up to about 13) where boys and girls still play together.
"If a new boy came in to trial, they would never think that he couldn't play," Frederick-Traub recalls of her footballing childhood.
"Any time I would come and trial they would think 'oh, she's not going to be very good'. There was always that first thing of 'oh, I don't want to kick to a girl'. But then you'd play and their mind shifts.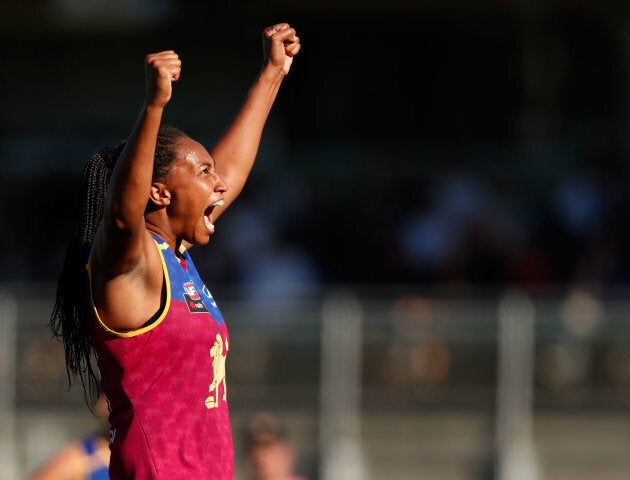 "Stereotypically, a female is seen as not being that physical, as being weak, tame or timid. Females should be sexy or caring, feminine, whatever feminine means. But females can play this sport. There's not a day I thought they couldn't play."
Nobody's thinking that now, not least the Adelaide Crows, who are outsiders to beat the Lions at Metricon Stadium on the Gold Coast on Saturday.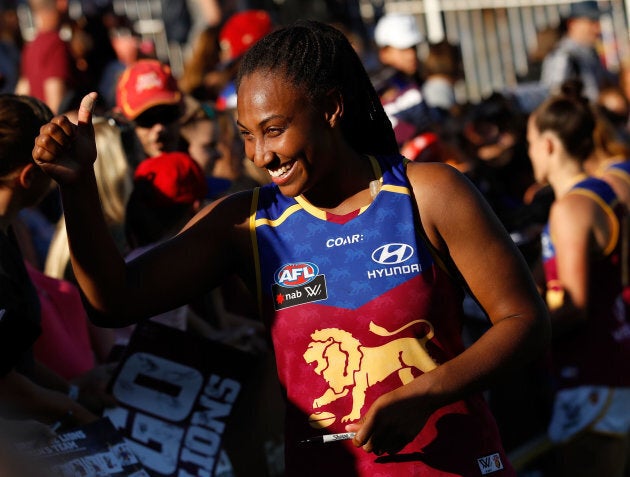 Our favourite line from the video? It comes near the end.
"Whether it's better than the men or different to the men, different is still a win, and we deserve to be out there and have the same chances as the men."
Different is still a win. We love that. The AFL Women's has indeed been different to the men's competition. And that's exactly what's made it so refreshing.
ALSO ON HUFFPOST AUSTRALIA