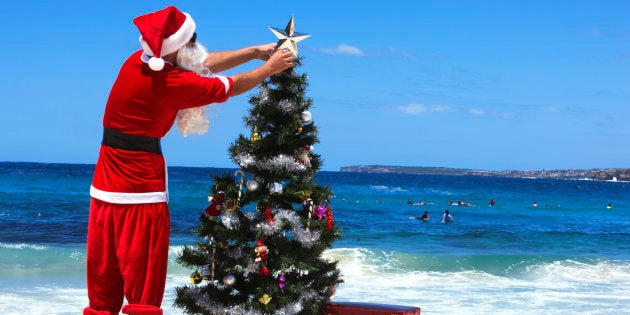 From barbecues on the beach in sky-high temperatures to a round of backyard cricket played by relatives in budgie smugglers and thongs, Australian Christmas has always been done a little differently down under.
So it should come as no surprise that a bloke from Tasmania has managed to take a snap of the most Australian Christmas tree you could imagine in all of its avian awesomeness.
Behavioural ecologist and PhD candidate at the University of Tasmania, David Hamilton tweeted this perfect spin on the classic Christmas tree on Saturday from New South Wales' Central Coast and it's safe to say the reaction went a little bonkers online.
The 'tree' features the staple to any Aussie backyard -- a hills hoist clothesline, with an array of rainbow lorikeets, a wattle bird, a mynah bird and a kookaburra as decoration.
And if you're not up-to-date on your knowledge of local birds -- rainbow lorikeets, wattle birds and kookaburras are all native to Australia.
The exception is the mynah bird, which is native to Asia and was introduced to Australia in the late 1800s, although they're now so populous locally that they're just about as Aussie as it gets.
And judging by this shot, it seems they'll all fit in perfectly with the budgie smugglers and barbeque come Christmas on Sunday.