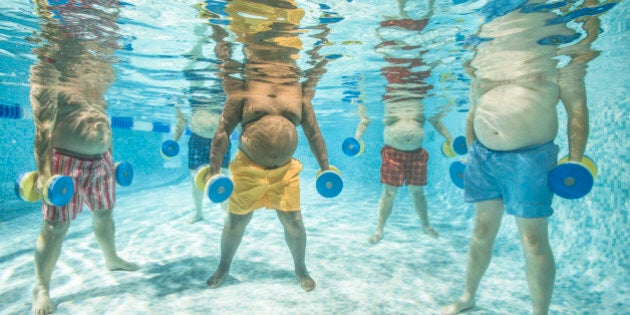 Australia is ranked as one of the fattest nations in the developed world.
The prevalence of obesity has more than doubled in the last 30 years and by 2025, it is estimated that 70 percent of Australia's population will be obese or overweight.
It is not simply about the failure of individual willpower though, and while education and raising awareness is key for prevention, treatment for the 5 million plus Australians who are obese is absolutely urgent.
But beyond the individual health risks and quality of life associated with obesity, there is a huge societal and economic burden through the direct and indirect costs it generates.
According to the Australian Bureau of Statistics the total annual cost of obesity in 2008 including health system costs, loss of productivity and carers' costs was estimated at around $58 billion.
The cost to Australia's collective well being is $120 billion as estimated by the Herald/Age Lateral Economics Index.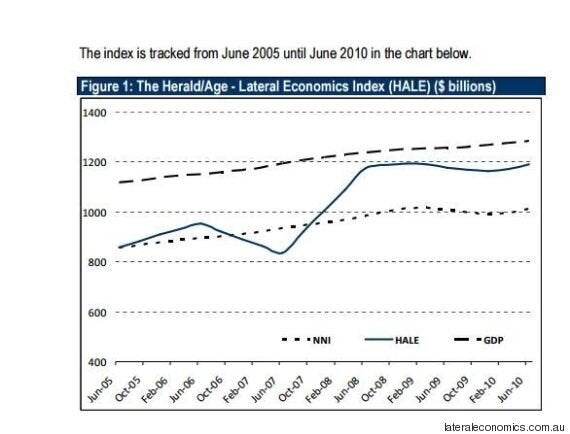 Fat Nation: HuffPost Australia's Obesity Series
Experts agree tackling the disease of obesity requires a much broader engagement across all levels of society.
If you are overweight or obese, you are twice as likely to have depression. You are at higher risk of comorbidities associated with obesity and as a result, visit both the hospital and GP more than a non-obese person.
The PwC report showed while the situation of obesity in Australia is dire, long-term and cost effective intervention will save us money.
Direct costs including general practitioner, allied health, hospital care, pharmaceuticals and weight loss intervention made up $3.8 billion while the indirect costs including absenteeism, productivity and government subsidies made up $4.8 billion.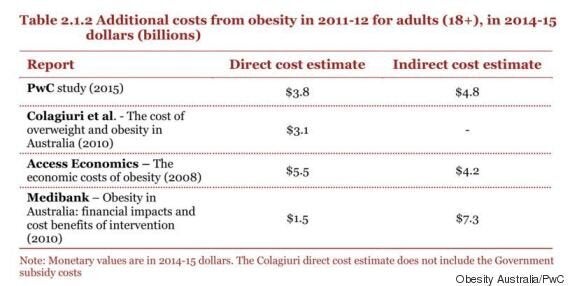 The PwC report found there was $3.8 billion in direct costs and $4.8 billion in indirect costs.
Obesity-related doctor visits also take longer than average which adds to a marginal cost of $255 million per year in GP visits due to obesity.
Hospitals around the country are struggling to manage with the ever-increasing intake of obese patients.
There is an estimated additional cost of $1.2 billion in hospital care but this does not include the specialised equipment and infrastructure hospitals must invest in for obese patients.
Bariatric equipment, reinforced beds, pressure mattresses, lifters, shower chairs and specialised toilets are crucial for the safety of the patient and hospital staff who are at higher risk of manual handling injuries with an obese patient.
Ambulance services need to invest in trucks and equipment designed for transporting severely obese patients while additional staff are often needed to assist.
These costs are covered by state and territory governments and are estimated to be high given most of these specialised products are two to three times more expensive than the regular type.
Australians spent an estimated $368 million in 2011/12 on weight loss intervention, including bariatric procedures. This figure excludes government and private health insurance contributions to bariatric procedures.
Despite their success, Cowley said we need more drug therapy -- given approximately two-thirds of Australians are overweight or obese and there is very little to be done for patients except provide surgery.
The indirect or "hidden" costs of obesity are perhaps the most shocking as Australian employers and businesses grapple with the huge loss in productivity and performance due to obesity.
As with doctor and hospital visits, studies show people are more likely to have been absent from work or school in the last two weeks as BMI levels increase.
The PwC report estimated a cost of $477 million in absenteeism and $544 million in presenteeism (when the worker shows up to work but does not perform to their ability).
Cowley said workplace productivity is an important driver for recognition from employers that they need to do more in the workplace.
"We can work with health organisations, communities and community organisations to try and do things at home but the workplace is where a lot of us spend most of our time so there's a huge potential for healthy lifestyle messages to be better delivered here," Cowley said.
Costs to the individual including depression, disability, quality of life and premature death are difficult to pin down.
"Unfortunately, overweight or obesity are frequently linked to negative social consequences that may include offensive remarks from others, bullying, insulting media and social media portrayals, and discriminatory behaviours in the work place and health settings," Dr Janine Clarke, psychologist at Mend Psychology and The Sydney Act Centre and mental health researcher at the Black Dog Institute told HuffPost Australia.
Research shows that weight-based stigma can start as early as kindergarten.
The median age at death due to obesity was 55 for men and 65 for women.
So the question is this -- how do we put a price on life?
The PwC report -- which looks ahead to 2025 and costs a number of interventions including parental education, school curriculum, food labelling, tax on unhealthy foods and bariatric surgery -- is estimated to cost $1.3 billion, leading to savings of $2.1 billion.
While these interventions will help to slow the growth rate of obesity they won't allow Australia to meet the World Health Organisation of freezing obesity at 2010 levels.
If nothing is done however, we can expect a total of $87.7 billion in direct and indirect costs by 2025.
This part of a special series by The Huffington Post Australia about the nation's obesity crisis.
If you have an idea (a big one, or a small one -- even a nutty one) email us at HuffPost Australia.