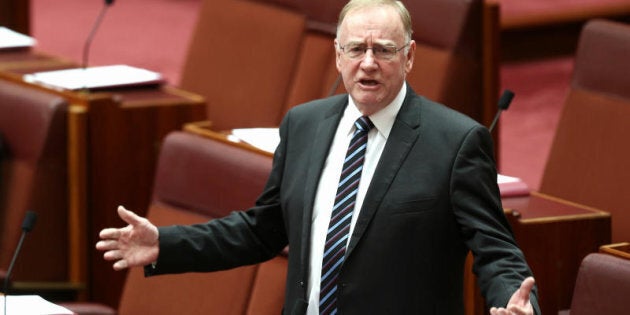 CANBERRA -- If they can, politicians from all sides want to run a mile from corruption in New South Wales politics.
The name of the now jailed Labor Minister Eddie Obeid has a certain smell about it.
You see, there is another Ian Macdonald.
And the other one wants you all to know that while he is Ian Macdonald, he is not THAT Ian Macdonald.
In a release headed "Not the 'Good' Ian Macdonald," Queensland LNP Senator Ian Macdonald has decried the confusion that has followed him throughout his "long parliamentary career," including the "very first time" when the state Labor Ian Macdonald wanted to get "rid of the Australian flag".
So the federal Liberal Ian Macdonald has felt compelled to say this:
"To avoid any confusion, I want to make it very clear that whilst I am an ex-minister with the name Ian Macdonald, I am not a former Labor Minister, have never been a member of the Labor Party, and have never worked in the NSW Parliament and have never met Eddie Obeid," Senator Macdonald wrote.
"And whilst I don't have a lot of hair, any photo of a bald person is of someone else!
"Simply put, IT'S NOT ME!"
He likes to interrupt during Senate hearings and often has something to say and debate on pretty much all things in the Senate, but he is not THAT Ian Macdonald.