Last month we were told that words like 'specialised', 'leadership', 'passionate' and 'experienced' are way too overused on LinkedIn.
"People get into the habit of using generic words instead of creating a profile that reflects who you are," LinkedIn head of communications Australia and New Zealand Shiva Kumar told The Huffington Post Australia.
"You might not be able to avoid all the buzzwords, especially given we live in a world of buzzwords, but if you are using one or two, then make sure you add some evidence to back up that particular word."
If that advice made you rewrite your profile, we've got some more tips for you. Turns out your head shot is just as important.
Snappr, a U.S site that pairs a client or person with a suitable photographer, has come up with a handy tool that analyzes your LinkedIn profile photo.

Hit a button and it will pull through your current LinkedIn head shot to be analyzed. It breaks down the aspects which are working for you (maybe your smile or eye contact) and then gives you advice on areas that could be better (like composition or lighting).

If it deems your current profile picture to be less than ideal you can upload another from your computer and give that a whirl.
After all, they say a picture is worth a thousand words.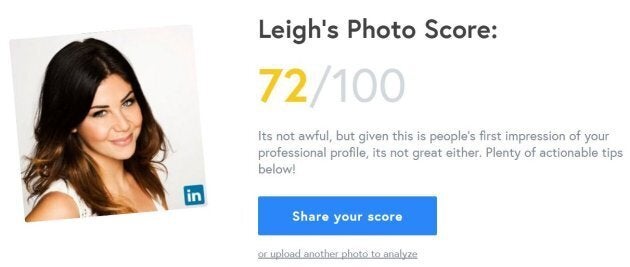 ALSO ON HUFFPOST AUSTRALIA