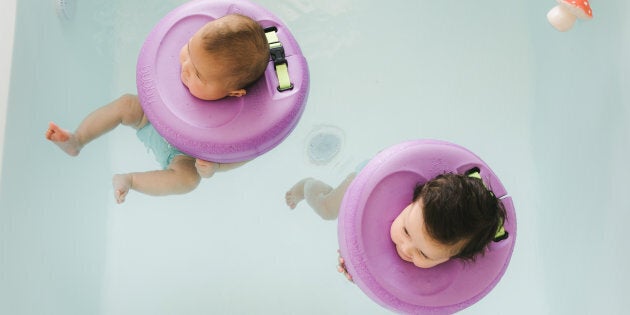 Australia has its first spa just for babies and it's making a lot of bubs -- and their parents -- so blissfully happy.
Baby Spa Perth opened 11 months ago and has already attracted loyal clients. The spa offers 45 minute sessions for $85, which include hydrotherapy and an infant massage. They've treated babies from six days old to six months old.
Apart from being so darn cute, co-owner Anita Yap says the treatments have many health benefits, including improved sleep, increased lung capacity, relieving wind and digestive discomfort, and promoting muscle growth.
"One of the main benefits we love the most is the parent's bonding experience," Anita told The Huffington Post Australia.
Anita's own son, Xavier, has been treated to sessions since he was six days old. She opened the spa with her sister Kavita Kumar and says the birth of the business and her child at the same time was not on purpose.
"I love children and it's something that we always wanted to do so it was a coincidence that I was pregnant at the same time," she said.
When some people look at the flotation devices used, they can be skeptical that the treatment won't harm the baby. However, the 'BUBBY' devices are designed to support the back of the neck with the chin resting forward on the doughnut-shaped device. They look a bit funny, but Anita assures clients that they are "very safe" when used under professional supervision.
The Perth spa is part of a franchise which started in South Africa. As the first in Australia, Baby Spa Perth has attracted parents and babies from all over Australia looking for a special day out.
"People love it, parents love it, babies love it."
ALSO ON HUFFPOST AUSTRALIA