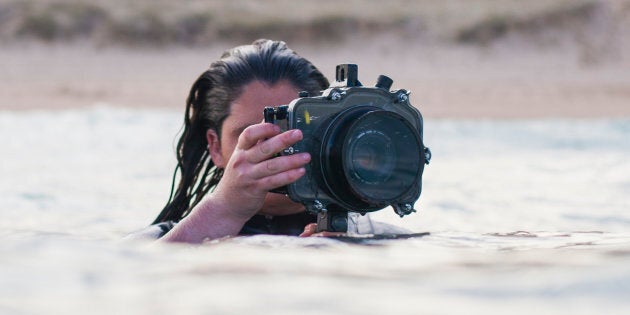 There are three things you need to know about Shannon Glasson.
First up, the 17-year-old from the Sydney's south coast is one to watch in the surf photography scene. Second, she doesn't really feel fear. Third, she was born with two conditions, Talipes and congenital adrenal hyperplasia, with the latter causing the (possibly enviable) side-effect of a fearless life.
"What is a life to live without fear? I don't really know, because I've never had a different feeling," Glasson told The Huffington Post Australia.
"The way I look at it is you've just got to live in the moment and take the positives. And hope the positives outweigh the negatives -- and most of the time they do."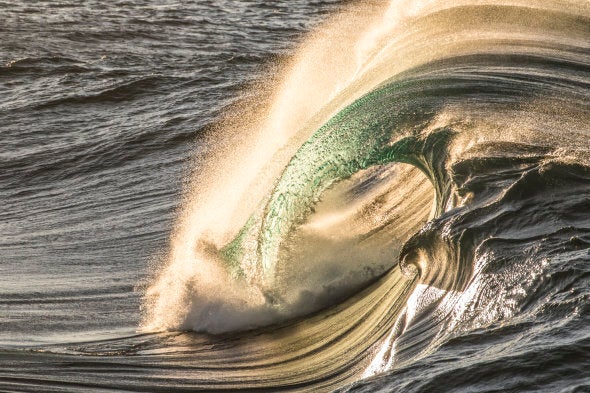 Glasson was born with her feet internally rotated at the ankle (formally known, and previously mentioned, as Talipes) so her parents were told she would never walk. They lived by the beach in Cronulla, so the doctors said they could teach her how to swim. Naturally, she learned how to swim before she walked. And yes, she walked.
After multiple operations, Glasson's feet were aligned and she was walking, but her love for the water never faltered and soon she was stealing her mum's waterproof camera.
She hasn't really looked back since.
The 17-year-old dropped out of school in Year 10 to pursue her photography career and was recently the first girl to photograph Cape Solander in Kurnell on the News South Wales south coast. She just happened to be photographing pro-surfer Sally Fitzgibbons -- an unsurprising career highlight.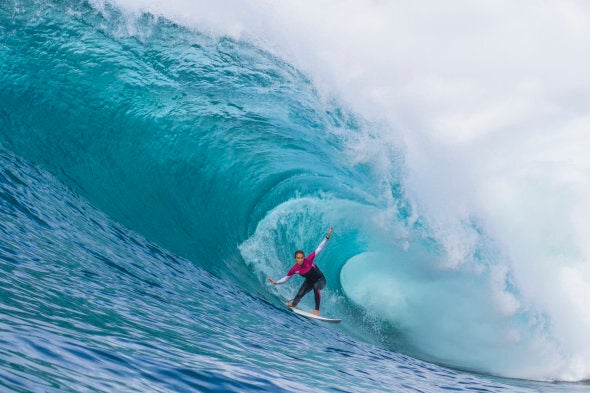 "It was insane. I shot it once before but nowhere near that big. It was six to eight foot," Glasson told HuffPost Australia.
"It would be good to see more girls out there but I'm not waiting for other people."
Glasson isn't waiting because she doesn't have time. Overcoming adversity has taught her that. Living with congenital adrenal hyerplasia means the 17-year-old has to take medication three to five times a day and when she gets sick, steroids.
"I've had more needles than I can remember," Glasson told HuffPost Australia.
"I've learned to take the good with the bad with what I've got. There's no other way to do it. But then again, if I didn't have this condition, I probably wouldn't be doing what I'm doing today in terms of shooting big waves and not having fear."
There's not yet scientific evidence the condition removes fear from the individual, but the doctors have told Glasson "no one that has this condition really feels anything [like fear]."
"Another girl that has this is Quincy Symonds and she's on the Gold Coast. She's only eight and she's charging eight to ten foot waves. There's another girl down here, a cricket player, and she's playing men's cricket."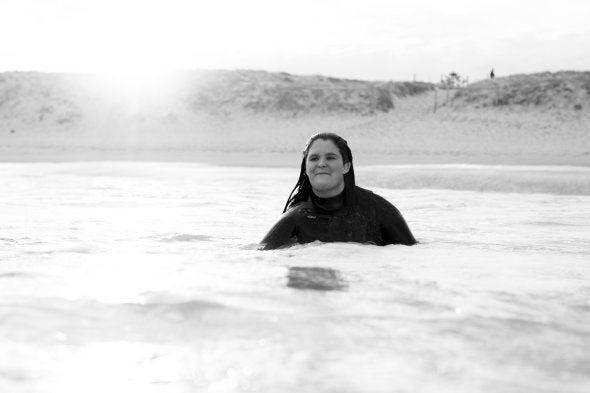 So there's Glasson's silver line. The conditions she's lived with have collectively pushed her towards a passion many never find. She's already holding exhibitions, selling her photos online and tackled some of the big breaks. And there's so many more on the horizon when you're so fearless.
"I could say that that's the good thing that's come out of this," Glasson said.
"My parents were told at my birth that I would never walk, but now I am and I'm doing what I'm doing.
"There's kids in the hospital laying there and they never will walk. When I'm thinking about where I'm going to shoot next, or if it's too far away or whatever's going on in my head I think 'well, there are some who will never be able to do that so I'm just going to do it now and see what happens.'"
ALSO ON HUFFPOST AUSTRALIA