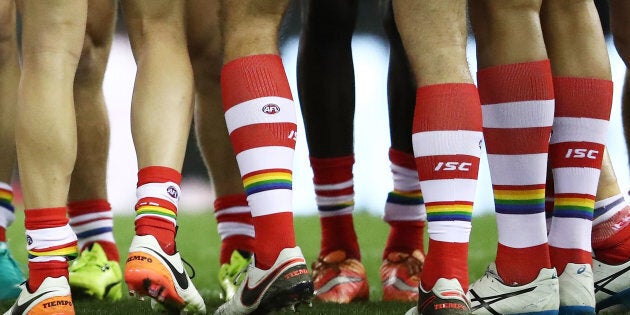 For a passionate footy fan there's nothing better than being at the ground and cheering on your team.
Yet for a significant number of LGBTIQ fans, being at an AFL game isn't a positive, fun or even safe experience -- instead it provokes feelings that you don't belong, that you're different, and that you're not welcome.
New VicHealth research has revealed that out of a survey of 673 people who identified as LGBTIQ, nearly three in five have either witnessed or experienced homophobic or transphobic abuse at a game. Additionally, over half of gay AFL fans don't feel welcome and included in the sport.
That's why last year's first-ever AFL Pride Game was such a watershed moment for gay footy fans.
The Pride Game sent a strong message that LGBTIQ fans are welcome and safe in the AFL. That diversity is a cause for celebration, not disrespect or exclusion.
We know that feeling excluded and discriminated against, is a key driver of poor mental health and wellbeing in the LGTBIQ community.
There's no shying away from the fact that LGBTIQ Australians have much poorer mental health and wellbeing than their straight peers. Attempted suicide rates among LGTBIQ people in Australia are a staggering 14 times higher than in heterosexuals.
This is totally unacceptable.
If we are to make progress in turning around these shocking statistics, and improving the mental wellbeing of our LGTBIQ community members, we need to do more to make everyone feel welcome in all levels of society, including our sporting codes.
Attitudes are slowly changing -- the willingness of fans to embrace the Pride Game is testimony to this. But we still have a long way to go before LGTIBQ fans feel safe, welcome and included at our sports grounds and beyond.
Last year's Pride Game signaled to fans -- regardless of sexuality or gender identity -- that everyone should feel comfortable to be themselves at the game. That footy fans come in all different shapes, colours and races -- and can love whoever they please.
The AFL, especially the St Kilda and Sydney Football Clubs, should be commended for the success of Pride Game, and for the impact it has already had on LGTBIQ fans.
VicHealth commissioned a La Trobe University study, which found over 90 percent of LGBTIQ fans found the Pride Game to be a positive, inclusive experience.
Importantly, the game had a significant impact on straight fans as well. Over 67 percent of AFL fans surveyed said they would now intervene if they heard someone make a homophobic joke or slur.
This Saturday, St Kilda and Sydney will face-off in the second annual Pride Game at the Sydney Cricket Ground. Thousands of proud LGBTIQ fans will be in attendance.
Despite the positive impact the Pride Game has had on AFL and the broader community, I know that in the lead up to this Saturday's game we'll hear the same tired criticisms -- why do we need a Pride Game? Why does the AFL need to take a stance on every political issue? Where's the white, straight male round?
The reason we don't have a white-straight male round is because we don't need one.
And, I wish that in 2017 we didn't need a Pride Game. That gay players, fans and officials were openly celebrated and embraced throughout the entire season -- not just at one game.
Sadly, this isn't the case. Not yet.
Gay supporters still face sickening abuse in the stands -- often by supporters of the same club. Highly paid commentators still make homophobic and transphobic 'jokes', that are just out of step with community attitudes. It's therefore hardly surprising we don't have any openly gay players in the men's AFL comp.
As CEO of VicHealth, I am a strong believer in the power of sport to create social change.
From Australian Olympians boycotting the 1980 Moscow Olympics to protest the invasion of Afghanistan, to Adam Goodes defiantly staring down racist sledging from AFL fans -- Australia has a long history of athletes challenging prejudice and injustice.
In that same tradition, the advent of the first ever AFLW competition was a pivotal moment for gender and LGBTIQ equality. It is remarkable that players felt comfortable enough to not only be open about their sexuality, but to also use their profile to actively campaign for LGBTIQ rights.
It is heartening to see St Kilda Football Club, the Sydney Swans, and the AFL, take such a strong stance against homophobia and transphobia in sport through their commitment to Pride Game and other initiatives to include LGBTIQ fans.
Attitudes are slowly changing -- the willingness of fans to embrace the Pride Game is testimony to this. But we still have a long way to go before LGTIBQ fans feel safe, welcome and included at our sports grounds and beyond.
As St Kilda and Sydney FC fly the rainbow flag this Saturday at the SCG, AFL will again be that little bit more comfortable, safe, inclusive and proud.
ALSO ON HUFFPOST AUSTRALIA