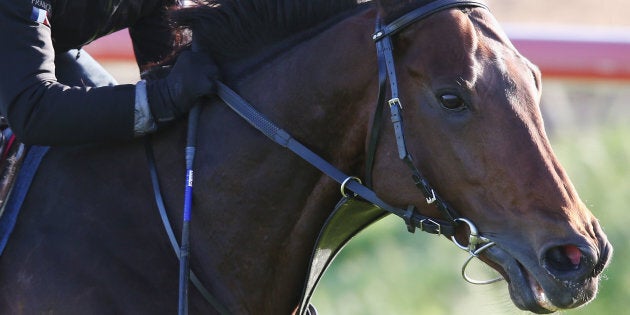 Tiberian shouldn't even be here. The French horse, who will line up in the Melbourne Cup on Tuesday at the not hopeless odds of 20-1, was an afterthought, the by-product of a bizarre, three-way equine tryst.
Indulge us a moment while we explain the background to this tale of four-legged flirtatiousness.
Horse breeding is complicated stuff. There are many ways to make it happen, from using frozen semen, to au naturel;
When doing things the natural way, expensive stallions with strong bloodlines and/or racing records "serve" (as they politely say) a mare. In fact they'll usually serve many mares over the course of a breeding season;
But it's not that simple. Before doing the deed, the mares need a "teaser pony". This is the pony (or horse, but it's called a pony anyway), which is tasked with getting the mare in the mood;
We won't go further into the specifics of the foreplay. Use your imagination. But we should clarify that it's dangerous work. You might get bitten or kicked. And that's why you don't want your expensive stallion in there until the mare is good and primed.
Cut to early 2011. In the French countryside about three hours west of Paris, a horse called Tiberius Caesar had been doing his teaser pony duties all season.
Tiberius Caesar had been a poorly performed galloper in his day, winning just one of his 49 races. His bloodline appeared destined to end with him. And why not? Who wanted the progeny of a slow racehorse?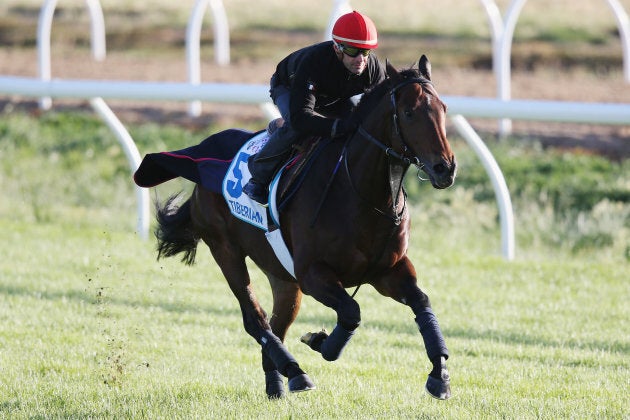 But Tiberius Caesar found a calling as a teaser. He teased diligently and he teased well. They even had a nickname for him at the Haras du Logis stud. They called him "Caesar the Teaser". And eventually, the staff took pity on him.
At the end of the breeding season, Caesar The Teaser was allowed to mate with the mare Toamasina. The result was Tiberian -- who has won six of his 17 races and will be ridden by top French jockey Olivier Peslier in the Melbourne Cup on Tuesday.
How Tiberian came to be in Australia is an interesting story in itself. As the Herald Sun reported this week, Tiberian was purchased by Australian racehorse syndicator Darren Dance. Last year, Dance bought the French horse Heartbreak City which ran a very close second in the 2016 Melbourne Cup.
Remember the thrilling finish last year? That's Heartbreak City in the fluoro yellow. Just missed!
Tiberian's French owners watched that 2016 Cup. So when Dance courted them, they immediately consented. They kept half-ownership for themselves, et voilà, here we are. The horse that confounds centuries of breeding logic will line up on Tuesday.
In a final delicious twist to this story, there's also a runner in this year's Cup called Hartnell, whose dad was Authorized -- the horse that Tiberian's dad acted as teaser for.
Hartnell ran third in the Melbourne Cup last year, but if this year's odds are any guide, Tiberian the teaser's son is heavily favoured beat Hartnell, the son of the champion.
And isn't equine egalitarianism exactly what our greatest race should be all about?
(And if you'd like to see Tiberian racing, the video below shows his final race before heading to Australia, which he won. Note how the race caller pronounces his name in a very French way. Classy!)