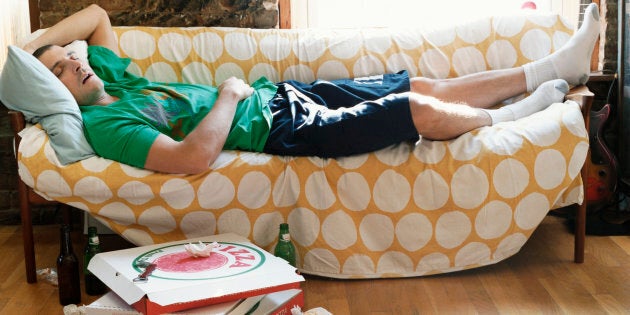 Some guys have a natural knack for decorating. Others might need a little more help, particularly if they live alone.
We're not saying all men are hopeless, but the uni-dorm style living situation of some bachelors leaves a lot to be desired. We're not just referring to those who date them, but the guys themselves often want to spruce up their joint -- they just don't know where to start.
The first unspoken rule of decorating is to go for natural textures, colours and fibres, as they automatically give off a higher quality feel.
"Incorporate natural materials such as timber, marble, leather and linen. Whether it is a leather ottoman, simple timber cuts stacked in the fireplace ready to be lit, a marble coffee table or quality cotton linen folded neatly in bathroom, these rich fibres are both simplistic to style and convey an unwavering sense of luxury," Daniel Mazzei, Director of Mazzei Homes told The Huffington Post Australia.
"These raw textures and natural fabrics can be easily incorporated throughout the home, and combined with a whisky filled crystal decanter and a freshly lit cigar, they are sure to maintain the masculinity of the stylish man cave."
Okay so the cigar might be a bit much, but you can usually pick up cool retro crystal or crystal-look decanters at your local Vinnie's, which look great on a kitchen bench or bar cart and are as cheap as chips (but they look $$$).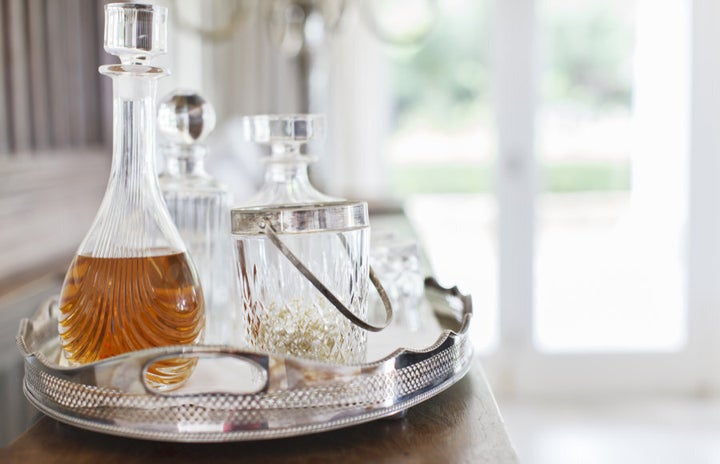 Another way to make your place look luxe is to give it a little love. If you own your home, set aside a weekend for a DIY session.
"Restore and give a little TLC to the existing features in your home. Reinvigorate the heritage brick wall hiding beneath the mediocre render job your friend did over the long weekend, and the timber floor boards that are begging for a sand and fresh stain -- these are the perfect easy-fix projects. By harnessing the best features in your home and investing in them, you can develop a sense of space and feel before moving on to furnishings," Mazzei said.
If you're renting, consider doing the same but with the furniture you own. A quick sand and paint or varnish can bring old items to life again.
Or, you can get cool, great quality pieces for a steal on Gumtree and make them your own (or just use as is -- people often sell designer stuff for crazy cheap prices).
Cool real-life inspiration.
When it comes to shopping for 'house stuff', you really get what you pay for. Rather than buying crap that will fall apart in a few months, cough up for a few key pieces that'll last you a decade.
"Invest your money where it matters. Big ticket items such as a leather lounge or timber entertainment unit are worth devoting your hard earned dollars to, as these items will give you longevity," Mazzei said.
A simple way to make your pad look fancier is to keep it clean. It doesn't matter whether your stuff is cheap or pricey if it's dirty and dusty.
"Cleaning is quick, when it is done more frequently. Select interior furnishings that are easy to keep clean, that can be vacuumed, dry cleaned or machine washed at home. The durability and maintenance of an item will determine how easy it is to keep in the space. For example, a shaggy throw rug is great for winter, however if it malts and is labour intensive to wash, chances are it will get sentenced to the cupboard. Pick simple rugs, throws and pillow covers that are easily freshened up, so it is less of a chore," Mazzei said.
A cool kitchen set up, perfect for a guy's place.
Speaking of pillows and throw rugs, you only need a few to make your space look homely.
Guys can struggle when it comes to justifying money spent on these items, but a throw rug is actually functional when you want to Netflix and chill.
You can get decent cushions for anywhere from $30 -$50 a pop and a cool throw rug or blanket for around $100. If you're using the throw to cover you on the couch don't forget to wash it every few weeks -- this is where quality comes in, cheap ones won't wash well.
Framed sporting jerseys are are cheap way to make wall art.
Consider rearranging your current setup to make the most of the light. It's a free way to make your place look better.
"Make the most of natural light, it is free and rarely casts an unfavourable shadow. Rearrange living spaces to centre around doors and windows, maximising the effectiveness of both the fresh air when doors or windows are open, as well as keeping in mind sun warmth and cool drafts," Mazzei said.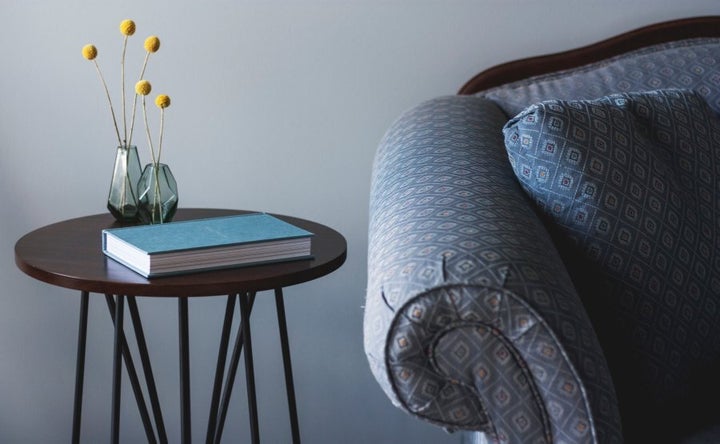 Mazzei suggests the following pieces to instantly and affordably make your place better:
Piece of wall art -- framed prints are an accessible and affordable option when it comes to art;
A piece of sporting history or paraphernalia;
Add some green indoors such as some potted succulents, herbs or a plant stand with an indoor fern;
Stack trays in different colours, coasters and a good book to spruce up your coffee table.
Small furnishings are interchangeable and you can change the feel of a room by selecting key pieces such as a candles (there are masculine ones!), indoor plants, or something a little vintage such as a framed record.
Finally, Mazzei suggest these extra tips:
Pick fabrics that don't malt, or pill, which can leave a mess. Detachable pillow covers and cotton rugs are easy to throw in the wash;
Steer away from dark coloured furniture if you don't like to dust;
Opt for storage or a junk spot that is hidden away such as a basket, vintage storage chest, or furniture with built in drawers;
Always have a candle on hand, it makes a space feel homely easily;
A cordless vacuum is a very good investment.
Click below to follow HuffPost Australia on Snapchat!