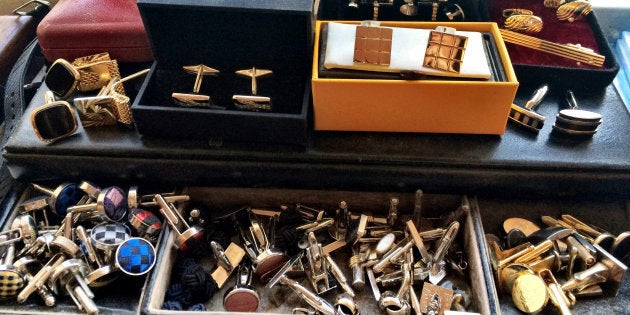 We don't know if you've noticed, but there's a fair amount of pinky rings on The Bachelorette. We counted at least two in the first episode alone, and since then the show has been an interesting observation in men's accessories (among other things).
When girls want to buy accessories they have a seemingly unlimited number of stores or bands to call on, but what about guys? Where can they shop for cool pieces, and how can they pull them off?
"These days we're seeing guys have a collection of watches -- so they might have a cool leather watch, a more dressy metal one and maybe sporty one, too. They're building a watch wardrobe and are spending their money on a range rather than blowing it all on one Rolex."
Just because you work in an office doesn't mean you can't wear accessories, either.
"If you work in a corporate environment cuff-links are a fun way to play with accessories. Tie clips are also a forgotten piece. On The Bachelorette one of the guys was wearing a really cool tie clip that was in the shape of deer antlers," Todorovic said.
When it comes to jewellery specifically, Todorovic believes it's all about opting for metals with a more masculine edge.
"Men can absolutely wear jewellery. Why not? For guys, I think jewellery works best when it has some meaning to it. So perhaps it's a sentimental piece or it was given as a gift -- it reflects a meaningful time in your life. It is also a way to reflect your personality."
"If men are afraid of wearing traditional styles or precious metals such as gold or silver, they could try a leather or rope arm bracelet. There's some cool ones around right now which fasten with an anchor. They come in muted colours like brown and navy so they're a little more masculine than traditional jewellery. Incu has a great range of men's stuff. Sometimes for guy's accessories it's nice to see texture as opposed to stock standard gold or silver," Todorovic said.

A selection of accessories from Incu.
"If you're a bit more traditional Todorovic suggests you look to brands like Thomas Sabo. "They do really tasteful men's jewellery with interesting detailing. Some feature onyx, agate or black stones."
Though if you're not at all traditional and more like Johnny Depp in Pirates of the Caribbean, please start slow.
"If you're into music there's cool accessories around now that feature skulls and other symbolic detailing. These pieces can look a little costumey on the wrong people so start slow with just one piece and build from there," Todorovic said.
"If you're not sure where to shop a great entry level retailer for men's accessories is Top Man. They have a big range and they're affordable so it's not too daunting to experiment at those prices."
In terms of which actual pieces to wear, maybe don't wear necklaces, rings and earrings all at once.
"Necklaces on guys can be tricky. They're very European and if you like the then go for it, but perhaps if you're wary them start with a simple chain in a brushed metal (not shiny) paired with a shirt or plain white tee in summer. Dog tags are a bit done but something of that ilk is still cool. Dont spend too much on an item like this as it's a trend and you're probably not going to want to wear it next season.
"At the moment in terms of trends earrings are a little passe. Though, if you're an earring kind of guy, look to black or gunmetal grey studs as opposed to shiny silvers or diamonds," Todorovic said.
"When it comes to rings, which finger you wear them on is a personal choice. Obviously if you're not married don't wear one on your wedding finger. The middle finger is cool or the ring finger of the opposite hand. Even a thumb ring can look good on the right person but but I'm not a huge fan of pinky rings at all. Sarah and Sebastian do great simple rings for men."
Click below to follow HuffPost Australia on Snapchat!