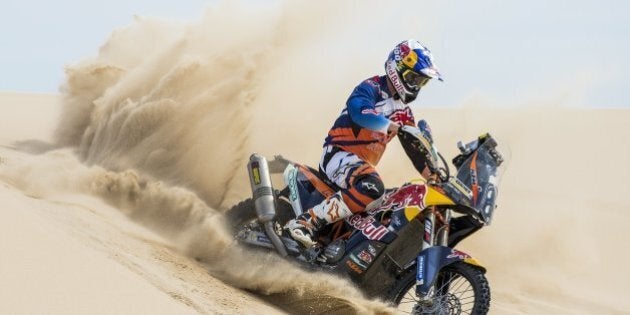 Scorching heat to sub-zero cold, violent thunderstorms and torrential rain and blinding sun will be the reality for Aussie man Toby Price for the next fortnight. Price is currently two stages deep into the Dakar rally, racing his motorcycle from Argentina through Bolivia and back again in what is considered the most gruelling road race on the planet.
"It is the Olympics of motor sports," Price told The Huffington Post Australia last month, before setting off for South America.
"Each day is long, tough and had everything in it; the race throws every element at you each day. Anything can happen."
The Dakar rally, one of the most storied races of any kind on the planet, began in 1978 as a rally between Paris and Dakar, Senegal. Security issues in African forced the cancellation of the 2008 race and the rally was relocated to South America in 2009. The current route begins in Buenos Aires, Argentina before heading north to Uyuni in Bolivia, before looping back south to finish in Rosario; a run of almost 10,000 kilometres in a fortnight for a fleet of motorbikes, quad bikes, cars and trucks.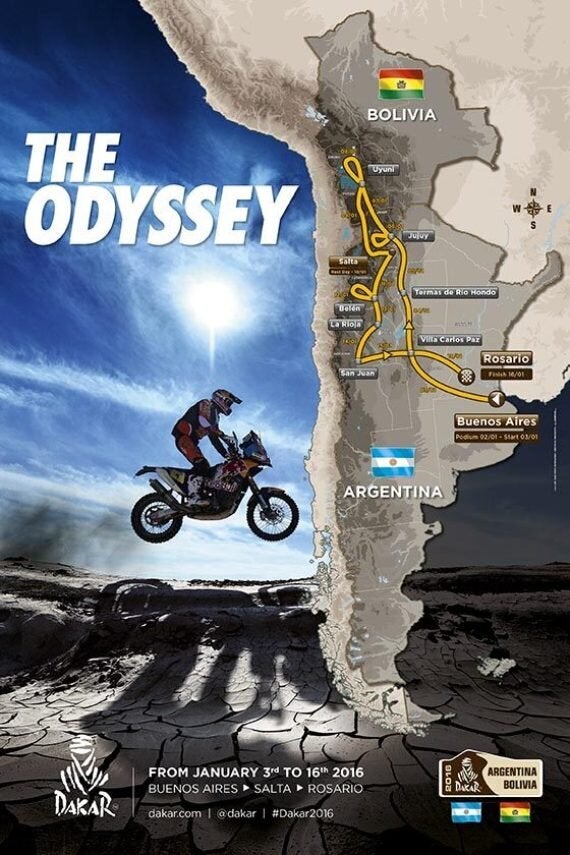 Price, from Stockton in NSW, took part in his first Dakar rally last year. He placed third in his debut, and in 2016, shot to the top of the motorbike rankings after winning the second stage between Villa Carlos Paz and Termas de Rio Hondo on Tuesday. He finished in 10th place in Wednesday's second stage, and as of Wednesday sits ninth in the overall rankings.
A member of the Red Bull KTM Factory Team, Price said his first Dakar outing had prepared him well for the 2016 assault.
"The hardest part is how repetitive it is and how early you have to be awake. You run on four to five hours sleep, you cover from 400 kilometres to 1100 kilometres in a single day. It is so physically and mentally draining," he said.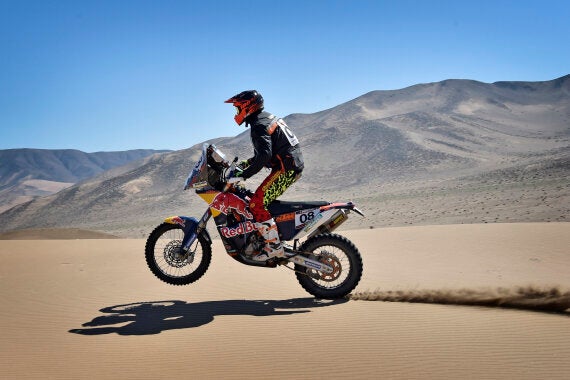 Price on the bike, during the Atacama rally
Price says even after hours on the bike, even finishing the day's race is no respite. Study for the next day's route then begins, hours of hitting the books to learn directions and navigations for tomorrow's challenge,
"Suddenly it's 10.30pm and you're in bed, then awake at 2 or 3am to get ready again. That goes for 14 days and you cover 9800 kilometres."
Travelling up to 1000 kilometres a day is not just a battle against the elements -- sun, wind, salt flats, sand, storms -- but a mechanical and mental struggle too. Price says if he experiences a breakdown or other bike issue, he's on his own.
"Once our morning starts and we leave the bivouac, we're on our own. If something busts or breaks on the day, if something extreme happens you cant fix, the majority of the time, you're out of the race," he said.
"[The mental side] is the hardest bit. Some guys listen to music, I just use ear plugs. It's so loud, and at the end of the day your ears are ringing and you've got headaches; but you're getting to 175kmh and you have to be on the ball. You can't have a mind lapse."
"You'll get lost or make an error, that'll really bugger your day," he says with a laugh.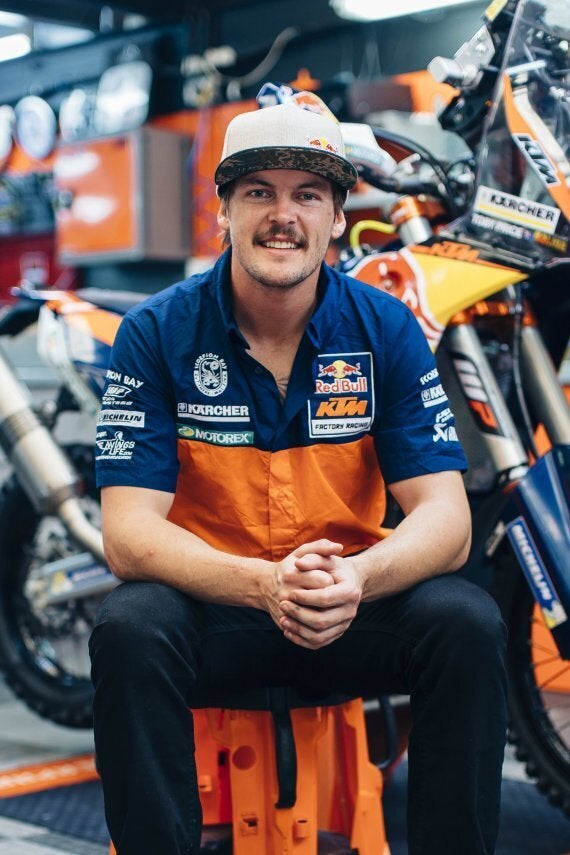 Price ahead of the Dakar rally