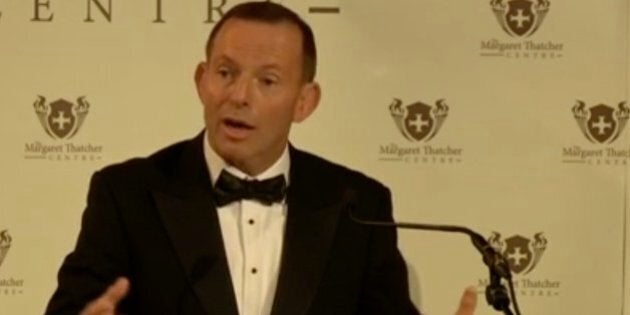 CANBERRA -- Former Prime Minister Tony Abbott has given unfettered advice to European leaders on the continent's refugee crisis, urging them to shut their borders to ward off a "catastrophic error".
His comments were met with a mixed response, with Bill Shorten suggesting Abbott was "lecturing" European leaders, while Malcolm Turnbull said Abbott was in "hot demand".
Abbott talked up his tough border protection policies while delivering the second annual Margaret Thatcher Lecture in London to British Conservative Party leaders and members, his first major speech since being ousted last month by Turnbull.
He classed most of the millions of people fleeing the Middle East as "economic migrants" and declared "some force" was needed to repel them.
"While prime minister, I was loath to give public advice to other countries whose situations are different," he told the black tie event.
"But because people smuggling is a global problem, and because Australia is the only country that has successfully defeated it -- twice, under conservative governments -- our experience should be studied."
His message for nations struggling with the movement of millions of Middle Eastern refugees was blunt.
"All countries that say 'anyone who gets here can stay here' are now in peril, given the scale of the population movements that are starting to be seen," he told the audience.
"The Australian experience proves that the only way to dissuade people seeking to come from afar is not to let them in."
Abbott said Europe should do as Australia has done, turn asylum seeker boats around and toughen the border controls.
"It will require some force, it will require massive logistics and expense; it will gnaw at our consciences," Abbott said.
"Yet it is the only way to prevent a tide of humanity surging through Europe and quite possibly changing it forever."
He said most of the millions pouring into Europe were not "genuine refugees", rather "economic migrants."
"In Europe, as with Australia, people claiming asylum -- invariably -- have crossed not one border but many; and are no longer fleeing in fear but are contracting in hope with people smugglers," he said.
"However desperate, almost by definition, they are economic migrants because they had already escaped persecution when they decided to move again."
He declared they must be stopped.
"The only way to stop people trying to gain entry is firmly and unambiguously to deny it -- out of the moral duty to protect one's own people and to stamp out people smuggling.
"So it's good that Europe has now deployed naval vessels to intercept people smuggling boats in the Mediterranean – but as long as they're taking passengers aboard rather than turning boats around and sending them back, it's a facilitator rather than a deterrent," he said.
The former Prime Minister told the London audience that the war against people smugglers in Australia has virtually been won.
"The immigration detention centres have-all-but-closed; budget costs peaking at $4 billion a year have ended," Abbott said.
"And -- best of all -- there are no more deaths at sea.
"That's why stopping the boats and restoring border security is the only truly compassionate thing to do."
Opposition Leader Bill Shorten is not impressed by Abbott's foray into European politics.
"Tony Abbott's flown to Europe to lecture Angela Merkel, the head of the German Government, to lecture Francois Hollande in France, to lecture David Cameron in England about what to do with this issue," he told reporters in Sydney.
"I am not sure European leaders grappling with a scale and a dimension of a problem which we don't have in Australia are necessarily going to benefit by Tony Abbott's advice."
The Prime Minister has declined to comment on the substance of Abbott's speech.
"He has obviously had a remarkable career in public life, including two years as Prime Minister," Turnbull told reporters in Adelaide.
"We owe him a great debt for that. His views are in hot demand everywhere in the world."