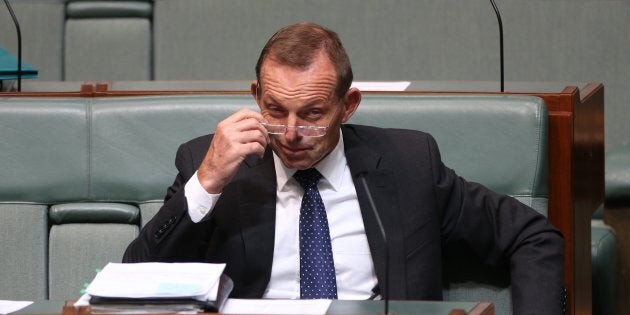 CANBERRA -- Former Prime Minister and current backbencher Tony Abbott will once again address a controversial American Christian organisation which has been deemed a "hate group" and supports the criminalisation of homosexuality.
The Australian Financial Review revealed on Thursday that Abbott, the member for Warringah, will travel to the United States later this month to deliver a speech to the Alliance Defending Freedom. The ADF has been a vocal opponent of advancing rights for LGBTQ people, including staunch opposition to same-sex marriage. The ADF has also advocated for homosexuality to be relisted as a criminal offence.
has supported the recriminalization of homosexuality in the U.S. and criminalization abroad; has defended state-sanctioned sterilization of trans people abroad; has linked homosexuality to pedophilia and claims that a "homosexual agenda" will destroy Christianity and society.
Quotes from ADF members posted on the SPLC's website claim that homosexuality is a "dangerous temptation", that it is linked to "deviant sexual practices", and is "intrinsically linked" to paedophilia. The SPLC also details numerous occasions where the ADF has supported various campaigns worldwide to criminalise homosexuality and gay sex.
Abbott's speech will come just days before the result of Australia's postal survey on marriage equality is announced, and the AFR reports that Abbott is expected to use his speech to the Alliance at the end of this month to step up the case for robust laws protecting religious freedoms if same-sex marriage is legislated.
The religious freedoms argument is especially relevant to the ADF and Australia's marriage equality push. Marriage equality opponents have raised hypotheticals around devout religious people being forced to supply food or supply flowers for same-sex weddings against their religious beliefs, while the ADF is currently representing a Colorado baker who refused to make cakes for gay weddings.
A spokesperson for Abbott told the AFR that "Mr Abbott is honoured to have been invited by the ADF to reiterate his well-known position that advocates for same sex marriage must demonstrate how – in their brave new world – freedom of speech, freedom of religion and parental choice will be protected."
It will be the second time Abbott has addressed the Alliance Defending Freedom, after first speaking to the group in January 2016. On that occasion, he spoke against marriage equality, saying "society should "respect and appreciate values and institutions that have stood the test of time and pass them on, undamaged".
Soon after the Financial Review published its story, Abbott himself tweeted a reply, linking his speech in to the "five million Australians yet to vote" in the postal survey. It is unclear how many of those five million will be in attendance at Abbott's speech in America.