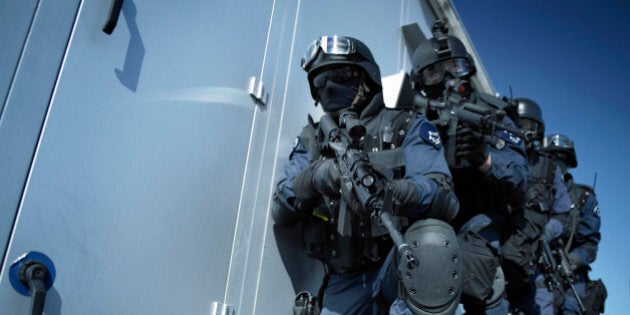 CANBERRA -- An Australian Muslim leader has expressed frustration with Australia's counter terrorism focus on policing as the federal government announces a fifth tranche of Commonwealth anti-terror laws.
Among other as yet unnamed legal changes, the Government has proposed lowering the age at which a control order can be applied to a terrorism suspect from 16 to 14 years of age.
Control orders, where suspects are allowed to stay in the community, involve surveillance, are expensive and rarely used in Australia.
The legislation, which will be released in the next sitting fortnight, has been flagged in the wake of the shooting of a Sydney Police accountant by a 15 year old boy and after a request from the NSW Premier Mike Baird to strengthen existing laws.
At a national unity day event at Federal Parliament, the President of the Lebanese Muslim Association, Samier Dandan, said there should not be an age auction in policing.
"How low do you want to take that? To an infancy stage?" he told reporters.
"I'd rather engage with a child rather than having him cuffed up and be sent to a police station."
Dandan would rather a shift from policing to a multi-faceted approach, including community engagement.
"This is where the community has been screaming out quite loudly that we really need to understand what drives a young person, regardless of background and religious faith that he might belong to, if it leads to this level of violence there are many drivers that leads to it," he said.
The Government recognises Australia is at a crossroads moment and wants the Muslim community to "own the problem" of violent extremism, saying it can only do so much.
But the Assistant Minister for Multicultural Affairs, Concetta Fierravanti-Wells has been working on engaging Muslim communities.
"We are not going to solve this as a national security issue alone," she told The Huffington Post Australia.
Still, Dandan said communities are tired of being under the microscope.
"It really does make our life difficult where continuously we hear from many different parts of the political landscape that the community needs to take more ownership," he said.
"I don't know what more can we do with our current limited access of resources and skillset."
The Federal Attorney-General has declared 14 years of age not too young for a control order.
"What we saw with the event that occurred in Parramatta, the Friday before last, was a 15-year-old boy who had been inspired to perform a horrendous terrorist act, an act of murder, demonstrates that unfortunately the reach of ISIL and ISIL surrogates and agents in Australia is extending to younger and younger people," he said.
"This is a very, very serious problem.
"I think the age of the person concerned last Friday week demonstrates that 14 is not too young an age for an order of this kind to be made."
Civil liberties groups and the former National Security Legislation Monitor, Bret Walker SC believe the existing laws are adequate.
Walker told RN Breakfast that the process for arresting and charging a terror suspect is similar to and preferable to a control order.
"(Control orders) may or may not have their advantages on paper. They have yet to be demonstrated at all in practice," he said.
"I continue to doubt the utility of having this alternative to arresting, charging and then remanding in custody as appropriate."
The move, according to the President of the NSW Council of Civil Liberties, Stephen Blanks, will be draconian and counter-productive.
"Well, it is another knee jerk reaction to a problem that needs to be addressed in a different way," he told ABC News Breakfast.
"We need to have a conversation in Australia about how we deal with the threat of terrorism while at the same time maintaining human rights, and these laws are just going to be inconsistent with human rights protections."
The Attorney-General said the legislation will have particular safeguards for people under 18 years.
"They will be various measures that will limit the capacity of police to question or deal with minors in a way that is regarded, given the age of the person, to be unreasonable and that will be, when the legislation is publish, you will see the detail of those particular safeguards," he said.
While no fan of control orders, Walker said he can see the Government's justification.
"Yes of course, there is be justification to lower it even further, whenever something is perpetrated by someone even younger."
Premier Mike Baird has also asked the Federal Government to extend the length of time terrorism suspects can be kept in custody for questioning.
The Baird Government wants the legal length of custody, without a court order, extended from four hours to four days, with court-ordered detention for suspects lengthened from eight days to 28 days.