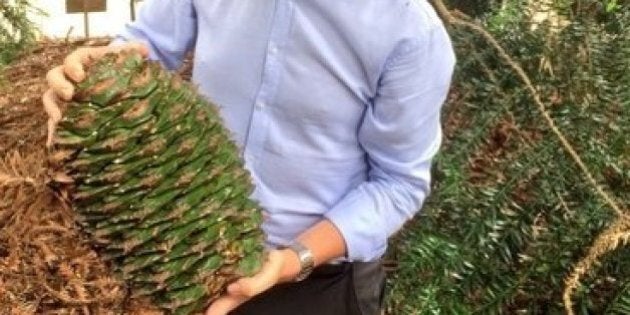 We've all heard the saying, "Everything in Australia can kill you," spiders, snakes, insects, the sun and nuts -- in this case, 6kg tree nuts.
In the dying days of summer, the Bunya Pine begins to drop its nuts -- which are actually cones that would do serious damage should they hit an unsuspecting passer-by on the head.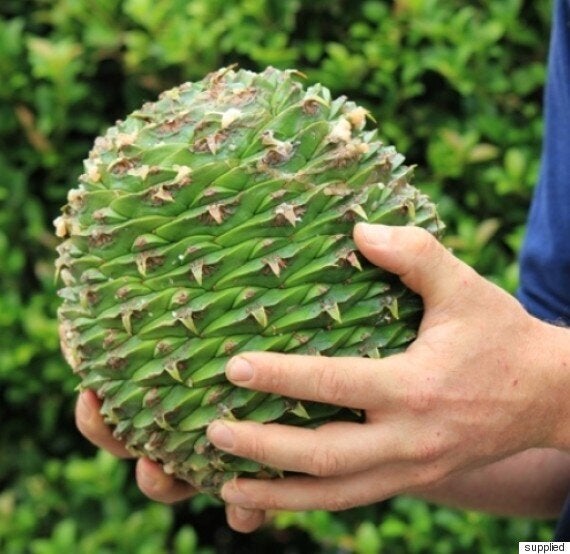 Even a small Bunya tree cone weighs 3kg. Picture supplied
John Siemon, Curator Manager, Australian Botanic Garden Mount Annan said visitors have to be very careful around the trees, which are dropping some of the largest nuts seen.
"This year the Bunya pines are producing some of the largest cones I've ever seen – and they certainly make a solid 'thunk' when they land. The cones are so big at times that for public safety we have to fence off around the trees," Siemon said.
The Bunya Pine (Araucaria bidwillii) is a native of the subtropical rainforests in the mountains in south-east and northern Queensland and can grow up to 35-40m in height.
"Historically, conifer was usually planted around homesteads in the Macarthur area, south-western Sydney. Over the years, gardens have reduced in size and it is no longer possible for most people to grow their own tree."
"We decided to plant a number of these trees to ensure that it continues to be a signature planting for the area. We hope that in years to come you'll be able to see them marching along the ridge as you drive down the motorway that passes by the Garden."
Yet the Bunya Pine is not the only tree you need to avoid. About 1000 species of plants in Australia are known to be toxic to animals and humans and plenty more cause skin and eye irritation, rashes or discomfort. Here are some of the most noxious plants to watch out for.
Also known as The Stinging Tree, it has up to 15,000 hollow silica -- spiky hairs that cause havoc when in contact with human skin. What happens is that the hairs enter your skin and cause a painful sting which can last for several days; or longer.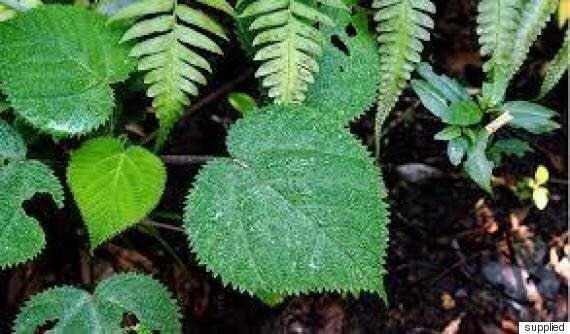 . The heart shaped leaf of the Stinging Tree. Picture Supplied
The infected area becomes a painful site of tiny red spots that form a large swollen sore. The recommended treatment for skin exposure to the hairs is applying diluted hydrochloric acid and pulling them out with a hair removal strip.
There are four different types of stinging trees but the most common are found in the Atherton tablelands and Cape Tribulation area in Cairns. Interestingly, the leaves of the stingy tree are heart-shaped. Nature's little joke?
Native to Queensland and NSW, the black bean, or 'Moreton Bay chestnut', thrives in moist soil along river banks and mountainsides in coastal rainforests and is considered a valuable source of timber.
Between March and May, the Black Bean produces large pods filled with toxic seeds that weigh roughly 30g each. The Black Bean is native to coastal rainforests and beaches in Australia from around Lismore, New South Wales to the Iron Range, Cape York Peninsula on the Queensland coast and 160 km west to the Bunya Mountains.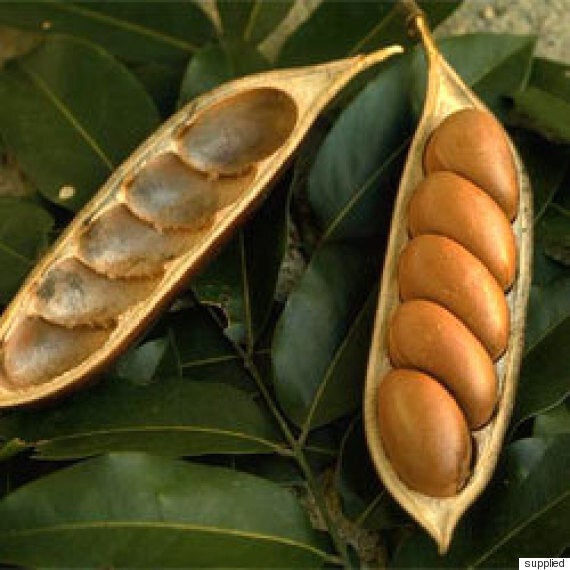 The pods of the Black Bean tree. Picture supplied
It grows in moist, fertile, well-drained soils on terraces on the side of mountains or along the banks of rivers and streams. The Black Bean is also found in New Caledonia and Vanuatu. It reaches a height of 40m at maturity. It's widely advised that you should not eat the seeds. If you do, you will be hit with a bout of vomiting and diarrhoea.
The threat of a milky mangrove is displayed in its common name, 'blind-your-eye-mangrove'. The milky sap of this plant is highly poisonous and can cause temporary blindness if it comes into contact with a person's eyes. Other side effects can include skin irritation and blistering.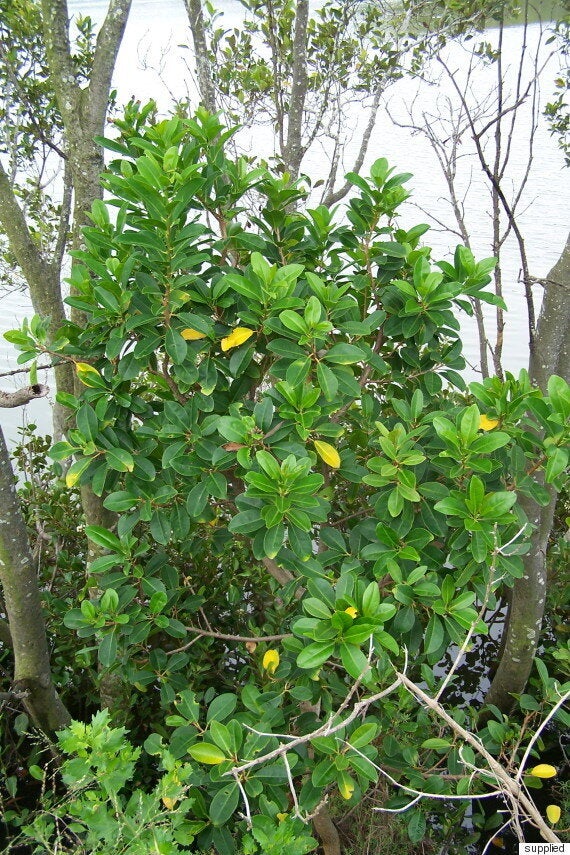 Milky Mangrove. Picture supplied
It's found in Western Australia, Queensland and New South Wales, growing in areas close to sea level and it can survive dry open space and exposure to sea salt.
Also known as nux vomica, poison nut and quaker buttons, the medium-sized strychnine tree is native to South East Asia and Australia.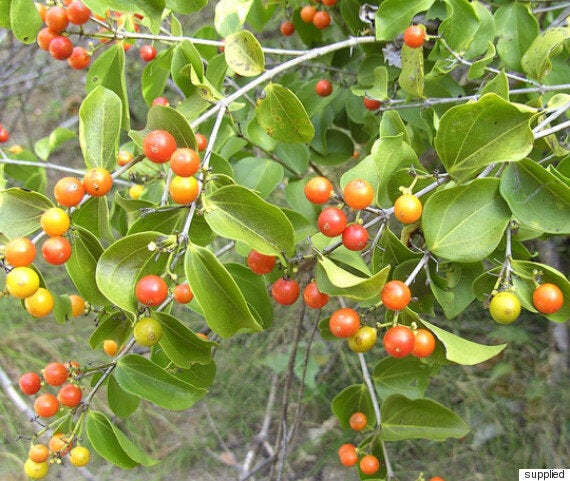 The seeds of the Strychnine tree. Picture supplied
This tree bears small, orange-coloured fruits with highly poisonous seeds that are neurotoxic -- they harm the body's nervous system, causing convulsions, paralysis and even death. The tree's blossoms and bark can also be poisonous, containing the alkaloids strychnine and brucine.
Also known as 'devil's berries' or 'death cherries', the deadly nightshade plant and its berries are very poisonous and contain alkaloids that cause hysteria, hallucinations, erratic behaviour and delirium.
The tree grows to about 1m tall. Like the Angel's trumpets, deadly nightshades are common garden plants.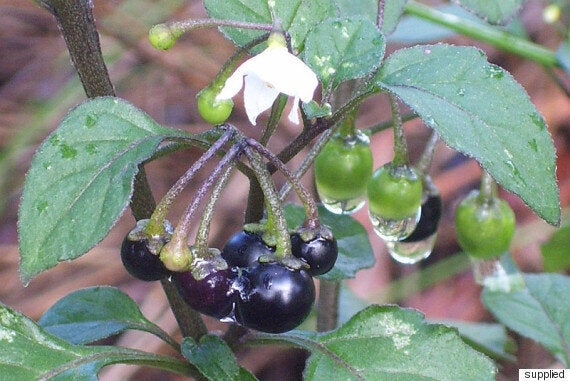 Deadly Nightshade. Picture supplied
Ingestion of a single leaf or about 20 berries can be fatal to adults, and smaller doses can cause similar harm to children.
Named after their large, billowing flowers, Angel's trumpets are medium-sized trees or shrubs with strong, thin trunks and flowers of red, white, orange or pink. Despite their pleasant appearance and aroma, these common garden plants are highly toxic, particularly their leaves and seeds.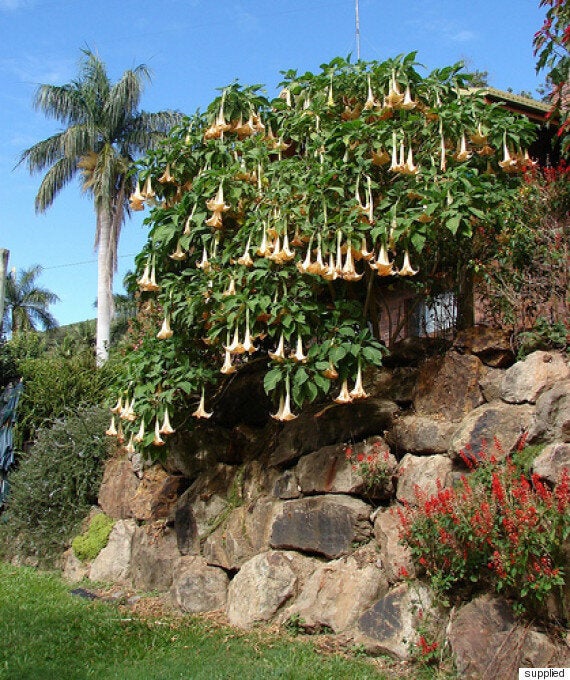 The trumpets can cause diarrhoea, confusion, migraines, paralysis and even death. It's a very good idea not to try to eat an Angel Trumpet. Not even a little taste.