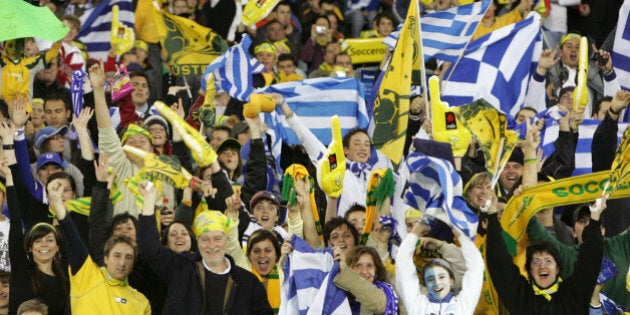 If there were ever a statement on the fine line football has to tread between true multiculturalism and the mainstream, it's the undertone of unease with which two friendlies against Greece was met.
It brings back memories of the Socceroos' send-off match before the 2006 World Cup and is sure to bring out the large Greek communities in both cities.
It will be pitched as a celebration of Greek culture and what influence the community has had on football in Australia, but in reality is much more of a revenue grab from the FFA.
The FFA is betting that the large Greek populations in Sydney and Melbourne will buy tickets and turn up in large numbers, while singing songs and waving their native flag.
For example, last weekend South Melbourne played Heidelberg United in the NPL Victoria with about 4000 people turning out to watch the clash on a sunny Sunday evening.
Both are simply Greek clubs which act as a focal point for the community to connect and revel in their roots, but neither South 'Hellas' Melbourne or the traveling Heidelberg fans could display a Greek flag.
It was one of the recommendations in the Crawford Report, a taxpayer-funded inquiry into why Australian football was a basket-case. That report found that there should be a new league, with new clubs based on geographical areas rather than ethnic identities. The reasoning was pretty sound.
The game needed to grow, and had an image (pretty well deserved at times) of being a sport soured by infighting caused by ethnic tensions -- not exactly the most alluring product for families.
Fast forward, and the A-League has been a tremendous success when compared with the NSL. While plenty of work needs to be done, it has done more to attract sponsorship, families, and media support than the NSL ever did.
That being said, the rich multicultural tapestry of the Australian game at the grassroots which had sustained the game for so many years felt betrayed. This wasn't helped in 2014 when the FFA brought in a policy known as the National Club Identity Policy.
In short, the new policy states that any new club must not be formed along ethnic lines. For instance, the Sudanese community could not get together and form a club to play in an FFA-sanctioned league which references Sudan at all.
It also extends to potential sponsors -- with the Melbourne Knights, which was formed from the Croatian community, falling foul of this policy. It subsequently threatened to take the FFA to the Human Rights Commission over the policy.
The FFA has consistently argued that by putting a ban on activities based on ethnicity it doesn't exclude anybody from football. It says that by simply wiping the slate clean, it will build a code to be embraced by all Australians rather than pockets of them.
Football has long billed itself as the true multicultural game of Australia. Our national side contains names such as Juric, Rogic, and Luongo alongside names such as Burns, Sainsbury, and Ryan. But does true multiculturalism come from simply whitewashing everything from outside of the ethnically neutral mainstream, or does it actually come from being able to celebrate our differences?
The football powers-that-be find themselves at the crux of this debate, but muddying the waters is the overwhelming need to present football as a 'mainstream' code.
It is clear from football's long and bitter history in Australia that this approach may just be needed to win over the wider community and build the commercial weight the game needs to move forward. It can no longer confine itself to the suburbs of Melbourne and Sydney or particular ethnic groups, but must be a truly national game.
The game must also be sold to a sceptical media, which labels singing and the banging of drums as a 'tense' situation.
So while there will be celebration of the Greek community and its contribution to Australian football on two nights this year, it feels like that same community will be suppressed on the other 364 days in the quest to present football as a mainstream product.
You can understand, then, why the Greece friendlies could be read as absolutely galling. The FFA is putting these friendlies on in order to grab money. It will then use this money to advance a game the Greek community and many other communities feel has deliberately sidelined them -- casting them as a relic rather than on the journey forward.