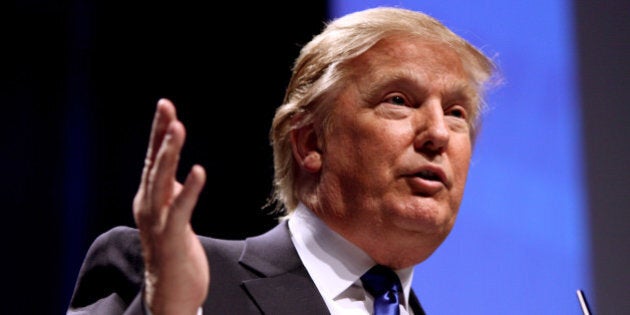 Donald Trump has plenty to say and he doesn't mind who's listening. He also doesn't mind if you don't like what he has to say.
Following a move to ban Trump from the UK, ABC's Lateline has run a poll on Facebook and Twitter asking users whether they think the U.S. Presidential hopeful should be blocked from entering Australia.
So far, close to 10,000 votes have been cast on Facebook with a massive 73 percent of users voting 'Yes'.
The results on Twitter however, have been markedly different with 56 percent of the 1500 who participated voting 'No'.
Under the Migration Act, the Department of Immigration and Border Protection has the power to refuse or cancel the visa of those wishing to enter Australia on the basis that they do not pass a character test.
A person will fail the test if they fall within five broad categories which include including vilifying a segment of the Australian community or inciting discord amongst it or in a part of it.
Trump is no stranger to controversy, having recently made numerous inflammatory remarks during public appearances, including his call in December for a "total and complete shutdown" of Muslims entering the U.S.
The poll comes after a petition calling for Trump to be banned from entering the UK gathered over 570,000 signatures and was subsequently debated in Britain's House of Commons.
Brigid Andersen from the ABC said that Lateline had been surprised by the amount of responses they received on the poll.
"We knew it was going to be an interesting discussion but we didn't realise how many people would want to have their say," she told The Huffington Post Australia.
"Along with the Facebook and Twitter results we've also had hundreds of e-mails come through."
Lateline will discuss the poll during a debate on free speech at 9.30pm (AEDT) on ABC News 24 or 10.30pm on ABC TV on Friday.