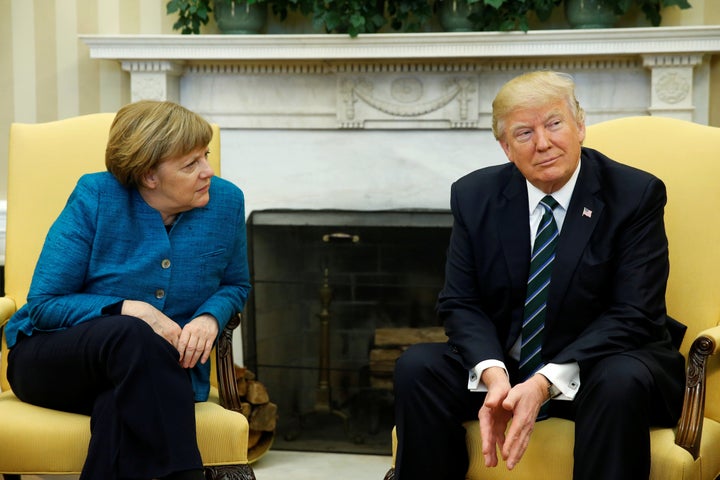 It's been a little more than a year since Donald Trump emerged from an election campaign of threats, lies and vitriol as the future president of the United States of America.
His victory speech on Nov. 9, 2016, sparked cautious optimism that perhaps his presidency would not be quite as hate-filled as his campaign.
"We will deal fairly with everyone, with everyone — all people and all other nations," Trump vowed. "We will seek common ground, not hostility; partnership, not conflict."
But within weeks, he had unleashed the first of a seemingly endless stream of Twitter tirades from his new bully pulpit. He lambasted the "failing" New York Times, the "highly overrated" Broadway musical "Hamilton," the "unwatchable" "Saturday Night Live" and, of course, the "crooked" media, to name a few.
By December, Trump had directed his Twitter grievances overseas. Days after accepting a phone call from the leader of Taiwan ― which overturned decades of diplomatic protocol and prompted China to lodge an official complaint ― a clearly agitated Trump begangriping about Beijing's decision to devalue its own currency, echoing his campaign claims that China was "raping our country" by hurting the U.S. economy.
He was just warming up.
Read about some of the many times Trump has insulted foreign leaders and countries since he was elected president:
"Shithole Countries"
Trump reportedly slammed people from African countries and Haiti during a meeting on Thursday with lawmakers about immigration protections, alluding that they weren't wanted in America.
"Why are we having all these people from shithole countries come here?" Trump said in the meeting, sources told multiple media outlets. He later noted that more people from countries like Norway should be allowed to immigrate.
Later that day, the White House didn't deny Trump had made the comment in a statement after the outburst was made public, instead saying the president would "always fight for the American people" and that he was "fighting for permanent solutions that make our country stronger by welcoming those who can contribute to our society."
The following day, Trump claimed on Twitter that he hadn't used those specific words, but Sen. Dick Durbin (D-Ill.) ― who was in the room at the time ― swiftly contradicted him, saying that the president had in fact "said these hate-filled things and he said them repeatedly."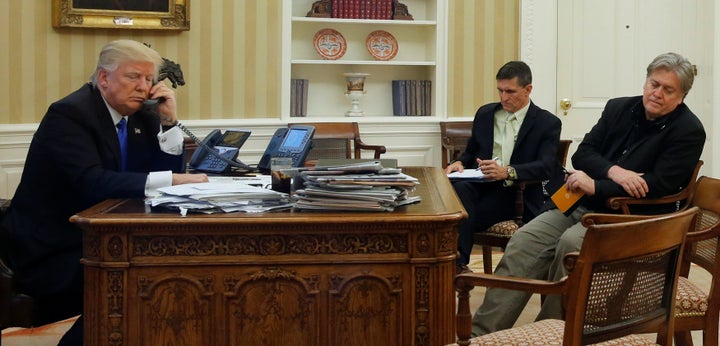 Australia
Almost immediately after Trump's inauguration on Jan. 20, 2017, the White House laid out his "America First" foreign policy. It also claimed, "The world must know that we do not go abroad in search of enemies, that we are always happy when old enemies become friends, and when old friends become allies."
Days later, Trump held one of his first official phone calls with the leader of an allied nation, Australian Prime Minister Malcolm Turnbull. Their conversation did not end well.
Turnbull pressed Trump to uphold the U.S. end of an agreement with Australia. The deal, which had been negotiated by President Barack Obama, required the U.S. to accept a number of refugees from the Australian offshore detention centers on Nauru and Papua New Guinea's Manus Island.
"This deal will make me look terrible. ... I think it is a horrible deal, a disgusting deal that I would have never made," Trump said.
Turnbull calmly and repeatedly attempted to explain elements of the agreement that Trump seemed to misunderstand. But Trump had no time for that. "I have had it. I have been making these calls all day and this is the most unpleasant call all day," he said, before abruptly ending the conversation.
China
After a rocky start, Trump's relationship with China has remained turbulent. In January, Rex Tillerson, then the nominee for U.S. secretary of state, said China should be denied access to islands that it had built in the South China Sea. Unsurprisingly, this provocative stance enraged Beijing.
Trump has complained again and again about the country's apparent unwillingness to help rein in a hostile North Korea.
"China has been taking out massive amounts of money & wealth from the U.S. in totally one-sided trade, but won't help with North Korea. Nice!" Trump tweeted on Jan. 2, before his inauguration.
"North Korea is behaving very badly. They have been 'playing' the United States for years. China has done little to help!" he reiterated in March.
He hosted Chinese President Xi Jinping at the White House in April, and the two "developed a very good relationship," according to Trump, who subsequently seemed to change his tune on China's efforts regarding Pyongyang.
Despite Trump's claim that China could "easily" deal with North Korea, it is, of course, not that easy.
France
In the wake of deadly terrorist attacks in the French cities of Nice and Paris, Trump suggested that France's capital had been stripped of its identity.
"Take a look at what's happened in France. I have a friend; he's a very, very substantial guy. He loves the city of lights. He loves Paris. Hadn't seen him in a while," Trump said in February. "And I said, 'Jim, let me ask you a question. How's Paris doing?' [To which he replied:] 'Paris? I don't go there anymore. Paris is no longer Paris.'"
An Associated Press report concluded that "Jim" likely does not exist.
Trump's insensitive remarks angered François Hollande, who was the president of France at the time.
"There is terrorism and we must fight it together. I think that it is never good to show the smallest defiance toward an allied country," Hollande said. "I wouldn't do it with the United States and I'm urging the U.S. president not to do it with France."
Germany
Trump's relationship with German Chancellor Angela Merkel has also been frosty.
During a meeting at the White House last March, a reporter requested that the two leaders shake hands for a photograph. Merkel smiled and looked over at Trump, who was sitting right beside her, but he ignored her gaze and declined to shake her hand.
The next day, he dismissed reports that the meeting had been awkward and then tweeted that Germany owes "vast sums of money to NATO & the United States," which is false.
The president's trade adviser, Peter Navarro, also accused Berlin of manipulating its currency to "exploit" the U.S. dollar.
In December 2015, Trump had accused Merkel of "ruining Germany" by welcoming a large number of Syrian refugees into the country. He also described the key American ally as a "total mess" on the campaign trail.
Iran
Trump and Iranian President Hassan Rouhani have clashed several times over the Joint Comprehensive Plan of Action, better known as the Iran nuclear deal.
The 2015 agreement between Iran, the five permanent members of the United Nations Security Council (including the U.S.), Germany and the European Union requires Tehran to rein in its nuclear program in exchange for relief from stifling economic sanctions.
Long opposed to the deal, Trump put Iran "on notice" and accused the country of "playing with fire" after an Iranian missile test last February.
Speaking before the U.N. in September, Rouhani, in turn, suggested that Trump's rhetoric was "ignorant" and "absurd" and that his administration was made up of "rogue newcomers to the world of politics."
After Trump decertified the nuclear deal in October and left its fate up to Congress, European leaders raced to defend and salvage the landmark agreement.
Iran is also among the Muslim-majority nations directly affected by Trump's internationally condemned travel ban.
Mexico
In the many months since his infamous campaign remarks that when Mexico "sends its people ... they're bringing drugs. They're bringing crime. They're rapists. And some, I assume, are good people," Trump has continued to disparage Mexicans.
He cited a widely disputed study calling Mexico the second deadliest country in the world in an attempt to justify his plan to build a wall along the U.S.-Mexico border.
The multibillion-dollar wall, which Trump claims Mexico will pay for, has been an extremely divisive issue. It led Mexican President Enrique Peña Nieto to cancel his first official meeting with Trump in January. And Mexico still firmly denies that it will fund any such construction.
North Korea
Trump's war of words with North Korean dictator Kim Jong Un has grown increasingly hostile as he seeks a way to clamp down on Pyongyang's advancing nuclear program. The taunts and provocations between the two leaders have even stirred fears of a nuclear war.
In September, Trump threatened to "totally destroy" North Korea, which is home to an estimated 25 million people. He also referred to Kim as "Rocket Man" and said the rogue nation's leader was on "a suicide mission for himself and for his regime."
Many of the president's tweets and statements about North Korea have hinted at imminent military action. They've even appeared to undermine his administration's own diplomatic efforts.
United Kingdom
Trump strained America's relationship with one of its closest allies, the United Kingdom, by accusing Britain's spy agency of wiretapping him during the U.S. presidential election under direction from Obama. He offered no evidence whatsoever for this unsubstantiated claim and later declined to apologize.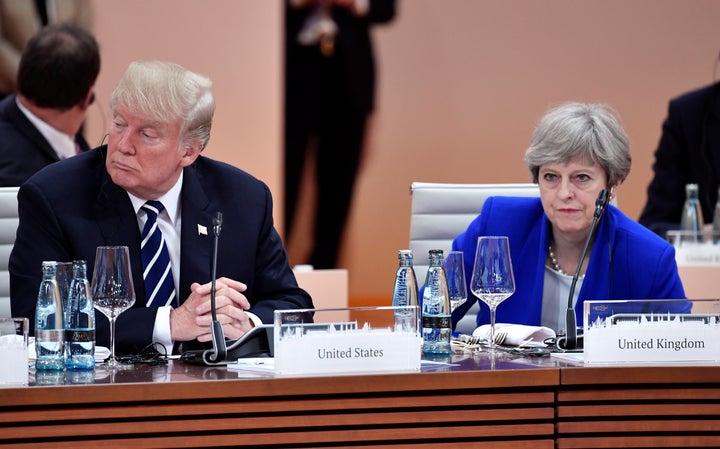 But Trump was quick to politicize a terrorist attack at a London subway station in September that injured dozens of people: He suggested that the city's police force could have done more to prevent the incident.
"I never think it's helpful for anybody to speculate about what is an ongoing investigation," said British Prime Minister Theresa May, following Trump's remarks. "The police and security services are working to discover the full circumstances of this cowardly attack and to identify all those responsible."
A few months earlier, Trump had pulled London Mayor Sadiq Khan's words out of context in the wake of another deadly terrorist attack there. Khan had attempted to reassure London residents that the situation was under control and told them not to be alarmed by the increased police presence in the area following the attack.
Trump implied that the mayor was taking terrorism lightly:
He doubled down on this baseless criticism the next day:
This list of nations and their leaders slammed by Trump is, astonishingly, far from comprehensive. With so many insults in so little time, it's tough to believe it's been only a year since his election.