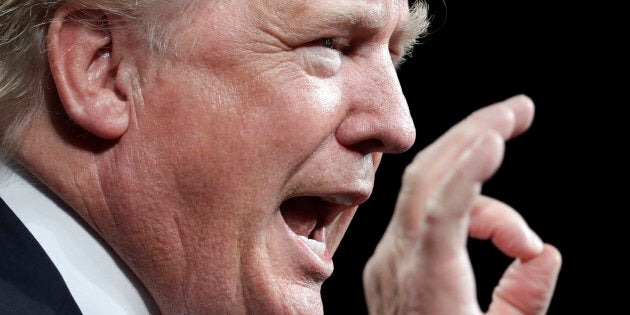 Your daily dose of *ugh vomiting forever* comes courtesy of an old Howard Stern interview with Donald Trump.
While Trump was discussing women he did or did not find attractive, he brought up Paris Hilton, a friend of his daughter Ivanka's.
"Now, somebody who a lot of people don't give credit to but in actuality is really beautiful is Paris Hilton," he said. "I've known Paris Hilton from the time she's 12, her parents are friends of mine, and the first time I saw her she walked into the room and I said, 'Who the hell is that?'"
"Did you wanna bang her?" Stern asked.
"Well, at 12, I wasn't interested," Trump said, "I've never been into that ... but she was beautiful."
He then went on to call Hilton "dumb like a fox" and admitted that he had watched her sex tape.
This kind of comment is unsurprising coming from a man who has weighed in on the appearance of seemingly everyone from his Democratic rival Hillary Clinton to supermodel Heidi Klum. He also infamously told The View in 2006 that if Ivanka wasn't his daughter, "perhaps I would be dating her."
Editor's note: Donald Trump regularly incites political violence and is a serial liar, rampant xenophobe, racist, misogynist and birther who has repeatedly pledged to ban all Muslims — 1.6 billion members of an entire religion — from entering the U.S.