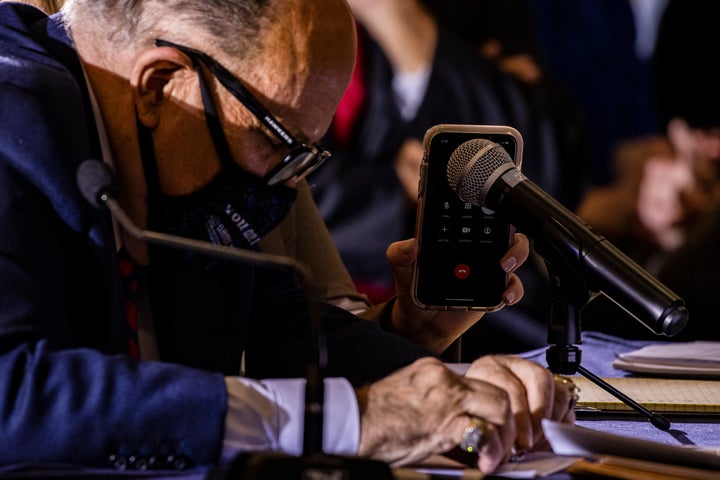 Donald Trump has made more baseless allegations about election voter – but in the most bizarre manner yet.
The outgoing president falsely claimed – yet again – that he "won by a lot" as he spoke to Republicans holding a partisan "hearing" in Gettysburg, Pennsylvania into election "issues" and alleged "irregularities".
There is no evidence to corroborate any of his claims of election fraud.
But instead of taking to Twitter to air his grievance, which is now his default setting, or actually doing it in person, Trump phoned in. And his lawyer held up her phone to the microphone.
To give you some idea of how unpresidential it all seemed, the actual president-elect was giving a speech that boasted more of the ceremony you would usually associate with the office.
Joe Biden was giving a Thanksgiving message focussed on the coronavirus as the disease continues to ravage the US.
"We need to remember we are at war with the virus, not one another," he said, a stark contrast to the sour grapes on display from Trump.
The hearing, attended by Trump's personal attorney, Rudy Giuliani, came a day after the state certified its election results – formalising Biden's win over Trump in the region.
On Monday, the US federal agency the General Services Administration ascertained that Biden is the "apparent winner" of the US election, which started the transition from Trump's administration.