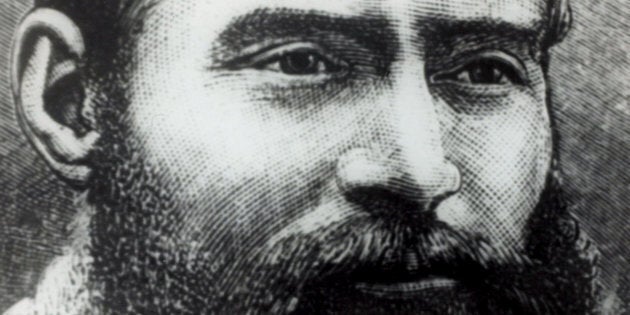 Australia's early convicts devised their own slang language so they could talk freely without the guards understanding and today, some of these 1800s terms still ring true.
Many of the terms were bastardisations of Londoner criminal slang, but in the isolation of Australia, they took on their own accent and, eventually, meanings.
Three-time convict James Hardy Vaux documented what he called 'Flash language' words in a book published in 1812 and today, some of his dictionary is on display in Hyde Park Barracks.
Visitor services coordinator Scott Cumming told The Huffington Post Australia convicts at Hyde Park Barracks weren't prisoners as such but were living at the barracks, and working on government infrastructure-building gangs all day.
"It's best to think of them as an underclass," Cumming told HuffPost Australia.
"They were very much wanting to operate their own community among themselves without the involvement of the authorities and an excellent way to do that is to develop your own language, cant or slang and that's exactly what they did."
He said a favourite term of his was a 'lushy cove' which meant 'a drunk man'.
"Or the gendered equivalent the lushy covess," he said.
"It holds to a degree. Maybe not in the 21st century but up until quite recently one would call someone a lush."
Flash language

bad

a convict who cooperates with police and officials

bit-faker

a coiner, maker of counterfeit money

bolter

one who runs away or leaves a place suddenly

boned

taken into custody

breech'd

flush with money, 'in town'

brisket-beater

a Roman Catholic

bug

nickname given to Englishmen by the Irish

bush'd

poor, without money

buz cove

a pickpocket

buz covess

a female pickpocket

charley

a watchman

cly-faker

a pickpocket

crap'd

hanged

file

a person who has had a long course of experience in the arts of fraud

floor'd

so drunk as to be incapable of standing

fly

vigilant, cunning, not easily duped

galloot

a soldier

horney

a constable

in town

flush with money, 'breech'd'

kinchen

a young lad

knuckler

a pickpocket

lushy cove

a drunken man

lushy

drunk, intoxicated

mollisher

a woman

nibb'd

taken into custody

nibbler

a pilferer or petty thief

pall

a partner, companion, associate or accomplice

pebble

a convict whose behaviour is incorrigible

prig

a thief

pulled up

taken into custody, in confinement

queer

bad, counterfeit, false, unwell in health

qock'd

forgetful, absent in mind

rump'd

flogged or scourged

scamp

a highwayman, man who commits robbery on the highway

scrag'd

hanged

scurf'd

taken into custody

slang'd

wearing chains or irons

sneaksman

a man or boy who 'goes upon the sneak' (robs houses or shops)

sharp

a gambler, cheat or swindler

swell

a gentleman or any well-dressed person

swish'd

married

toddler

an infirm elderly person

top'd

hanged

up in the stirrups

a man who is 'in Swell Street', that is, having plenty of money

Source: Sydney Living Museums