If traipsing through Instagram or Pinterest is one of your favourite pasttimes, you have no doubt scrolled past a fair few mason jars, succulent holders and wall hangings in your time and proceeded to put them into the 'too hard' basket.
Well, it's time to take them right out of there and wrap some yarn around them.
Ria Chan, founder of online creative community Craftsposure, is on a mission to prove that 'crafternoons' are cool and creativity can be carved in the simplest of forms.
Making isn't hard. Anyone can be creative.
"I see a lot of creatives who say that they can't craft things. But if you sit down and think about the things that you have around you, anybody can make anything," Chan told HuffPost Australia.
"Making isn't hard. Anyone can be creative."
We'll even prove it to you.
Weave your own wall hanging.
Let us start with the piece de resistance of any curated Pinterest board: the weave. Surprisingly, you don't need to invest in professional equipment nor possess great skill to learn the basics of weaving. All you need is some cardboard, some tape, a pair of scissors and some yarn. And a touch of patience.
"I use a cardboard backing to create a DIY loom. Through that, you can use different coloured yarn and different kinds of fabrics to create an intricate looking wall hanging," Chan said.
Start by cutting out your loom aka your apparatus for making your weave.
"Take your piece of cardboard, mark and cut out ten lines along the top of the cardboard. Repeat this at the bottom," Chan said. "Then, use a piece of string and fit it through the first notch at the top and to the first notch on the bottom. Keep wrapping through all of the notches."
Once you have your loom at the ready, it's time to start weaving.
"Use a piece of yarn or a bobby pin to thread the yarn through horizontal and create rows after row. Change colours, alternate between different materials like yarn, ribbon and pieces of twisted fabric," Chan said.
"When that is done, you can add little embellishments to it. And then you can tie everything together!"
You can thank Etsy for this full weaving rundown.
Pimp up your mason jars
As we move into winter, succulents rule in the greenery department. Why not continue the DIY process by creating something delightful to hold them in?
"I like the idea of upcycling things like jars and glass bottles and turning them into things that you can decorate your house with, like succulent holders or flower vases," Chan said.
"Use things like nail polish to bring in some colour around it. Or use a piece of rope or string to wrap a jar from the bottom. Use some different yarns to create a nice coloured effect."
When it comes to filling them said mason jar, a succulent or plant cutting will do. "It doesn't have to be expensive," Chan said.
Make your own pendant necklace
Even the confines of jewellery making can be broadened to star everyday materials. Like used Eftpos receipt roles.
"Take the roll, decorate it with paper, yarn or wrapping and use a piece of scrap leather to create the necklace chain," Chan said.
Chan, alongside Sydney fibre artist Kylie Walsh of 'We Heart The Hearts', will be hosting a crafternoon as part of Vivid Ideas next month.
"It is going to be a chilled, lazy Sunday afternoon. We want to replicate what it's like to get together with friends and have good conversation," Chan said.
"We want to help people to start exploring the ways they can be creative with things at home, and meet creative people throughout the process."
Crafternoon will be hosted at Vibewire , a community co-working space in Sydney, on June 11 as part of Vivid Ideas. Tickets can be purchased here.
Click below to subscribe to the Refresh podcast by HuffPost Australia on iTunes.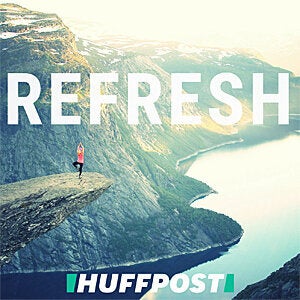 ALSO ON HUFFPOST AUSTRALIA