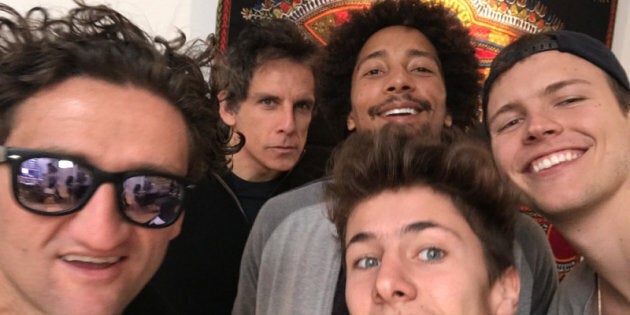 Turkish Airlines has pledged to fly a plane of food and water to Somalia following a Twitter campaign led by YouTube stars and Hollywood actor Ben Stiller.
The airline, which is the only commercial carrier to service Mogadishu airport, gave the celebrities 10 days to raise the funds for the supplies. They reached their $1 million target in less than a day.
It all started when former Vine star Jerome Jarre posted a video to Twitter calling for action. He was moved by a story about a six year old Somali girl who died from dehydration after having to walk 150 kilometres to find water with her mother. The Horn of Africa is in the grips of famine, with 6.2 million Somalis in need urgent humanitarian aid -- approximately half of the country's population.
A bunch of online celebrities joined in, including YouTuber Juanpa Zurita, NFL star Colin Kaepernick and Ben Stiller, promoting the hashtag #TurkishAirlinesHelpSomalia.
It wasn't long before the airline tweeted back:
Turkish Airlines has pledged to send a plane of supplies to Somalia on March 27. It gave the campaign organisers 10 days to raise the funds for the supplies and a GoFundMe page was set up with the initial goal of $1 million US. This goal was reached in less than 24 hours. At the time of publication, it was up to $1.6 million out of a new goal of $2 million.
Sending unsolicited donations does have it's pitfalls. As Red Cross Disaster Response Manager Jessica Lees previously told The Huffington Post Australia, donations can end up in the wrong hands or can cause more harm than good if there isn't an established NGO to receive and distribute the goods.
However, this project seems to be on track so far. The fundraising page states that donations will be collected through Stiller's own charity and then passed on to the American Refugee Committee (ARC). The first flight will take 60 tonnes of food, including rice, cooking oil, porridge, nutritional biscuits, flour, sugar and porridge. And they won't stop at one shipment.
"Not only they are making available a full cargo flight that can fly 60 TONS OF FOOD, but they agreed to let us ship food containers on their commercial aircraft to Somalia, UNTIL THE END OF THE FAMINE !!!" says a statement on the GoFundMe page.
The guy who kicked it all off, Jerome Jarre, thanked people who donated already in a video posted to twitter. He also let slip that Ben Stiller has already started filming the whole thing to make a documentary about the project and to maintain transparency about how the funds are being used.
The message is continuing to go viral, with people being nominated to create a video for the cause using the tag #NominatedForSomalia.
People around the world are moved by this heartwarming story of an idea being propelled via social media into reality. And Jarre and co. are pumped about what they've started.
ALSO ON HUFFPOST AUSTRALIA