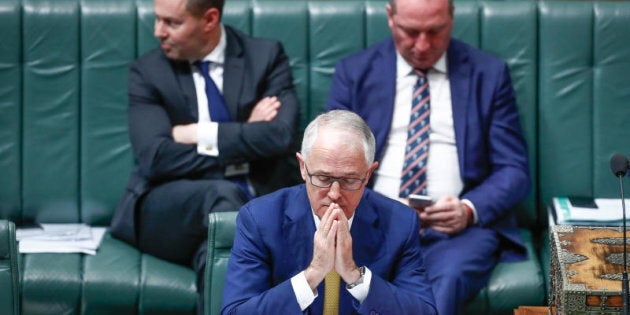 CANBERRA -- The Turnbull Government is completing its shift away from renewable energy and towards a fight over energy prices with the Government formally rejecting a Clean Energy Target (CET) recommended four months ago in a major report by Australia's chief scientist, Alan Finkel.
In what Labor and the Greens see as capitulation to pro-coal conservative members of the Government, Cabinet has approved the rejection of the climate policy mechanism designed to stimulate new investment in power generation and take Australia's renewable energy use to 42 percent by 2030 and will instead propose a new plan to bring down electricity prices.
Foreign Minister and deputy Liberal leader Julie Bishop has described the decision as a "win for Australian consumers", but Labor leader Bill Shorten has declared pro-coal former prime minister Tony Abbott "has won" and Greens leader Richard Di Natale said the move effectively throws Australia out of the Paris climate agreement.
Instead of a CET as a 2020 replacement for the current renewable energy target and subsidies for renewable power, it is understood there will be a reliability or "national energy guarantee" to require a certain standard of base-load power generation, via sources like gas and coal, and ensure there no summer power blackout blackouts.
The Government is promising reduced power prices while still meeting Australia's obligations under the Paris Climate Change Agreement.
It is not yet clear whether the plan requires legislation.
"This is a win for the Australian consumers who will get cheaper energy prices as a result of as mechanism that the Australian government will introduce that focuses on the reliability and affordability as well as meeting our international obligations," Bishop told reporters in Canberra.
"It is unacceptable for a country like Australia to have blackouts during summer as we saw in South Australia in recent years."
The new plan is expected to be outlined later on Tuesday, but Bishop explained it was based on the advice of the energy regulator and "builds on the work" of Australia's chief scientist.
"The guarantees we will be looking for will give investment certainty, and it will increase supply and price as a result of supply and demand," Bishop explained.
Shorten has indicated the energy wars of the past decade have not ended with this arrangement and he is rejecting government promises of lower energy prices.
"It seems Tony Abbott has won and the chief scientist, climate change and lower prices, they have come second," he told reporters in Canberra.
"Malcolm Turnbull knows that the chief scientist's report is the way to go. Four months ago he was endorsing a Clean Energy Target. Now he has dropped the lot. He is not interested in prices. Not interested doing anything in that. Not interested in the best evidence."
"All he is doing is keeping Tony Abbott from rolling him in the party room."
Di Natale said the move effectively throws Australia out of the Paris climate agreement.
"This is the complete capitulation of Malcolm Turnbull's leadership," he told Sky News, adding that the prime minister was "weak" and "hollow".
"He has done it because he is too scared to take on the right wing of his party. He does not have the ticker to take them on.
"Malcolm Turnbull has done what Donald Trump has done, he has just not done it as extravagantly. He has effectively pulled out of the Paris agreement. We can't achieve those Paris targets based on this plan."
Remarkably, One Nation's Malcolm Roberts and Pauline Hanson have claimed credit for the new energy plan as they have been "breathing down the necks" of the government, but have still described it as "appalling".
But, the head of the Government's backbench committee on energy, Craig Kelly, is firmly behind the new plan.
"We believe that we have a mechanism here which is superior to the Clean Energy Target, and I am sure all of those groups, once they see the detail released by the Prime Minister today will come on board and say this is good," he told the ABC.