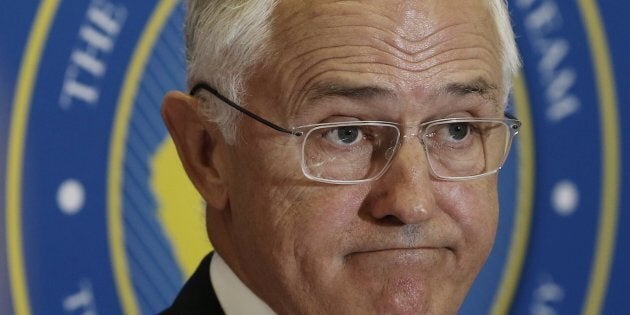 Malcolm Turnbull's rejection of a proposal to create a First Nations Advisory Body is a 'kick in the guts' to indigenous Australians and 'egregious dishonesty' that has sent shockwaves through parts of the country.
On Thursday Turnbull said while the government recognised the desire for indigenous Australians to have a greater say in their own affairs, he insisted such a representative body was not desirable or capable of winning acceptance at a referendum.
He warned it would inevitably become seen as a third chamber of Parliament.
It was a blow to indigenous leaders who in May rejected symbolic constitutional recognition in favour of an elected parliamentary advisory body and a treaty.
'There's nothing honourable about what's happened here.'
Community leaders are furious at the government's decision, and aren't holding back.
Pat Anderson, chair of the Lowitja Institute, was equally blunt on the government's decision.
I think it's been a kick in the guts for us all. Pat Anderson
"He (Turnbull) has turned himself into the manager. He knows what's best for us... he knows how the Australian public will vote at a referendum," she told the ABC.
"He has broken the bipartisan partnership he had with the other major party, the Australian Labor Party, so it's been a bad couple of days, I think, for us all."
The whole point of sitting around for three days in May and discussing the Constitution was to try and get a better arrangement, because, Anderson said, "whatever the governments are doing and whatever successive governments have done, fundamentally, there hasn't been any real change."
"Something has to change, so that's why we've given up our time," Anderson said.
It rejected a merely symbolic recognition of indigenous Australians in the constitution.
While the government is now backing Labor's proposed parliamentary committee to decide on a final referendum proposal, the seemingly out-of-hand dismissal of the concerns of indigenous Australians have left some speculating Turnbull may have consigned himself to the dustbin of history in this area.
Indigenous activist and Referendum Council member Noel Pearson accused the government of being "egregiously dishonest" in dog-whistling their argument against the "Voice".
"Malcolm Turnbull has certainly consigned himself prematurely to a footnote in Australian prime ministerial history," Pearson said.
"There's no reconciliation and recognition under this Prime Minister."
Opposition Leader Bill Shorten has told Turnbull in a letter he is "deeply disappointed" at the rejection, telling him a "unilateral decision of this kind runs contrary to your repeated promise to do things with Indigenous Australians, and not to them."
"It is not for us to dictate to First Nations Australians what form their recognition should take," he said.
NT chief minister Michael Gunner said the government is putting the issue in the 'too hard' basket after the "very significant meeting in Uluru".
"It wasn't an easy thing to deal with, but the federal government said it was 'too hard for us,'' he said.
"What disappoints me is the government essentially said 'no' to that conversation."
Tony Abbott welcomes the government's changed stance
Pearson accused Abbott of influencing the Government's decision on the referendum proposal, and blamed him for pushing Turnbull "further and further to the right".
"Tony has been lurking in this entire debate. His presence, and the fact that the Prime Minister has not had the political capital to lead on the issue, is because of Tony," he said.
Abbott said he believed it was the right decision.
"Indigenous recognition should come in a way that brings all of us together and this proposal, for a further level of indigenous representation, was unlikely to achieve that," Abbott said.