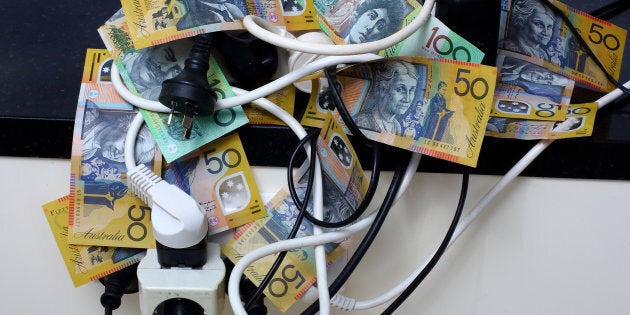 Renewable energy is the right source of power for Australia if we want to reduce prices and emissions at the same time. Astonishingly, the Government's latest energy policy could mean less renewables in the energy grid when compared with business as usual.
How did we get to this crazy place?
The main problem is the Government's Energy Security Board has been asked to fix a broken system without using the best solutions available, such as price on pollution or clean energy target. So it's no wonder the Governments so-called 'National Energy Guarantee' (NEG) appears ill-considered and needs some important changes to deliver on its promises.
Prime Minister Turnbull wants us to believe the proposed NEG can make Australia's energy system more affordable, reliable and less polluting. This is wishful thinking.
The Government's analysis (they've stopped calling it modeling) relies on price reductions coming from: investor certainty leading to a massive growth in generation capacity, driving down plant costs, more competition from retailers as a result of reduced barriers to entry and lower transaction costs as a result of using the existing contracting mechanics. So it's worth testing these three arguments.
Having spoken with many of the largest renewable energy investors since the Government's announcement, it is clear that investor certainty is a long way off being achieved. Investors are smart enough to know that getting the States to each agree, then legislate in their own parliaments, whilst getting all the details sorted out, before the next Federal election, is unlikely to happen.
But perhaps even more embarrassing is the Government's lack of understanding as to how energy retailers work. Whilst the big three energy retailers are active in the contracting market (pre-purchasing power and renewable energy certificates at agreed rates), smaller retailers often just buy their electricity in the spot market (matching their retail customer demand with supply purchased in the wholesale market).
These smaller retailers are the ones the Government is supposedly relying on to introduce more competition and drive down prices for consumers. When forced into the contracting market these smaller retailers start with one arm tied behind their back because their weaker credit ratings reduce their attractiveness to third-party generators, forcing them to pay more.
That's just the start of the problems for small retailers with this policy. A new retailer entering the market can't possibly be expected to estimate their customer demand for energy 10 years out and enter into long-term contracts. Customers buy their energy on one or two year contracts. The big three retailers have a cohort of disengaged customers who simply don't switch, so forcing all players into the contracting market will give the big three another form of market power. This reduces the likelihood of the very competition that the government's analysis appears to rely on to save consumers money.
The NEG may also create problems for consumer advocates and regulators. The more energy that's purchased in confidential contracting arrangements, the harder it becomes for energy price regulators to set tariffs for regulated customers.
Currently IPART, or the relevant state regulator, can easily look at wholesale electricity prices to inform the set price for regulated customers. Under the NEG, they'll rely on energy retailers to tell the truth about what it costs them to buy their energy. Sounds like a recipe for driving up retailer profits, not bringing down prices for everyday Australians.
The Government's rushed policy will benefit big retailers in the National Electricity Market. Unsurprisingly, the big three energy companies and their friends in big business (and the financial press) have been supportive of the Government's announcement. However, we haven't seen the same enthusiasm from energy investors.
To raise the capital required to build new generators (such as a wind or solar farm), a developer has to demonstrate where future cash flows will come from in order to attract finance from investors. The variability and uncertainty of those cash flows increases the cost of capital.
Post the renewable energy target and ignoring state-based schemes, under the NEG there are two main future revenue streams. Firstly, selling to retailers to help them meet their emissions intensity obligations (contracting). Secondly, selling into the grid at the spot price (a continuous auction for energy) to help retailers meet customer demand.
The Federal Government's narrow mandate of a 'least cost pathway' will push the market regulator to delay emission reductions. This makes emission intensity cash flows meaningless in the short term and risks an investment drought in the first five to six years of the next decade.
What's worse, if retailers are allowed to use carbon offsets, they might be able to avoid purchasing Australian renewable energy altogether. This puts at risk the jobs and ongoing development of the Australian renewable energy industry. These jobs and skills should be a competitive advantage to Australia given we are the sunniest country in the world and one of the windiest. And we need these skills to make sure Australia pulls its weight in the global effort to keep warming below two degrees.
The second source of cash flows for generators comes from selling into the grid at the so-called 'spot price'. Minister Frydenberg has rightly pointed out that solar farms and wind farms have drastically reduced in price, making them highly competitive in the current electricity market. Investors like Future Super, the fund I run, expect to earn double-digit returns by selling energy at the spot price through assets like the Dunblane Solar Farm in Queensland.
The problem moving forward is that the Minister's policy rationale -- that wind and solar can compete on price -- ignores the potential consequences of his Generator Reliability Obligations. These obligations are a solution looking for a problem. Australia does not have an issue with baseload electricity. Our problem is affordably dealing with extremely short bursts of peak demand.
Forcing renewable energy generators to add batteries or contract with other forms of storage removes makes solar and wind farm development more expensive, to no benefit. Not every solar and wind farm needs to be on all the time -- we simply need a price incentive so that the right energy is on and working at the right time (such as storage when the sun isn't shining and the wind isn't blowing).
Now it's up to State Governments to try to salvage a workable policy from the framework provided by the NEG.
They should start by: increasing the ambition of electricity-sector emissions reductions; agreeing on a pathway that sees a continuous (rather than back-ended) emissions reduction pathway; outlawing the use of international (and Australian non-renewable) carbon credits; removing the need for solar and wind to be coupled with batteries; and exempting small and emerging retailers from contracting requirements. With these series of adjustments, it's possible the States could create a workable emissions intensity scheme out of the building blocks of the NEG.
It's worth noting though, that even without these changes there are still investment opportunities in renewable energy. State-based targets, as well as the likely ongoing high electricity prices in the National Electricity Market, are creating opportunities for small-scale solar farms in states like NSW and larger installations in Victoria and Queensland.
Here's hoping the states can salvage a workable policy that drives down prices and emissions over the next few months. If they can't force any meaningful changes they'd be better off simply rejecting this Government's rushed plans.