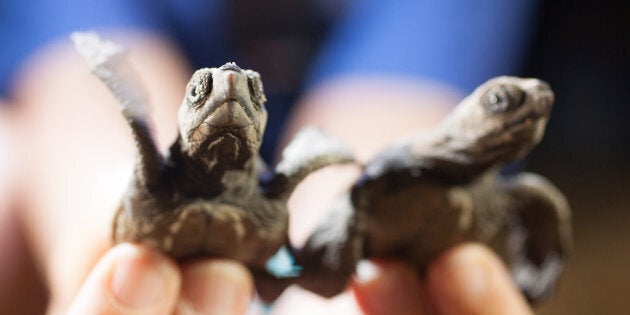 That's hot enough to kill turtles before they hatch or as they make their way from the nest to the shore.
We've had hot years but we've never experienced anything like this before.Colin Limpus
Department of Environment and Heritage Protection chief scientist Colin Limpus said it was unprecedented.
"We've had hot years but we've never experienced anything like this before," Limpus told HuffPost Australia.
"Large numbers are dying in their nests while they wait for the night to come. Then as they leave their nests, they're dying on the sand before they get to the water.
"Every morning we wake up hoping for rain to cool the beaches down but it doesn't happen. We're into our third week of very elevated temperatures."
Limpus said the team was doing what they could to improve the hatchlings' chances of survival.
Why is this area so important?

The annual loggerhead turtle hatching happens at the beach near Bundaberg each year, which accounts for half of Australia's nesting sites and most of the population in the entire South Pacific region.

Nesting starts in the middle of October through to early April and turtles hatch seven weeks later.

The main nesting season is December to January.

Other threats to hatchling survival include cyclones, that can flood nests, as well as predators like foxes and dogs.
"We're checking the nests at daylight for any evidence of clutches that are likely be heat stressed and we're prematurely digging them out and putting them on the beach near the water.
"It's not the desired management but they at least have a chance.
"If we leave them in their nests, they die."
He said they were also watching for clutches still being laid, which they move under shade cloth in the hopes it'll keep them a few dagrees cooler.
"We're learning as we go because we've never experienced this before."