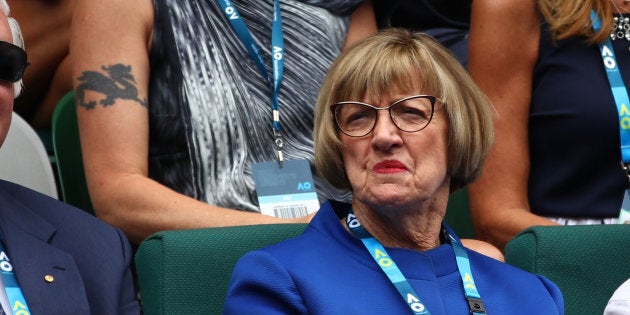 Margaret Court will boycott Qantas over its support of gay marriage -- that much you've probably heard by now.
In a letter to the West Australian newspaper, the The 74-year-old pentecostal minister, who holds the record (24) of the most Grand Slam tennis tournaments ever won, said she was "disappointed that Qantas has become an active promoter for same sex marriage".
"I believe in marriage as a union between a man and a woman as stated in the Bible," she said. "Your statement leaves me no option but to use other airlines where possible for my extensive travelling."
Tennis Australia hit back, saying her views "do not align with TA's values of equality, inclusion and diversity".
But the award for comment of the day probably goes to comedian and Chaser member Dom Knight, who ambushed Court's tactics and invoked a bible verse to advance his argument.
We thought this comment was pretty clever too.
It's not just a dictum in tennis. It also came from Jesus, or so we thought.
Meanwhile on Friday morning, Australian tennis player Casey Dellacqua made reference to another letter Court once wrote to the newspaper -- this one condemning Dellacqua's choice to have a baby with her partner.
Tennis legend and prominent gay rights advocate Martina Navratilova also had her say, suggesting that the Margaret Court Arena might be better named after Evonne Goolagong Cawley, the indigenous Australian who won seven Grand Slam singles titles.
ALSO ON HUFFPOST AUSTRALIA