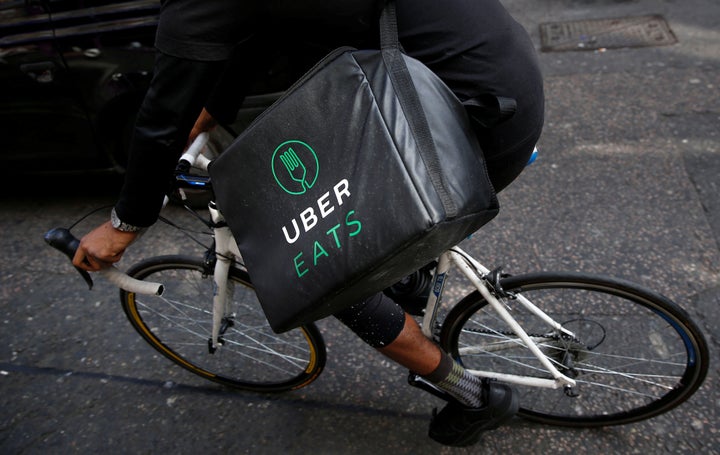 Food delivery giants like UberEATS and Deliveroo are under pressure to provide better pay and working conditions for their bicycle couriers, as Australian trade unions begin a push for stronger protections in the burgeoning "gig economy."
The companies, essentially ad hoc delivery services for traditional brick-and-mortar restaurants or cafes, allow people to order food through an app and have it delivered. Uber, Deliveroo, Foodora and other services employ bicycle, motorbike and scooter riders as contractors, usually paying them a set rate per delivery, rather than by the hour.
Trade unions and riders object to this arrangement, as the companies usually do not provide paid sick leave or holidays, or help with medical bills in the event of an on-the-job injury. Unions and workers also say the payment scheme encourages risky riding to save time, and leads to exhaustion.
"Poverty is not an innovation," said Sally McManus, secretary of the Australian Council of Trade Unions. "The callous and regressive actions of companies like Uber Eats, Deliveroo and Foodora, who illegitimately classify bike couriers as independent contractors, belong in the Victorian age. They have no place in Australia in 2018."
A survey of 160 riders in Australia by the Transport Workers Union found that while 26 percent worked the equivalent of full time ― more than 40 hours a week ― more than 76 percent earned less than the $24 per hour minimum they would earn if properly employed as bike couriers. Some riders were paid as little as $6.67 per hour, according to the union.
"We put our life at risk and are pressured to get the delivery done quickly but we are putting our lives at risk in the rain," one Deliveroo rider, age 24, told the union.
In Australia, Uber Eats riders are paid $5.50 per pickup, $3.50 per dropoff, and $2.20 per kilometre ridden. This payment structure was instituted in February 2017, effectively lowering the former pay of $11 per delivery. In London, the minimum payment for each delivery is £5.33, minus a service fee collected by Uber, while riders in other areas of the United Kingdom appear to receive lower amounts, according to Uber's website. Australian Deliveroo riders earn between $9 and $10 per delivery, a company spokeswoman told HuffPost.
"Having hourly rates would actively negate the flexibility that riders want, because it would enforce working for a single company in mandatory shifts ― essentially forcing the work to no longer be on-demand," Deliveroo said in a statement, claiming that the average Deliveroo rider earns more than the minimum wage.
"We believe benefits should be accrued on the basis of work performed, for example the number of deliveries completed, rather than the duration of work completed, which is the current system for benefits such as sick pay or holiday pay," the Deliveroo statement added.
Uber said "earnings vary depending on when and where partners choose to deliver."
"There is demand for more flexible, independent forms of work and digital technologies are opening up reliable, diverse and unprecedented opportunities for income generation ― often for those who need it most," an Uber spokesperson told HuffPost in a statement.
In November, a British court ruled Uber drivers should be paid a minimum wage and provided with other workplace entitlements such as holidays and rest breaks. The decision followed a planned strike by Uber employees over pay and conditions.