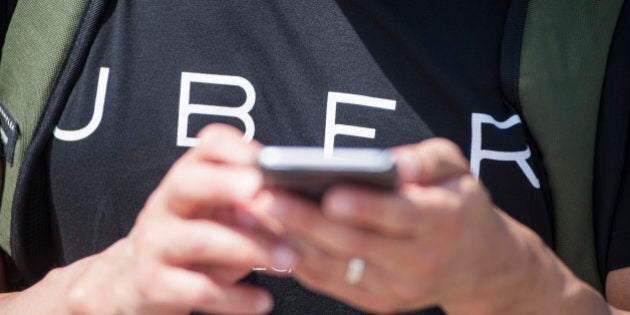 The NSW Taxi industry says it's too early to say whether controversial ride-sharing service Uber will be legalised in NSW as the Baird Government considers sweeping reforms of the the sector.
Premier Mike Baird confirmed on Monday that an independent report into the issue was being considered after News Corp Australia reported the government was on the verge of green-lighting Uber.
Under the reported proposals, Uber drivers would be required to pay a licence fee while taxi drivers would receive compensation for losing exclusivity.
Uber drivers would also be barred from operating in taxi ranks.
NSW Taxi Council chief executive Roy Wakelin-King said there was nothing inevitable about Uber getting the official nod.
"We saw yesterday that the Premier rightly came out and just said to everyone to take a step back," he told the ABC on Tuesday.
"He said that the speculation that was in yesterday's media was a little bit premature and so what we're waiting for is to see the detail of the real report. It's yet to be considered by cabinet."
Wakelin-King said whatever happened there needed to be a level playing field.
"(Our) principal position is that there has to be a level playing field where people can compete fairly, do the right thing and we'll stand by that and work with the Government to ensure that that outcome can be achieved."
He expected the price of using Uber to increase once the App-based service had to cover the same compliance costs as taxis, with owners currently paying about $300,000 to buy plates.
Wakelin-King's comments come as the NSW Taxi Council runs a publicity blitz against Uber, including on the risks of ride-sharing.
Uber's Australian general manager, David Rohrsheim, said taxis currently had the advantage over his company.
"The taxi industry has the exclusive right to cruise the streets and pick people up. We're doing something different. We're in a prebooked ride-sharing market," he said.
The mooted proposals in NSW follow the ACT legalising Uber last month, becoming the first Australian jurisdiction to regulate ride sharing with Uber.
Earlier this month, Fairfax Media reported the federal government was considering allowing MPs and bureaucrats to use Uber in a move that would save taxpayers thousands of dollars in cheaper fares.
Meanwhile, Uber launched on Queensland's Sunshine Coast on Monday, with a spokesperson telling The Sunshine Coast Daily a lot of drivers signed up planning to drive people on the commute to Brisbane.
In Victoria, the Andrews Government has been considering a report into the ride-sharing service and is yet to make a decision on the issue.