A small family business is giving dignity and self-esteem back to the ugly fruit and vegetables of Australia -- and you can help them do it.
Ankit Chopra and his mother Jaya are the brains and the chefs behind Eat Me Chutneys, a Sydney-based cottage production who are helping to tackle the estimated $10 billion in food wastage in Australia each year.
Ankit Chopra said they have rescued around 1.2 tonnes of fresh produce which was bound for the bin simply because it was weirdly misshapen, bruised or was a little limp -- and in 2016 they want to rescue 10 tonnes.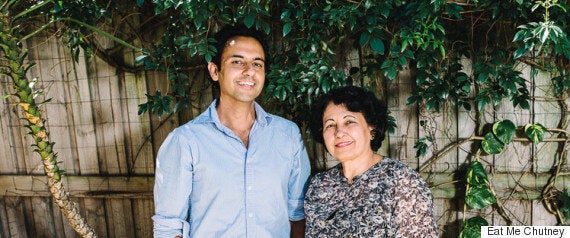 Ankit and Jaya Chopra want to rescue 10 tonnes of produce bound for the bin in 2016.
Chopra says he and his mother were already making chutneys from her grandmother's recipes and selling them at local markets, but the idea to rescue these organic foods happened, well, organically.
"I went to pick up some rhubarb from a farmer and on the way out I saw a bunch sitting there that looked much more frail and I asked what he was going to do with it -- he said it would probably go into compost," he told The Huffington Post Australia.
"And I thought about all the effort that had gone into creating it in the first place and I ended up walking out with an armful of it."
He began asking more farmers for excess "ugly" produce and uncovered a gold mine of produce ripe for the picking for their chutney -- 9000 jars of bounty, in fact.
"People expect their fruit to look perfect, but for chutney it doesn't matter if a fruit or vegetable is wonky or it's bruised or it's discoloured. And we pick up some really weird looking fruit," he said.
The Chopras had already spent a year getting their chutneys Freetrade certified after making the decision to use only Freetrade sugar, vinegar and spices, and so rescued chutneys seemed a logical next step for this social enterprise.
Eat Me Chutneys is also a certified B Corporation -- an international classification that identifies companies operating on a premise of social change.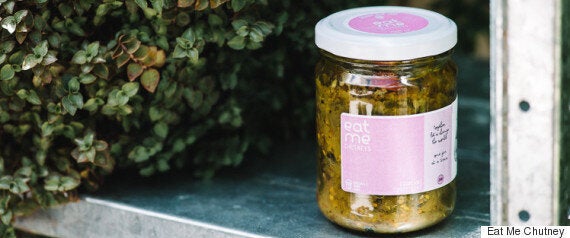 Eat Me Chutneys' products come in a range of Freetrade and organic variations.
"We spent a year getting the Fairtrade certification and then the B Corporation certification and it was bloody hard to get but as a small business we are able to choose what we invest our time in," he said.
"Now we are the only company in Australia which has both of those and it makes our grounding quite solid -- it's powerful when we tell the story of what we are doing."
And the pair aren't just providing equal opportunities to wonky tomatoes -- their first part-time employee is from the Sydney Asylum Seeker Centre.
Chopra says even though they feel very passionately about food wastage, the idea to have a little fun with the chutneys helps people to understand what they are doing.
"Saying that we need to give these vegetables back some self-esteem is really about giving these social issues a quirky bent -- we're making it fun, I suppose," he said.
"You don't have to go out and shout -- you can give these things a personality."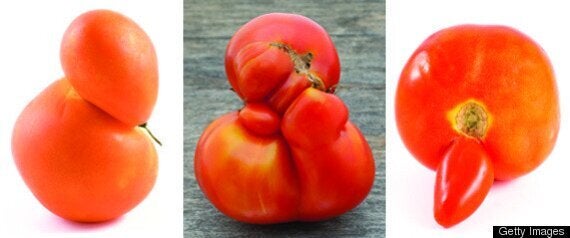 Holy wonky tomatoes, Batman! These guys aren't traditionally "hot" but they're awesome in chutney.
Chopra says posters of wonky fruit at markets and on their website are great conversation starters.
"When we show people pictures of the weird fruit and vegetables it is almost like we are educating them -- it has done wonders for us because people understand what we are doing and why we are doing it. It's part education, part chutney and part helping reduce wasted foods."
But Chopra has bigger plans -- to rescue 10 tonnes of produce and churn out more chutneys, they need specialised food processing equipment, a van and more money to pay staff (and not just have Chopra's dad hand-making all the labels).
At present they hire a commercial kitchen for the day, hand chop all the produce and spend hours making batches and then borrowing Chopra's brother's car to deliver it to markets.
The team hope for a minimum pledge of $25,000, with a final goal of $50,000, and ING will donate up to $12,500.
"Crowdfunding is a nice way to tell people what we are doing and asking people to give us a hand by chipping in $100 and we will sell some chutneys," Chopra said.
"It's like pre-sale but it's great -- it's not a donation."