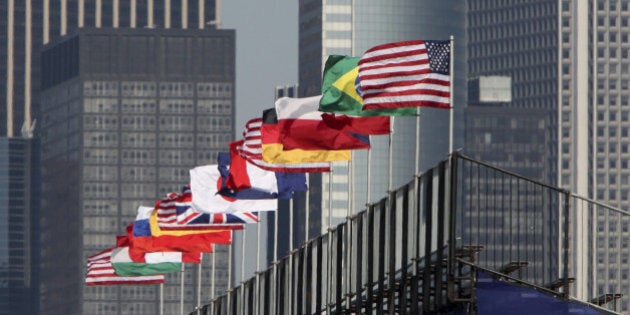 The debate around whether U.N. interns should be paid is close to my heart, and my wallet.
Having spent three months as an unpaid intern in the New York headquarters, I saw too many people forced to steal food from official functions; too many people who would walk miles in the snow rather than pay for a subway ticket.
I landed myself a placement with the Inter Press Service, a global news wire service with a corner of the press corps bullpen on level four of the Secretariat building. Living in -- and shivering through -- a New York winter was an amazing experience, but getting to walk into the U.N. building every day was on another level to anything else I've ever done.
Walking through the metal front doors in the morning to see a delegation milling around the lobby, lost on their way to a conference or summit; past the great General Assembly chamber with its hundreds of seats, plush green carpet and the giant United Nations crest over Secretary General Ban Ki-moon's chair; up the escalators and past the Security Council, where the world's most powerful nations debate genocide, terrorism and whether they will send peacekeepers into the line of fire.
It was an incredible experience. It was also an incredibly difficult one.
I was an unpaid intern. While technically working in the building, I was not part of the U.N. system. The debate around payment of U.N. interns would not have affected me. I knew what I was in for when I applied for and accepted my internship -- dipping into my own pocket at every step, from visa applications to airfares, accommodation in one of the most expensive cities on the planet, food, transport, and everything in between. It was a tough time and I spent far -- FAR -- more money than I intended.
But at least I had the money to begin with. Many young people don't even bother applying for an internship, knowing they can't afford to take months off work or university to be unpaid labour.
Many of the interns I met came from wealthy backgrounds, their families paying for plush apartments and covering all their transport, food and spending money. Many more came from less well-heeled families. They would live in rat-infested apartments with no hot water, in neighbourhoods most people were scared to visit even in broad daylight.
Countless potential interns would be ineligible for a U.N. placement, because they can't afford it. Countless others -- like David Hyde -- barely survive as they struggle through months of unpaid work.
How can a global body like the United Nations, which advocates equality for all, endorse a system that favours the wealthy and excludes the poor?
In my time at the U.N. I did not meet any interns from Africa and very few from Central America, South America or Eastern Europe. Most of the interns I met were worked to the bone -- early starters, late finishers, essentially on-call at all hours in case of a developing situation or even just some desk work that needed polishing.
The amount of work a U.N. intern does is astonishing. The building simply could not survive without the countless hours of free labour performed by eager young charges from all corners of the world.
It's time to change this unfair system.