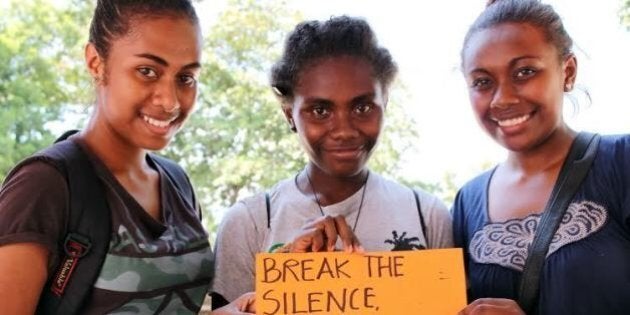 UN Women National Committee Australia has launched a unique visual petition, calling on people to pledge their image instead of their signature to help women and girls affected by violence in the Pacific.
While domestic violence in Australia affects one in three women, in the Pacific it's absolutely rampant. According to the United Nations, a staggering two in three women experience violence and abuse.
The first petition of its kind will see the creation of a single portrait, composed of the faces of all the men, women and children who pledge their support and image.
The petition website will ask pledgers to either directly donate to the cause of ending violence against women in the Pacific or buy a campaign scarf from Esprit, 100 per cent of the proceeds from which will go to combating violence against women & girls in the Pacific.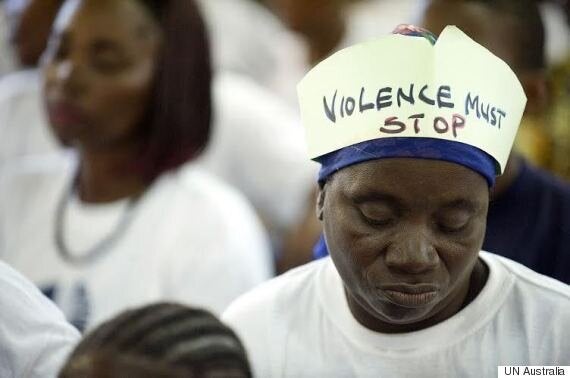 Two in three women in the Pacific experience violence. Picture UN Australia
The first 'face' to sign the petition belongs to Nicole Kidman.
Julie McKay, Executive Director of UN Women NC Australia, told The Huffington Post Australia the campaign aims to go beyond being 'just' an awareness campaign.
"What we're trying to do is highlight the fact that putting your face to the campaign is a more committed level than just liking a post. It showcases that it's not just about a small group of women, it's society-wide -- regardless of age, gender and background. There are many people calling for violence to be eliminated but we know that until we can actually fund the work, we're not going to see a change. So it's a call to action. We need to dig deep and invest in a solution, not just be aware," McKay said.
Violence often begins at an early age: in Vanuatu for example, 30 percent of women experience child sexual abuse under the age of 15, with 41 percent reporting a forced first sexual experience. In Fiji, one third of females who experience violence are girls under 16.
"Put simply, the Pacific Region is one of the most dangerous places to be born a girl," McKay said.
"In Australia, we have the resources to combat violence, the Pacific contains some of the least developed nations in the world. Most of them lack basic infrastructure, like hotlines and specialist health care teams. Yet these countries are our closest neighbours. Not even 4 kilometres separates Australia with Papua New Guinea; 4 kilometres that can mean the difference between life and death for a woman at the hands of entirely preventable violence."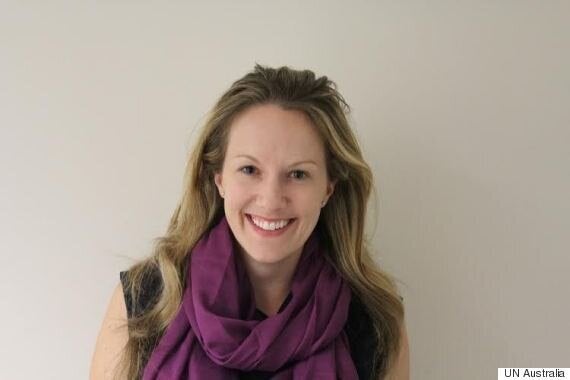 UN Australia NC Executive Director Julie McKay, wearing the campaign Esprit scarf. Picture UN Australia
"People can get on the website, upload a photo and then they can use their photo with their own social media to promote to friends and colleagues. It's a very easy thing to do."
From today, a virtual platform at unwomen.org.au will allow users to take their photograph and submit it to the visual petition or upload an existing image of their choice. The site will also give people the chance to share their image within the composition on social media using the hashtag #FaceItTogether.
As each day passes, pledgers will be able to revisit the site to see the composition evolve as more and more individuals commit their faces.
McKay is soon finishing up in her role as Executive Director after nine years.
"I came here with a lot of views about violence against women. If you think you don't know somebody who has experienced violence, then you haven't opened up. As soon as people see you as a person who is open, they will tell you about their experiences. I think people are keen to support those who are victims of violence but too often people don't listen and very quickly there becomes a spiral of blame.
Pledge your face to the #FaceItTogether visual petition at unwomen.org.au
Donate via the website or purchase the official campaign scarf from Esprit stores or online: -- 100 per cent of the proceeds of which will go to combating violence against women and girls in the Pacific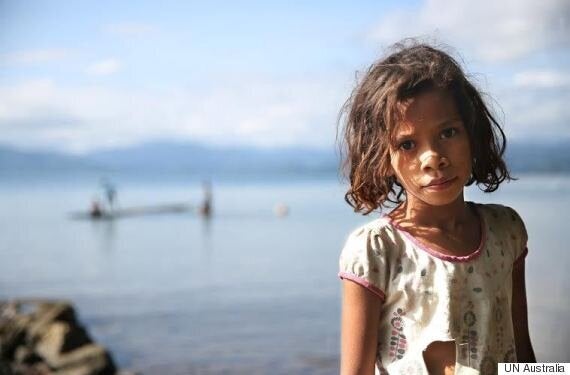 "It's about fundamental human rights, not just of the person experiencing the violence but also of their children, colleagues and the community. There's a lot of evidence of the economic impact on women. The global statistic is $6 trillion. It's a very broad measure and includes services for victims, managing the justice system (which doesn't occur often enough), mental health and productivity consequences. So $6 trillion is a very broad statistic but the point is we spend a lot of money on a problem that is entirely preventable."