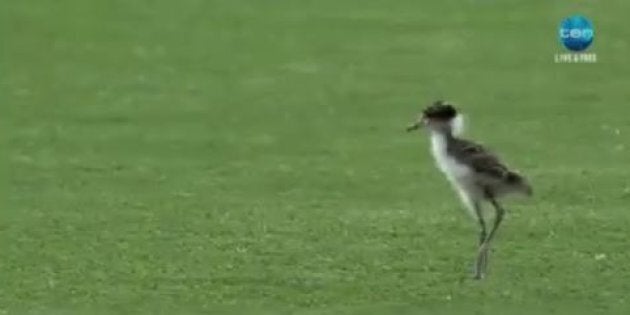 The Sydney Sixers have beaten defending champs the Sydney Thunder on night one of the Big Bash.
The Thunder started well. The men in lime green were 1-67 in the 7th over, before losing half their batsmen in about two overs and stumbling to 8/159 from there. That score was probably about 20 runs less than they were ever realistically going to defend against their cross-town rivals.
The Sixers gobbled up the target with two overs and nine wickets in hand. Jason Roy, who took the incredible catch a little further down this story, set the tone with a brisk 27. Daniel Hughes and Moises Henriques each notched half centuries and that was that.
Henriques was particularly impressive in scoring 76 off 41 with seven fours and four sixes.
And so, Big Bash cricket was back. Thunder and lightning ringed Sydney's Spotless Stadium before the match, as if on cue for the home team. But further pyrotechnics mostly came from the men in pink.
Not that it matters much who won the game. Cricket, to use the old cliché, was the real winner. The commentators told us that the hashstag #BBL06 was the third highest trending thing on Twitter in the world all night. In. The. World. And it was definitely the top trend in Australia.
Yep, we Australians really love our Twenty20 cricket. While the entire nation can still be engrossed by an exciting Test match of the type we saw last week, and while purists continue to deride T20 as junk food compared to the nourishing soul food that is Test cricket, such voices are being drowned out.
The typical T20 fan -- who let's face it, is more or less a typical Australian -- doesn't really care about the artfulness of the game. They want sport with a vibe like wrestling, not an arm wrestle. They want cricket that feels like footy, not chess. They want things that explode and balls that get smashed.
They want amazing catches.
They want bats that are a totally different colour to other bats, which makes them really interesting. Because colourful things are, um, colourful! And interesting! Yeah!
And above all, in the (very) brief moments when nothing is happening, they want BABY FREAKING PLOVERS! Actually, they want anything to entertain them, but BABY FREAKING PLOVERS will definitely do the trick. Woohoo! Plovers!*
It will be fascinating to see the TV ratings when they're available. Meanwhile, we're going to take a while to get over our excitement at BABY FREAKING PLOVERS. Oh gawd those things are cute.
*IMPORTANT NOTE: People often mistake Australian lapwings for plovers. We believe the terms are interchangeable. In other words, what many people call a plover can also be called a lapwing.
See this bird below? That's a masked lapwing, which is what we believe the bird shown in the cricket will grow into. But what the hell do we know? We're not ornithologists, and there's no ornithologist we know who'll answer their phone this time of night.