Enacting the diplomatic cut along with Egypt, Bahrain, the United Arab Emirates (UAE), Yemen, Libya and the Maldives, Saudi Arabia accused Qatar of supporting and financing Islamist extremism in the gulf region through groups such as Islamic State, Al-Qaeda and the Muslim Brotherhood.
The Saudi government then ordered all of its own diplomatic staff working in Qatar to return, cancelled all land, sea and air travel connecting the two countries, shut down its local offices of Qatari-funded news service Al-Jazeera and blocked their joint border before giving all Qatari nationals two weeks to return to their own country.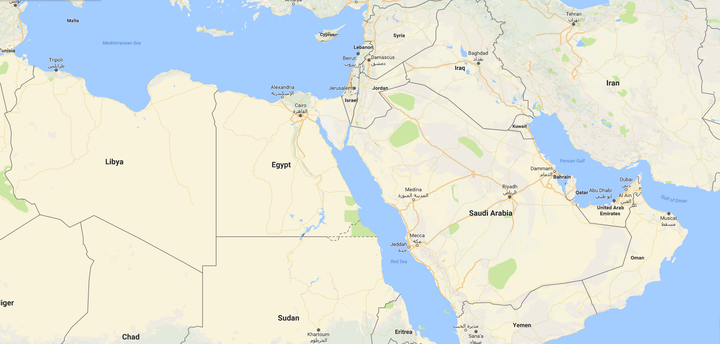 So how did all of this happen and what does it mean for the region and the world?
Lydia Khalil is a Non-resident Fellow at the Lowy Institute for International Policy and Director of Arcana Partners, a political risk consultancy firm. Khalil told HuffPost Australia it comes down to "a big web of different actions and different actors" that have influenced the conflict one way or another.
In other words, it's very complicated. But we'll walk you through the various causes and consequences.
In a public statement released on Monday, Saudi Arabia accused Qatar of backing militant groups and broadcasting their ideology, primarily through the globally influential, Qatari state-owned satellite channel Al-Jazeera.
In enacting the diplomatic cut, the Saudis accused Qatar of supporting -- both politically and financially -- what it described as Iran-backed militants in the eastern area of Qatif, largely populated with Shi'ite Muslims, Bahrain.
In addition to the closure of all forms of transport between the two countries, Saudi Arabia also closed the offices of Al-Jazeera in its capital city of Riyadh.
The Saudi state news agency SPA said: "[Qatar] embraces multiple terrorist and sectarian groups aimed at disturbing stability in the region, including the Muslim Brotherhood, ISIS (Islamic State) and al-Qaeda, and promotes the message and schemes of these groups through their media constantly".
Despite this Khalil said she believes the motivations for the rift extend beyond Qatar's political and financial connections to Islamist extremism, which occurs particularly through Qatari arms funding of groups such as the Muslim Brotherhood.
She said a greater influence comes from tensions between Iran and Sunni Islamic states such as Saudi Arabia that have risen over disputes regarding regional power.
"At its heart, this is a kind of another manifestation of a battle for regional dominance and the battle is between two sides. On one hand is a majority-Shia Iran and its allies, including the Syrian Assad regime, Shia extremist group Hezbollah in Lebanon, the Iraqi government and Shia militias in Iraq," she said.
"On the other hand are Sunni Arab regimes mostly led by Saudi Arabia but also Egypt, the UAE and other Gulf Cooperation Council (GCC) powers.
"Both sides are seeking to be the dominant power in the region. That conflict plays out in a lot of different ways -- militarily, politically, culturally and religiously. At its heart, it's mostly a political power contest between two sides.
"It is true that Qatar has financed jihadist and Islamic groups, such as the Muslim Brotherhood, which has angered Egypt and Saudi Arabia [but] a lot of this has been brewing over many years. What a lot of people are pointing to is that the Saudis saw an opportunity to do this while under the Trump administration."
The Saudi Arabian Hypocrisy

As an extra aspect of this conflict, Khalil also told HuffPost Australia it's worth noting the apparent hypocrisy in Saudi Arabia's denouncing of Qatar's links to extremism, particularly when considering its own links to terror groups in the past.

"Saudi Arabia ostensibly is cutting off ties because of Qatari financing of extremist groups, but Saudi Arabia also has a long history of financing of jihadist groups," she said.

"If their main quarrel is that Qatar is financing jihadist groups, it's pretty rich coming from Saudi Arabia to say that because Saudi Arabia has been a father for extremist jihadist ideology in the region.

"There have been people, high ranking people, within the Saudi government who have financed and armed jihadist groups in the past."

According to Khalil's understanding of the current political climate in the gulf region, Saudi Arabia could be using this cut to diplomatic ties with Qatar as a way of diverting attention away from its own tensions with Iran and its battle for regional dominance.

"[Qatar] are doing this, it's wrong, they should be called out on it but at the same time, it's the pot calling the kettle black," she said.

"Saudi Arabia has tried to divert attention from its own history which goes to show that perhaps the more underlying reason it's calling out of Qatar has more to do with its conflict with Iran and this broader battle for regional dominance."
Saudi Arabia, the source of most extremists & violent ideologies worldwide is accusing Qatar of terrorism. Let that sink in

— Ahmad Shaw (@WhiteArabi) June 5, 2017
As it turns out, that engagement might have had a lot to do with Monday's diplomatic split between the gulf nations.
While Khalil told HuffPost Australia Trump may have publicly committed to Saudi Arabia unwittingly, she believes the role of the United States in the region could be crucial to stability in the Middle East considering US Secretary of State Rex Tillerson's calls for negotiation amid the diplomatic cuts on Monday.
"It remains to be seen whether anyone is going to take up Tillerson's offer to mediate this dispute and whether the U.S. State Department has the personnel to deal with it," she said.
"I think that the Qataris have an insurance policy in that they are hosting a U.S. air base [and it] depends on how far the Saudis can push this conflict."
The report has come under fire from Saudi officials and is thought to have been one of the potential reasons behind Monday's diplomatic split between the countries.
According to Khalil, the potential move by Russia represents its willingness to assert itself on the global stage and to force its influence into the Middle East, where it knows the United States harnesses its largest air base in the region and also recently announced its support for the Saudis.
"It's just another example of Russia's bullishness in the international arena about how it's looking to destabilise Western interests," she said.
According to a CNN report, U.S. officials working with the Qatari government to determine the source and nature of the hack have claimed the end-goal of Russia in committing acts such as this seems to be to cause rifts between the United States and its allies.
Khalil told HuffPost Australia it's too early to predict the exact outcomes of the split to relations, but said that there will most likely be implications for domestic Qatari politics.
"We have to wait and see what the domestic political implications of this is going to be within Qatar," she said.
"Probably one of the end goals of the Saudi regime is to have a change in power within Qatar because they don't want to deal with the current ruler. They believe the current ruler has been responsible for the country's problematic foreign policy.
"Right now, [Saudi Arabia is] feeling like it can act without consequence and we just have to wait and see what happens."
She also said effects stemming from the break in relations between the eight countries could be seen in regional governance bodies such as the GCC and also through the extent to which Western powers see fit to intervene and mediate.
"It's significant for the region because you've got the GCC with Qatar sidelined, [which could mean] the GCC will be split," she said.
"The tension and the conflict between Iran and Sunni Arab states has been put up a notch because of this move and the question is, what are the ramifications of that? How is this going to impact coalition operations against Islamic State and stabilising Syria?
"Also, is the United States or any other country going to be able to mediate this dispute and how successfully they are going to be able to do that?"
The answer is -- we'll have to wait and see.
ALSO ON HUFFPOST AUSTRALIA